KA-BAR has been in the knife making business since 1898 and the most iconic knife from them has been the KA-BAR Fight/Utility Knife. KA-BAR submitted this straight-edge blade design in 1942 and the US Military has been using it ever since. The most notable features about the KA-BAR is their leather sheaths and straight edge blades, but times have changed and this knife has been updated.
This particular KA-BAR Utility Knife is the Serrated Version with a Kydex Sheath. So will a KA-BAR Fighting Knife be a good choice for your Bug-Out-Bag/Survival Knife? Well let's take a look at the specs:
Overall Blade Length- 7″
Overall Length- 11.875″
Weight- 0.70 lbs
Blade Thickness- 0.165″
Straight Clip Point Knife with

partially Serrated Edge

1095 Cro-Van Steel
Kraton G Handle
Rockwell Hardness- 56-58
Made in USA (Olean, NY)
Kydex Sheath Made in Taiwan
---
---
I decided to go with the Serrated version of the KA-BAR, because I wanted something different and wanted to be able to use it for camping. The overall feel of this knife is great and has good balance. This full-tang full-size knife is a breeze to work with. I found myself liking the metal pommel at the bottom. This can be used for a lot of different situations (Weapon, Hammer, etc) Now, would I use it for skinning a deer…that's another story. Would I use this knife for camping or fighting? Absolutely! For a bug-out situation, having a versatile knife is a must.
Having a knife that can be easily sharpened is even better, but sharpening the serrations can be a little tough. So maybe the straight-edge version would be better? When I received this knife, it was super sharp. Some reviews of this knife say that it came "dull," but mine was fine. After some use, I did re-sharpen it and the blade is back to the original sharpness. I used the DMT Diafold Serrated Knife Sharpener for the serrations.
The Cro-Van Steel can rust, so keeping a light film of oil is going to be a must. Because the sheath is made of kydex, the oil will not absorb well like a leather sheath, so be mindful of that. The Kraton G Handle is nice, but the leather version will give you a better grip when your hands are wet. KA-BAR does make the
serrated version with a leather handle and sheath
. The Kraton G Handle version is just a tad bit shorter than the original leather handle, about 0.4″ to be exact. I really like this kydex sheath. It's sturdy and is a friction-lock system.
I like the fact that I can carry this knife inverted and do not have to worry about it falling out. I also like the fact that I can mount this knife with MOLLE attachments and I have the extra room to put para-cord through the slits on the sheath.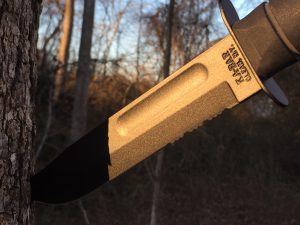 When picking out a knife for your bug-out-bag, be mindful of your state and/or local knife laws. Every state is different and even some municipalities can have their own laws within the state, so knowing your laws and how to carry is going to be a must. Most states will not let you "conceal carry" a fixed blade knife and some states won't let you carry a knife over a certain length, even if it's for open carry. You can search the internet for knife laws, and I've found that KnifeUp is a good source for those laws.
All-in-all, the KA-BAR is just an all-around great knife. It's one of those knives that a person needs in their collection. It is versatile, long lasting, and heavy-duty. MSRP for the Serrated Knife (Part # 1214) is coming in at $102.07.