I recently had the exclusive opportunity to lay my hands on a Kriss Vector CRB .45 ACP. This has been a gun that has caught my attention, not due to their claim of the gun being the first major breakthrough in firearms in 125 years, but due to the fact this gun is unique in design.
Allow me to clarify a few things before I dive in. This Vector has a vertical grip, mounted internal flashlight, and an 512 EoTech optic already attached. This is not how I would set mine up, but I will go into further detail with this in just a second.
Build
I was excited to finally get to shoot the Vector, and have held it in stores several times. When you first pick up a Vector, it feels solid. Personally, I was skeptical if this gun would feel comfortable given it's strange design. The built in grip that also serves as the magazine well feels great, and makes the vertical grip rather unnecessary. To me the slanted grips make shooting much more comfortable.
The stock on this model is not a collapsible stock, however it has the illusion that it is. Additionally, the stock is made of a sturdy polycarbonate material that the rest of the gun is made from.
The thing that most intrigued me is the 16″ barrel on the Vector. With the Vector basically being a UMP .45 with a new shell, do not kill me for saying this for I will make my point, I was wondering how much different it could really be. When you first see the Vector it appears to just be another sub-compact pistol caliber gun. But the length on the barrel along with the patented KRISS bolt system really helps cut down on the noise and helps limit the rise of the gun. According to Kriss the bolt system alone reduces the felt recoil by as much as 60% and barrel elevation by 95%. I would have to compare this to a gun in the sub-compact category side-by-side before I could confirm this.

Another nice thing about the Vector is the fact that it takes standard full size .45 Glock magazines. This means if you already have a Glock 21 you have plenty of extra magazines.
Shooting
Let's get to the good part. This is the part where I almost considered the nearly $2,000 price tag worth it. This is probably the smoothest shooting .45 or "SMG" type weapon that I have ever shot. If you notice in the video below the rapid shooting you can see how level the gun stays. I was able to group all of those shots into an 8.5″ x 11″ grouping or roughly the size of a piece of printer paper at 25 meters.
Included are clips from a few different angles so you can see the lack of rise when firing. I also did a rapid fire test to see what kind of rise the Vector had when shooting quickly. Over all I was very impressed at the lack of rise when shooting rapid fire.
[expand title="Watch Kriss Vector Shooting Video"]
[/expand]
Trigger Pull
The trigger was the one negative that I found with the gun, and this could entirely be a personal preference. I did not care for the trigger, however I could not determine if it was due to the trigger itself or the weight of the trigger. Being a Glock fanboy, I have to lean more towards the design, size, and shape of the trigger being the reason why I don't care for it.
Summary
Overall I have given this gun rave reviews and I would highly recommend it to anyone that has the money to spend (nearly $2,000) and has the need for an accurate sub-compact gun that shoots .45 rounds. One last thing that I will mention is that the accuracy of this gun at 25 meters highly impressed me. I am unsure as to why the accuracy was so high, given the 16″ barrel, but nonetheless it was superb.
Thanks for taking the time to read this review. As always we gladly accept criticism and if you have any questions we will do our best to answer.
[expand title="See pictures and Technical Specifications"]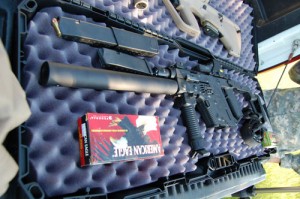 Specifications:
Caliber:
.45 ACP (230g FMJ recommended)
Sights:
Iron Sights
Length:
34.8″ Overall /16″ Barrel
Weight:
5.8 lbs
Capacity:
13-round Glock magazine
Stock:
Aerospace polymer components
Receiver:
Chrome-Moly SteelHard-Anodized Aluminum
MSRP:
$1,895
[/expand]
Overall this gun is very expensive but upon shooting it and holding it you can see why. This gun is a great gun for shooting and has amazing handling and control. So if you have the nearly $2,000 for the Vector pick one up, you will not be disappointed.