We have seen the rush to the grocery stores during Covid for everything from basic foods to toiletries and now prepping has come to big city America with people stockpiling goods like never before.  But as even small town America has had more of a prepping mindset, you couldn't have scripted a more horrific Hollywood film than what we have seen this past year, and it is continuing.
A pandemic escalated by politics, riots in the streets, defunding the police, major cyber attacks on our countries infrastructure, to China buying US farm land and more. Concern for new lock downs and a major attack on our utilities that could shut down the US Grid for sometime has everyone concern.
Emergencies happen and often with little warning.  With the grid down, or your car breaks down in the middle of nowhere, to living the RV Lifestyle boon docking in the wild, the one must have is water! With a grid down scenario or off grid travel, having clean water is a must and the ability to filtrate your water regardless of how clean you think it is, is a must.  Lord knows I have had my turn in the fetal position in a 3rd world country due to bad water, so when we were sent the "LIFESAVER CUBE" to test and review, we stoked to get our hands on this. 
The LifeSaver Cube is a microbiological water filter that uses ultra filtration technology to filter out viruses, bacteria, cysts and parasites from contaminated water sources. Per their specs, LifeSaver technology filters out bacteria to a minimum of Log 6 (99.9999%), viruses to a minimum of Log 4 (99.99%) and cysts to a minimum of Log 3 (99.9%) as specified by NSF Protocol 231, based on recommendations of the U.S. Environmental Protection Agency (EPA).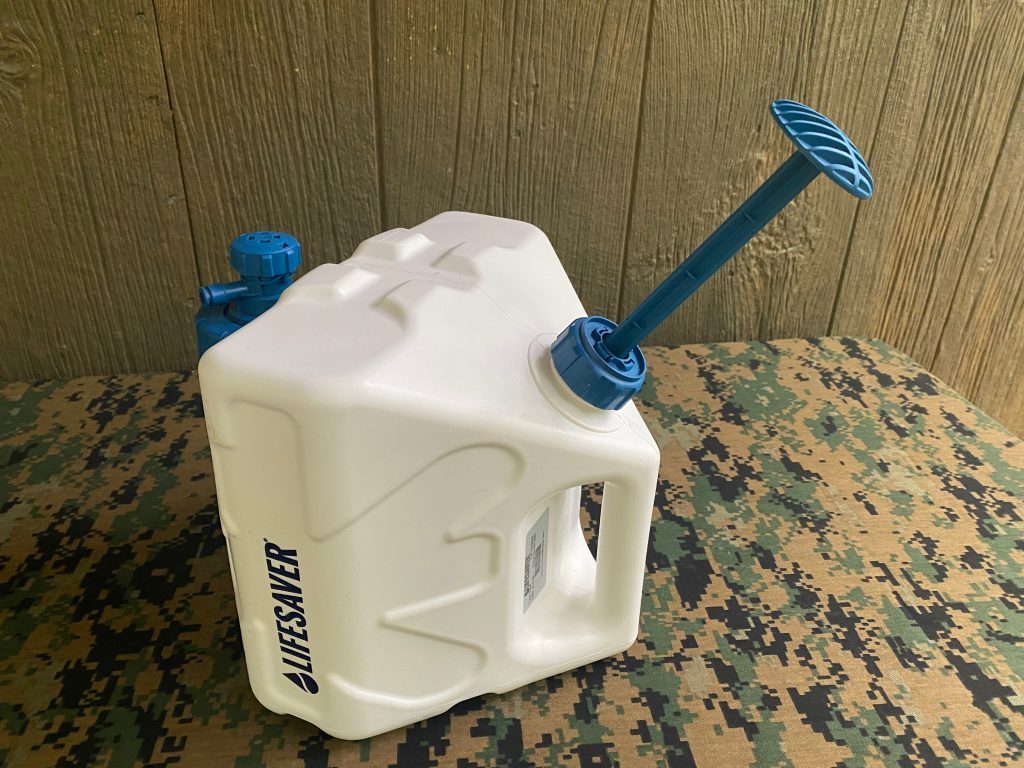 First thing we did was fill the cube with tap water in the priming port and wait 10 minutes, then pour water out of the spout to get any of the manufacturing residue out. Next fill it once again, open the our spout and drain all the water out and you're ready to go. Livesaver Cube comes preinstalled with a carbon filter, so no need to install.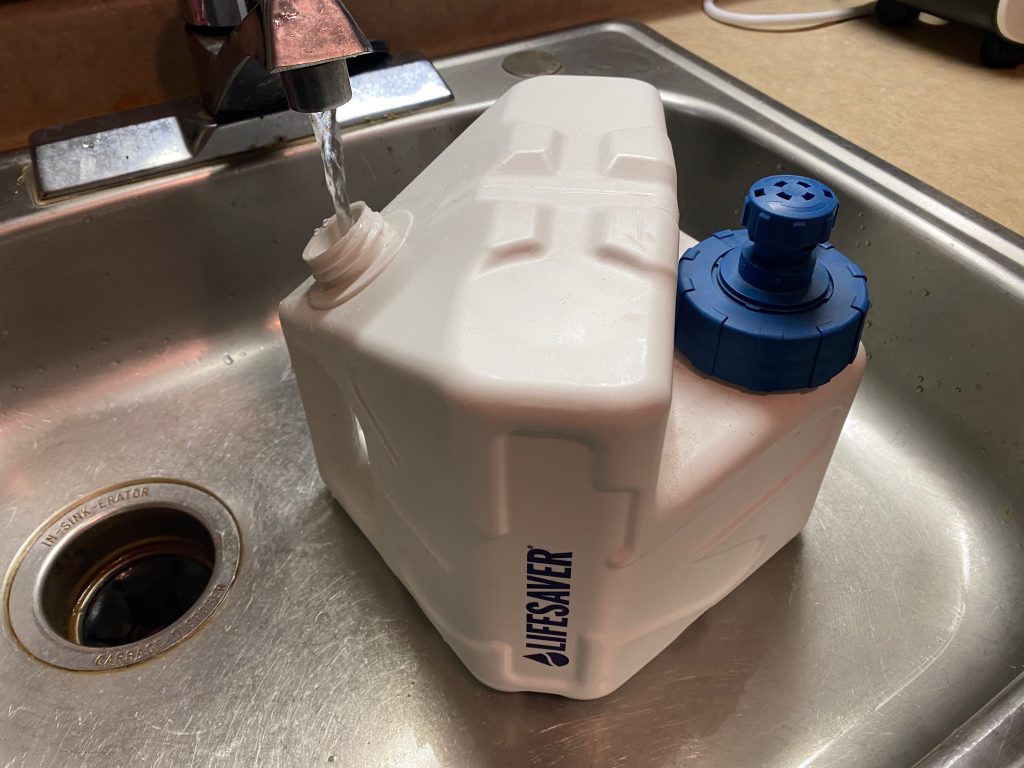 The container is made of thick solid plastic and appears it will last a long time.  
We choose to fill the container from a local stream and as you don't need to wait to filter it, it was a quick fill and pour.  The big test came when it was time to fill the glass and hope for the best.  As you see in the photo, the water came out clean and tasted fine.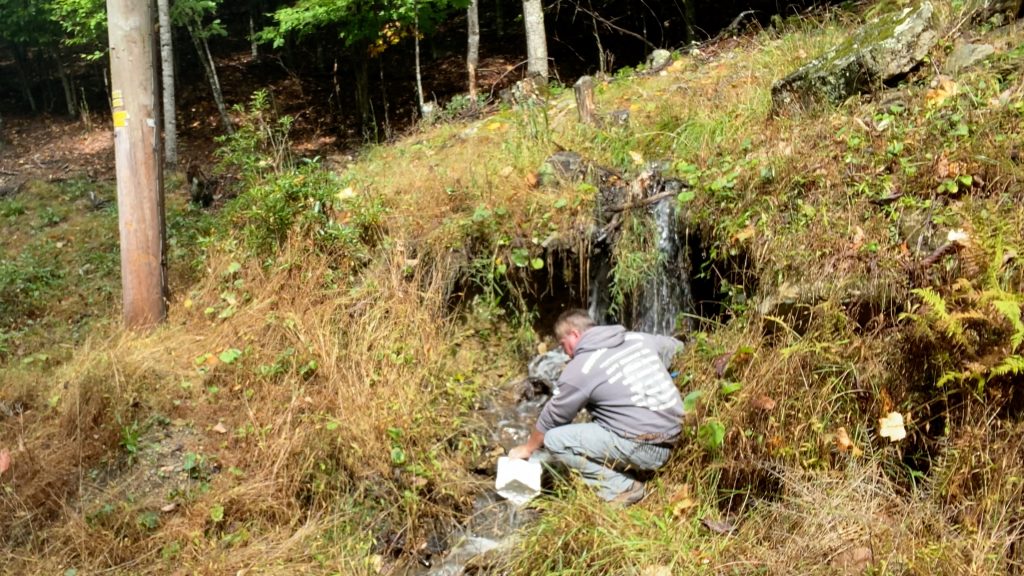 The container holds 5 Litters (just over 1 Gallon) and the filter is good for over 5000 liters of water (1,325 Gallons) before you need to think about replacing it. I recommend you have at least 2/3 extra filters on hand.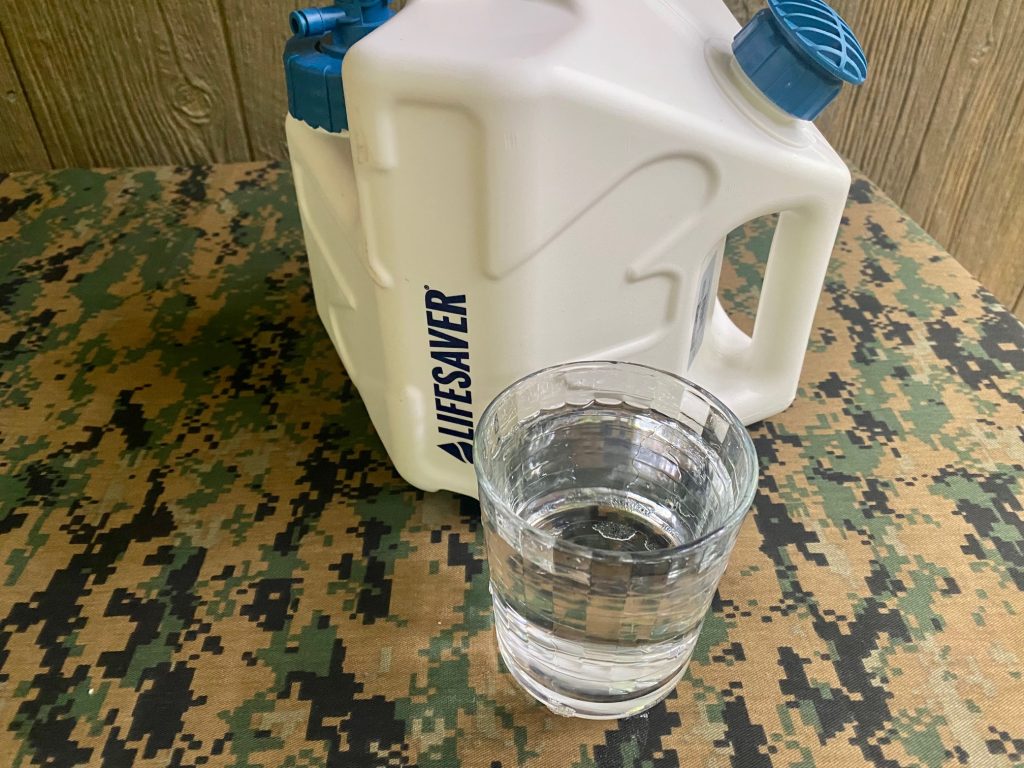 One important factor we read was when you're not using the Cube for any duration or setting it aside for longterm storage, leave at least an inch of water in the container to prevent it from drying out. 
Over all this is one outstanding product that is easy to use and we believe it is a must in every RV, home and emergency preparedness kit.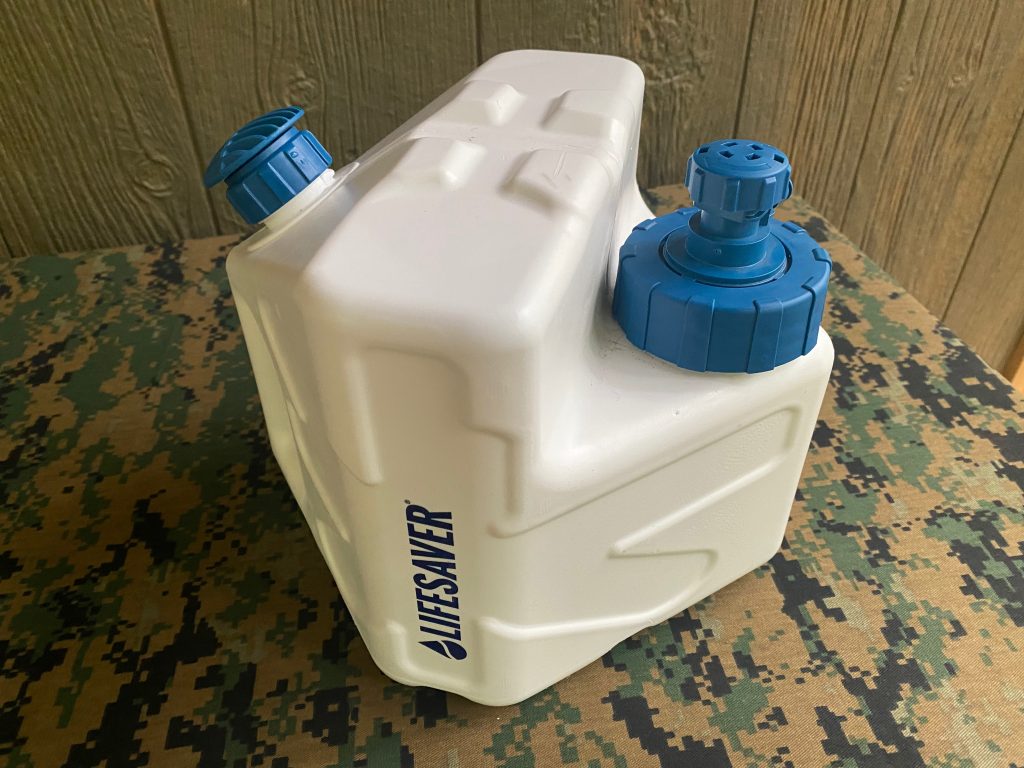 Product Spec's:
Removes:

Virus – 99.999%
Bacteria – 99.9999%
Cysts – 99.99%

Dimensions: 200mm x 200mm x 208mm (h) (7.9 x 7.9 x 8.2 (h) inches)
Dry Weight: 1.2kg (42oz/2.63lbs)
Capacity: 5L (168 oz)
Purifies: 5,000 litres (1,325 US gallons)
Includes a replaceable Activated Carbon Filter for removal of chlorine, taste and odor which is effective for up to 100 liters
The water is still safe to consume without an Activated Carbon Filter installed
Failsafe – an automatic indicator when the cartridge needs replacing
Intuitive to use – FILL. PUMP. DRINK.
No measuring, wait times or unpleasant taste like when using chlorine or chlorine dioxide
Reduces turbidity of glacial, cloudy or muddy water
Robust body for use in the most demanding of environments
Manufactured in the UK
Product materials and water effluent both BPA and BPS free
Price- Averaging $119.99
LIFESAVER CUBE INCLUDES:
Lifesaver Cube
1x Activated Carbon Filter – effective for up to 100 liters
Maintenance Pack (1x protective cartridge cap and 5x spare o-rings)
Effective against:
| | |
| --- | --- |
| VIRUS REDUCTION* | > 99.99%        (Log 4) |
| BACTERIA REDUCTION* | > 99.9999%    (Log 6) |
| CYST REDUCTION* | > 99.9%          (Log 3) |
| FILTER MEDIA | Ultra Filtration (UF) |
| CHEMICAL REDUCTION | Activated carbon filter removes chlorine, taste and odour, improving the palatability of water |
| DRY WEIGHT | 1.2 kg/42 oz |
| VOLUME OF WATER FILTERED** | 5,000 liters/1,325 US gallons |
| INITIAL FLOW RATE** | 1.25 litres/min @ 0.85 bar (g) |
| CUBE STORAGE CAPACITY | 5 litres/168 oz |
| REPLACEABLE CARTRIDGE | YES |
| WARRANTY | 2 YEARS |
Be sure to watch our video review on YOUTUBE @ www.youtu.be/bOJDDaarf7U