One of my father's all-time favorite movies is Apocalypse Now (1979). In that movie you will find that the main character, Captain Willard (played by Martin Sheen), is seen sporting a Seiko 6105-8110 dive watch watch during the entire film. This watch was very common during that time period. It was produced from 1968-1977 and had two different body styles the 8000/8009 and the 8110/8119.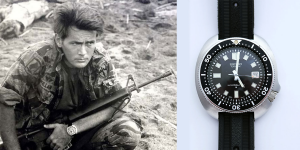 What made this watch so popular? Well for starters the 6105-8000/8009 was very commonly found at the PX on bases in Southeast Asia. During that time period, the most common issued watches just didn't last up to the rigors of the jungles of Vietnam. But on the flip-side, the Seiko 6105 was built to last! It was designed for 150m diving and was still a waterproof, non-hacking, 17 jewel automatic watch all for around the tune of $75 retail in 1971. But in 1971, that wasn't that much per-say, but in today's market, it would be around the tune of $500.
---
Today, these vintage watches can be found, but for around $2500-$5000! Seiko re-released the 6105 series (SLA033) of watches with the limited release of 2500 pieces in 2019, but with an outrageous price tag of over $4000. Seiko currently has an 6105 "style" watch, dubbed the PROSPEX Turtle (SRP777 & SRPE93). These watches can be found for around $375. That is still a pretty decent penny in today's market.
But if you are wanting the Captain Willard branded Seiko, you can own it. In 2020, Seiko released the "Captain Willard" Stainless Bracelet version called the SPB151, with an MSRP of around $1300, as well as a Green Dial Face version called the SPB153, selling for $1100.
I happened to stumble upon a watch video on YouTube and there was this gent talking about watches by the name of Marc. Marc owns a watch shop in Huntington Station, NY called Long Island Watch. Diving deeper into his series of videos, I noticed that he was starting his own line of watches called the Islander's. I was excited to see that on his site, he had his version (the ISL-12) of the Seiko 6105 all for the tune of around $300. I purchased the ISL-12 during their Black Friday Sale in 2020, and saved quite a lot of money.
"Island Watch is a small company that is proud to be family owned and operated. Island Watch provides 100% authentic novel and interesting watches – the styles of which you will not find in your local jewelry store. Our watches come in many styles from Germany, Switzerland, Italy, the Islands, Far East and even sourced right here in the United States."
---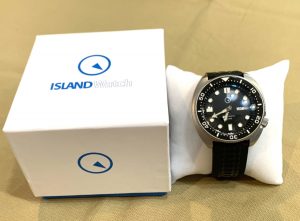 Marc's updated version has a lot of updated features that really made me happy. The updated NH36 Automatic movement makes this watch hack. At the time of purchase, I was wearing my Seiko SKX007j religiously, but just wished it hacked. Another thing I liked about the ISL-12, was the double-domed Sapphire crystal. This is a huge update over the standard flat crystal found on the original Seiko 6105 and even on my Seiko SKX007j.
---
ISL-12 Specs:
Movement: NH36 Automatic (self-winding, hand wind, hacks)
Day/Date at the 3 o'clock position
Case: Stainless steel, 45mm x 16.5mm thick. 47mm tip to tip
Back: Engraved screw-in back
Crystal: Anti-reflective (blue hue) Double-dome Sapphire
Band: Black 3-Ring, Two-Piece Nylon, 22mm lug width
Water Resistant: 200 meters
Unidirectional 120 click bezel
C3 Superluminova Luminous Ceramic Bezel Insert
Drilled end lugs
C3 Superluminova Luminous Hands
Warranty: 1 Year
---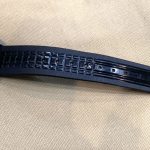 So with me also liking Apocalypse Now, I wanted to recreate Captain Willard's watch. Doing so would be changing out the factory nylon strap. Looking online, I found Uncle Seiko. Uncle Seiko offers Captain Willard's iconic "chocolate bar" style strap. For $39 dollars, this completed the overall look I was going for. I will advise though, that if you purchase this band, it does fit a little snug at the beginning but after it's worn in some, it fits just fine.
---
Wearing the watch after break in, it feels amazing. With initial wind up and continuous movement, I have noticed that it gains a few seconds through-out the day. At night, I have noticed when I set it down, it will loose approx. 40 seconds. So be sure to wind up your watch before going to bed if you plan on wearing it the next and wanting it to be accurate.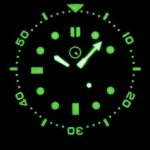 At night, the C3 Superluminova Luminous Ceramic Bezel Insert and the C3 Superluminova Luminous Hands are absolutely amazing. It shines bright, but isn't too overpowering. It is better than the factory Seiko lume on my SKX007j. I will have to say, the seconds hand lume is not true to the time. So keep that in mind if you were to purchase one of the Islander Watches. One touch I really like that Marc did was add the C3 Superluminova Luminous insert for his logo. Just a soft added touch that sets this watch apart from the rest.
---
Overall, I would highly recommend Islander Watches in general. Their diver watches are mirrored after the Seiko SKX style and priced right. They also offer nice dress watches, as well as aviator style watches.
I like supporting small businesses and this one is a great one to support! Not only do they sell watches, but also have a significant amount of accessories for the Seiko SKX, as well as NATO Straps, Stainless Steel Straps, and other various odds and end for watches. Don't forget to join their mailing list to get quite frequent deals and stay up-to-date on new watches in general.
As always, ya'll be good and be safe!