I have been curious to see what Luminox watches are all about, and I finally got the chance! I have always been fascinated with watches, and I own several different makes, models, and kinds of watches – just never a Luminox. When MidwayUSA had the Luminox Recon Team Leader (8841 KM) on sale the other day, I figured, "what the hey…I'll try it out." They sold out of this watch fast, so I was glad I was able to snag one up before they were gone.
---
---
According to Luminox Website, "Like many other American success stories, Luminox came from a forward-thinking individual realizing a need in the market and meeting it. Barry Cohen, a watch industry veteran, came across a Swiss self-powered illumination system and knew that it would make watches more visible and easier to read in low or no light situations. He (Cohen) partnered with a friend, Richard Timbo, and Luminox was born in 1989 (Lumi is Latin for light, Nox is Latin for night) driven by a commitment to offer cutting-edge luminescence and readability in its line of high-performance sports watches." Luminox is well known for making the watches for the US Navy SEALs. "In 1993, the Assistant RDT&E (Research, Development, Test and Evaluation) Officer for the Navy SEALs, Nick North, was asked to seek a more dependable watch for night missions and found the solution at a trade show where he discovered Luminox. He worked with Cohen to develop a watch specifically for them and a revolution was born."
I ordered the 8841KM on a Thursday evening and I received it on Tuesday the following week. I must say, I am truly impressed with this watch. This particular watch model retails for $795, but was on sale for $269.99. I honestly couldn't be happier with this watch. I normally wear an Invicta Watch, but this is my new go to watch.
Here are some quick specs of the 8841KM:
| | |
| --- | --- |
| Function | Chrono, Alarm, Date |
| Movement | Swiss Quartz |
| Case Diameter | 46mm |
| Case Material | Carbon Compound |
| Water Resistance | 100m |
| Crystal | Sapphire |
| Band Width/Material | 23mm/Rubber |
| Case Height | 15.10mm |
| Weight | 72g/16oz |
---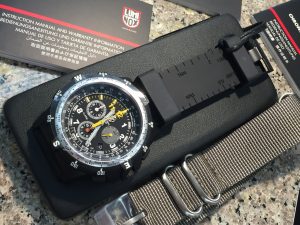 Some Key Features about this watch include: Carbon reinforced poly-carbonate case with stainless steel case back, World Time Zone Bezel, Anti-reflective sapphire crystal, Walking tachymetric scale in kilometers (walking speed relative to meters traveled), Alarm function, Contrast color countdown quadrants, Rubber strap with inches and centimeters used for quick measuring when using a map, and Luminox self-powered illumination tubes (25 years).
---
I know this model has the tachymetric feature set up in kilometers and meters, but Luminox does offer this same watch with the walking tachymetric scale in mph (walking speed relative to feet traveled). What drew me to this watch was the subtle curb appeal and sleekness. I also really liked the weight of this watch. My Invicta watch is on the heavy side due to it being all stainless, so wearing the Luminox to work on the ambulance is extra nice.
I am really glad I "pulled the trigger" on this watch. I have always loved the style and lines of the 3050 series watches and have always wanted one, but I'm really glad I got the Recon Team Leader instead. Luminox makes watches geared for Sea, Air, Land, and now Space. The new line of watches were created for Space Travelers from all over the globe. Luminox has received input from astronauts and test pilots and they have developed some outstanding watches for the future of travel.
---
Also new from Luminox is their Leatherback Sea Turtle line of watches, created for the Sea! The main difference is less illumination tubes are being utilized (only the 2,4,6,8,10, and 12 numerals have tubes). If you are in the market for a new watch, then check out Luminox and see if it's right for you!
As always, ya'll be good and be safe!