The nice people at Mantis Tech contacted us to see if we would be interested in reviewing their new training device, the MantisX. And hell yeah, I'll try most anything once. I am not a believer in snake oil or silly add-ons, but we shall see. We're going to over the un-boxing and first impressions on the MantisX.
---
---
Un-boxing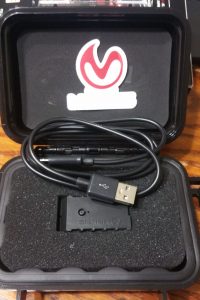 Looking at the package, this definitely is not a fly by night generic box. Opening the box reveals a hard shell case protecting the device. For those that have never heard of MantisX, this tool is a training aid to help teach/aid in what you are doing wrong at the exact moment you pull the trigger. According to MantisX website, " (we) recognize that shooting is a perishable skill. We want more options for effective, efficient training. Like you, we believe that when performance is measured, performance improves. Like you, we want to take the guesswork out, and replace it with cold, hard data." So the MantisX was born. The rail mounted device works with an app on your phone or other device, to show you what happens when you pull the trigger.
---

---
The App
The app that goes with the training aid is easy to find in the app store (Android or Apple) and is very user friendly to use/navigate. It allows you to chose what weapon it is mounted on because each firearm is different and some have narrow or just one picatinny rail. The MantisX has 3 modes: Live Fire, Dry Fire, and CO2 detection. The MantisX can be set to be used on rifles and pistols and you can pick which handed shooter you are, either right or left. I even let my 8 year old try to set it up and was a breeze for him to follow along.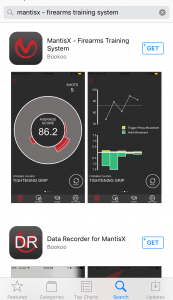 Once in use, it records your shots and gives tips on how to help fix any issues it detects. The app also will record how sturdy your hand is with a chart that shows barrel sway. You can easily tell when I am shooting double action and when I set the hammer for single action. The app records your sessions for future review or to take back and show someone.
---
Dry Firing Mode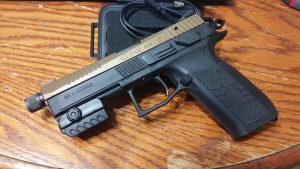 After a quick install on my CZ P09, it was ready to rock. Within a few seconds its was synced to my phone and ready to go. This is really sensitive and very accurate. I pulled a few shots intentionally to test its response and it was dead on the money.  Within a few 5 round sessions, I improved my score. I am no uber-marksmen by any standard, but I am a decent shot.
I cannot wait to get this on the range. The live feedback will also be great for teaching my "know-it-all son" that does not like to take advice. That is the 15 year old going on 30. With this tool, you can't lie because the aid will let you know what you did wrong.
---
Final Thoughts
I think this will be a great tool to help improve my skills. I can see the MantisX being used to teach a new shooter correctly, so they do not develop bad habits from the start. I showed a buddy of mine that does Concealed Carry Classes and Advanced Classes and he really likes the idea and is already trying to steal it from me. His only suggestion is to have the device mounted with a quick detach style and not a screw, to make it faster to swap for students in class. Not a big deal for me. We will follow-up the MantisX unboxing with a range review. Stay Tuned for more!