After my last hunting trip a few weeks ago in South Carolina, my step-dad was talking about the .25-06 rifle he use to have and it got me thinking, what is that round really good for? So I went searching for some .25-06 rifles and stumbled across the Mossberg Patriot. The Mossberg Patriot is a 5 round box-magazine fed, 1:10″ twist fluted barrel rifle that is very affordable. MSRP for the Mossberg Patriot chambered in .25-06 is coming in at $499.99, but I was able to purchase this rifle on sale for $389. One thing that really drew me to the Mossberg, was the fact that it's a free-floating barrel rifle for under $400.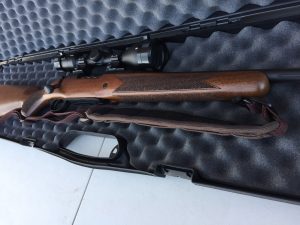 | | |
| --- | --- |
| Mossberg Patriot .25-06 | |
| Capacity | 5 + 1 |
| Barrel Type | Fluted |
| Barrel Length | 22″ |
| Twist Rate | 1:10″ |
| Length of Pull | 13.75″ |
| Barrel Finish | Matte Blued |
| Stock Finish | Walnut |
| Weight | 7lbs |
| Overall Length | 42.75″ |
---
---
I started to research this bullet and figure out why it has been so popular for almost 50 years. So here is the down and dirty of this round: it's based on the parent cartridge of a .30-06 that has been necked down to accept a .25 caliber bullet. With velocities of a 117gr bullet traveling at 3200 feet per second, it makes for a great varmint and medium-size game round. It has been popular among hunters for years in the plain states and been used lately for hog hunting. This bullet is being praised for it's flat shooting and less felt recoil compared to the .30-06.
---
So after picking up the Mossberg Patriot from my local gun shop, I had to decide which optic that I wanted to place on this rifle. I have always been a fan of Bushnell and Vortex, but I wanted something different and wanted something that would not break the bank but with an 50mm objective. After searching high and low,  I decided to go with the
Minox Zv3 3-9×50 BDC 400
and with a price tag of around $200, it made for a great buy.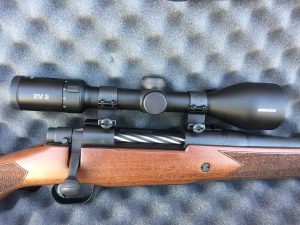 The 50mm objective is really nice and lets in a lot of light when hunting. The clarity of the Minox Zv3 is amazing. This optic is measuring in at 15″ x 3″ x 3.25″ and weighing in at 13.7oz. I really love how this scope is 1/4″ MOA and makes sighting in a breeze. The only negative I can find about this scope is the 1″ tube. If you have never bought 1″ High Mount Rings, they can be kind of pricey. But other than that, it's the only negative I can find about this scope.
After mounting and bore sighting the optic to the Mossberg, it felt really good with the comb and weight of the rifle. I went out to the range and tested out this rifle and I have to say, it shoots like a dream! I have never been really interested in the "non-common" ammunition rifles, but this rifle is great. .25-06 ammunition is coming in around $20-$30 for a box of 20. I was really surprised of the price of the .25-06 ammo. Most "non-common" ammunition is mostly coming in around $30-$40 for a box of 20. I really liked the fact that I was able to find Hornady 117gr spiral core bullets on sale for $19.29 and Hornady 117gr SST hunting rounds for $27.49.
So at the end of the day, I have been really impressed with this rifle and this round. I have always been skeptical about the Mossberg Rifles. I know how the shotguns operate, but this is my first encounter with their line of rifles. If you are in the market for a great round that will do well for small game and medium-size game, then check out the .25-06. Also, if you are wanting a classic looking rifle and don't have a lot of money laying around, then check out the Mossberg Patriot and see if it's right for you.
As always, ya'll be good and be safe!