So what's new from American Tactical Imports for 2017? All I can say is…We Are Excited! New from American Tactical this year is a .410 Shotgun AR. Why would anyone need a .410 AR you may ask. The correct answer to this question is, why doesn't everyone own one? With the market being flooded with AR's chambered in 5.56, it's refreshing to have something new and innovating.
This .410 Shotgun is matted to their Omni Hybrid Lower Receiver and this upper can be placed on any standard AR Lower. With their proprietary 5 and 15rd magazines, this little shotgun/rifle is going to be awesome! We were talking with the guys from ATI, and they told us that the bolt in this .410 is full-auto rated. This really peaked our interest and we are chomping at the bit to get one back at the
shop
, convert it to full-auto, and slap on a suppressor to really put it to the test. Then after that, convert it to an SBR to see how it will cycle. MSRP for the .410 AR is coming in at $599.95.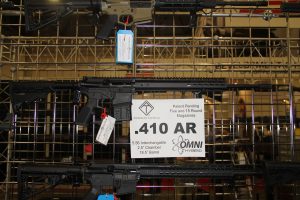 ---
---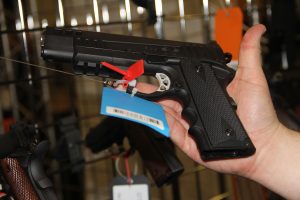 Also new for 2017 is their 10rd Hybrid 1911 chambered in 9mm, dubbed the FXH-9. This 9mm is a full-size, single action pistol that is polymer with two metal inserts for added durability and stability. The FXH-9 comes with a steel slide and match-grade 5″ barrel. The sights can be swapped out for any Glock aftermarket sights and the removable top plate on the slide will accept a Trijicon RMR and Burris Fastfire sights. As this being a 1911, aftermarket parts can be swapped out and replaced. I personally like the grips on this pistol. The finger cut outs are great and the pistol fits like a glove. MSRP is coming in at $629.95.
The last thing that caught our eye at SHOT Show from American Tactical Imports was the GSG MP40P in 9mm, finally being shipped out. They have been working hard on getting these pistols out to the public for some time now, and they are finally coming! They are only making a limited number of these pistols that will come in a crate (1100 to be exact), but after those numbers are met, the pistol will come in a standard cardboard box.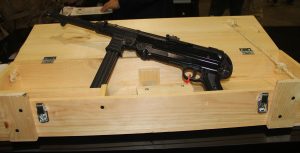 This 10″ barrel is going to make a great collectors piece. We were talking with the representatives, and they guaranteed that this pistol can be converted into an SBR with the added stock of the .22LR. Also, they assured us that these pistols can be converted to be fired from the open-bolt, so that means…full-auto! We are excited to get one of these at the shop as well and start working on it. I'm curious how it will hold up to being shot full-auto. This pistol will come with one 30rd Magazine, and unfortunately, it's a proprietary magazine. This 7.875lbs pistol is a replica of the original MP40, but no original parts will fit in it. MSRP is coming at $649.95.
Be on the lookout for these pistols and rifle coming/being shipped out soon! Also, be on the lookout for our review of the .410 AR Shotgun, as soon as we get it in!