Bond Arms has been in the gun business for over 20+ years and are notoriously known for their Derringer Style pistols. But for 2017, Bond Arms has revamped the Boberg design pistol (Bond recently purchased Boberg) and made it their own, dubbing it the Bond Bullpup.
We were walking around SHOT Show lower level and came across the Bond Arms booth and this little pistol really caught our eyes. The weight and feel of this 9mm pistol is just phenomenal. This reverse feed pistol (ammo is nose down and then pulled back and into the chamber) is pretty awesome, but if you had no idea what this pistol works and pulled out the magazine and looking at it, you'd be confused. You might accidentally want to load rounds in backwards and insert the 7+1 magazine back in backwards just due to the design.
The action is really smooth and take down is a breeze. Taking out the rotating barrel can be quite tricky, but after playing with it for just a few minutes, we were taking it apart and putting it back together in no time. The grips will be coming in G10 (Different Colors) and a Rosewood Grip.
---
---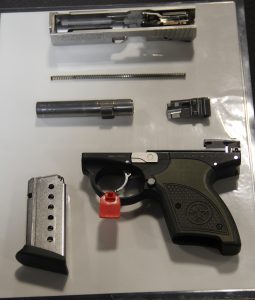 According to Bond Arms, this Double Action Pistol has adjustable springs to make the trigger pull either: 5.5lbs, 6.5lbs, or the heavier 7.5lbs, depending on which model you want. One thing I really like about this pistol, even though it's designed to be a carry gun with a 3.35″ barrel, Bond is going to be releasing the Bullpup with a threaded barrel. For all the silencer lovers out there, this is going to be awesome. I'm curious to see how the gas and blowback will work on this pistol. Bond Arms is planning on doing a "soft" release of this pistol sometime between now and April 2017, with only producing around 150 units. If the release goes well, then we should be seeing this pistol in stores around Q3 2017.
In anticipation of the success of the Bullpup, they are already developing this pistol in 45ACP and are kicking around the idea of having extended magazines and possibly other calibers as well.
So what is this little pistol going to cost? According to Bond Arms, they are projecting the MSRP of this pistol to be around $900-$1100 mark. Although that is kind of high for a little pistol like this, you have to remember that these pistols are Made in the USA and they are still working on the final manufacturing process to keep those costs down to the consumer.
We are really excited about this pistol and we absolutely love their Derringer Style pistols and own a few of them. I hope the Bullpup will do just as good!