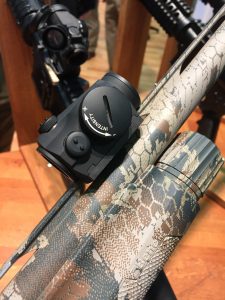 Something new coming down the pipe from Aimpoint this year is the S1. Now, what does the "S" stand for…it stands for shotgun! That's right, Aimpoint is venturing out into the competitive shooting and hunting market with this new optic.
Talking with the Aimpoint representative, they are currently projecting this little optic to become available hopefully in Summer 2017. How they went about making this optic is quite simple; they took their popular H1 red-dot optic frame, shaved it down and made it slimmer to fit onto ribbed shotguns.
---
---
This little optic is pretty awesome. Aimpoint has thought of everything, even including adaptors to fit pretty much all popular makes and models of ribbed shotguns. They are currently working in the European market and using their measurements first and then moving to the US market to accommodate our line of shotguns. This 6 MOA is perfect and mirrors a fiber optic front sight; actually, you can still use your bead sights if you want due to the low-profile base. According to Aimpoint, this optic will be priced in line with their current H2 optic, so around the tune of $700+. Is this optic worth it? Some will say yes and others will say no, but with the evolving sport of 3-Gun, it will definitely be a winner in our opinions, but time will tell. We're hoping to be able to test one of these little optics out when they become available in Summer 2017.