Have you ever been unsure where the private land ends and the public hunting lands begins? Well, onXmaps is here to help! onXmaps was founded in 2009 by Eric Siegfried, and their mission is "striving to create the most current and accurate land ownership mapping information available, enhancing the best days of our customer's lives."
Here is the down and dirty on this app according to their website: onXmaps cares about the mapping struggles you may face, here is a list of just a few data sets we include in our maps:
Open Space- Our detailed public land data can expose city or county land, or other open space that might hold your next adventure.
Public Lands- Find lands open for public use and points of interest connected to them; such as campsites, water access, ski areas, and so much more!
Private Lands- Find out who owns the land, with land owner name labels on most of the properties it's easy to see who your neighbors are and search for land owners.
Property Boundaries- Always know your location relative to property boundaries; each parcel boundary, farm boundary, and ranch boundary is clearly shown on our maps.
Trails- With extensive nationwide trails database for both urban and rural trails, you will have no struggles finding a trail to get you where you want to go.
Backroads- Unlike other companies, we focus on mapping rural & nationwide backroads, closed & decommissioned roads—all important to recreation.
Collection- We go directly to the source ensures that we create relationships with those that are providing us the data. It is easy to be aware of the date of the data (some call this it's vintage, or data currency) when the file comes directly from it's administrative source.
Combine and Compare- By combining all the layers together we are able to analyze each layer – whether it be roads, parcels, recreations points, and other layers. We also compare and cross-reference the data and map features with aerial imagery, other maps, and to each other. The comparison process continues into choosing the placement for each particular point, line, and polygon (shape). While comparing we are able to determine which dataset is the most accurate for that state, area, or map point and combine them to create the map layers.
Clean- We meticulously scrutinize and clean these datasets in a way that makes the data & features match up, easy to understand, and distinguishable for our map users.
Customize- We discern between specific data sets & features to create recognizable maps based on our customer's needs, behaviors, and lifestyles that make up our brand.
Construct- Our team of GIS pros, Development and Software Engineers work in tandem so that our maps are viewable on multiple devices and platform types. We make our maps viewable on Garmin GPS devices, computers, mobile phones, and tablets.
---
---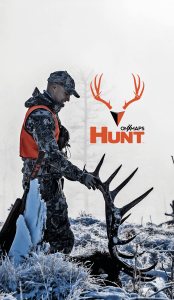 onXmaps offers two different applications, Hunt and Roam. I chose the Hunt Application due to frequently hunting. It is highly recommended that you view the tutorials in the app or online, to properly get the best out of it. You can track your activity path, see where you are, and see what side of the fence you need to stay on. Once you get registered and get your login, you are able to access onXmaps on your mobile device, computer, or even on the app. You are able to view saved maps, even without cell phone service. In today's world, it seems like paper maps are becoming obsolete and the new age of GPS is becoming the more popular way of doing things. This app can be a little cumbersome at the beginning, but once you view the tutorials, it's a breeze to use. The HUNT app offers: Land owner names with property boundaries, Color-coded public and private lands, Up to 24K topographical functionality (for digital maps only), Roads (hwy, city, back-roads, trails), Water data (lakes, rivers, creeks, springs), Game Management or Hunting Units.
onXmaps Hunt offers three different memberships: Free, Premium State, and Elite Nationwide. Each memberships offers different product availability. I hunt here in North Carolina, as well as South Carolina and Missouri, so the Elite Nationwide is the one I chose. I was able to go in there and map out the hunting area and get an idea of where else I would like to hunt.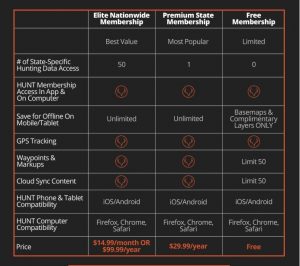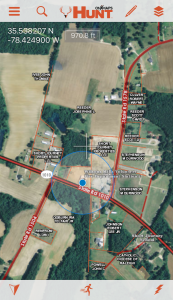 Turkey Season is right around the corner, and I honestly cannot wait to get this app out in the field. I did a little field testing around the area and around the farm some, to see how accurate it is. This app is pretty accurate, even when I did not have a signal. I did notice that in my neighborhood, it isn't updated and my house is not even on the map, even though it's been built since 2013. But it is what it is. Using the Saved Maps feature in the app, makes life a lot easier when you do not have service. It's a good idea to go ahead and save your area that you're going to be in, just in case you do lose a signal.
I'm really glad I found this app and it is honestly an essential in my gear list for this upcoming year, and it should be in yours as well. Check them out for yourself to see if it's right for you.