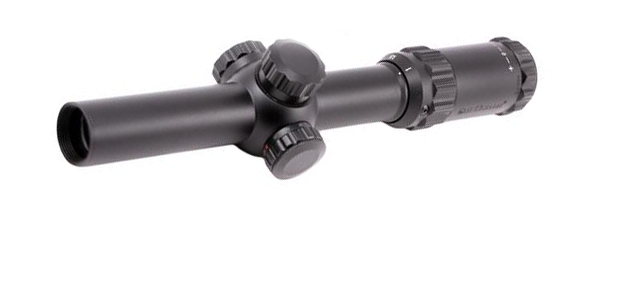 This is an initial impressions review of the Optisan Mamba 1-4x30mm scope. I've been wanting a 1-4 scope for the Infidel Gunfighter league matches at Range 37. Being on a budget I didn't want to spend much just for monthly local competitions. I shoot mainly to keep up my abilities and less so to be competitive. During my search I kept seeing references to the Optisan Mamba 1-4x30mm scope. Most reviews were positive and they piqued my interest enough to order one.

I ordered the combo scope and EAR 30mm mount, from www.swaf.com. Ordering was hassle free and I received it in a timely manner. The Optisan box was very well packed by SWFA using an over sized box and shipping peanuts. The packing inside the Optisan box kept the scope secure while in transit.
The first thing I noticed when I took the scope out of the box was that it is heavy. Per the manual it is 17.7 oz. I installed the mount and scope on my S&W M&P 15 OR. I cleaned all screws with degreaser and used blue Loctite. Being that it is centered over the rifle when mounted, I didn't notice the extra weight to much.
I adjusted the reticle focus and zeroed 1.5″ low at 25 yards. This should give me an unverified 100 yard zero. The clicks on the windage and elevation are mushy. A very slight click can be heard but there is no real stop at each click. The white markings are clear and of good size on the elevation knob. This mitigated the lack of positive clicks. The elevation knob also has yardage marks. You can "zero" the elevation knob and then adjust it for ranges up to 700 yards and per Optisan it will be accurate using .223 55 gr ammo. I had no issues zeroing the scope and it held zero through 60-80 rounds. I also did not have to adjust windage at all.
The reticle does not change size when going from 1 to 4 magnification and with it properly focused is clear and stands out even with no illumination. It has two colors of illumination, red and green. Each color has five levels of brightness. I have not tested the illumination as of this writing. The magnification does not appears to be a true 1x. It is maybe a 1.2 or 1.3 at the 1x setting. For $150 + shipping, I believe it was worth giving a try. Only time will tell how well it will hold up to range and local competition use.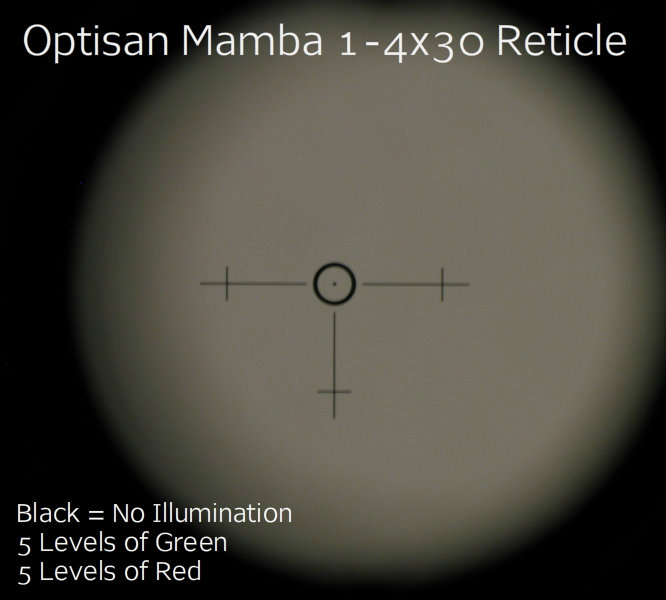 The lack of a tight group can be attributed to the shooter and not the rifle, ammo or scope. I sighted in 1.5″ low at 25 yards to come close to a 100 yard zero.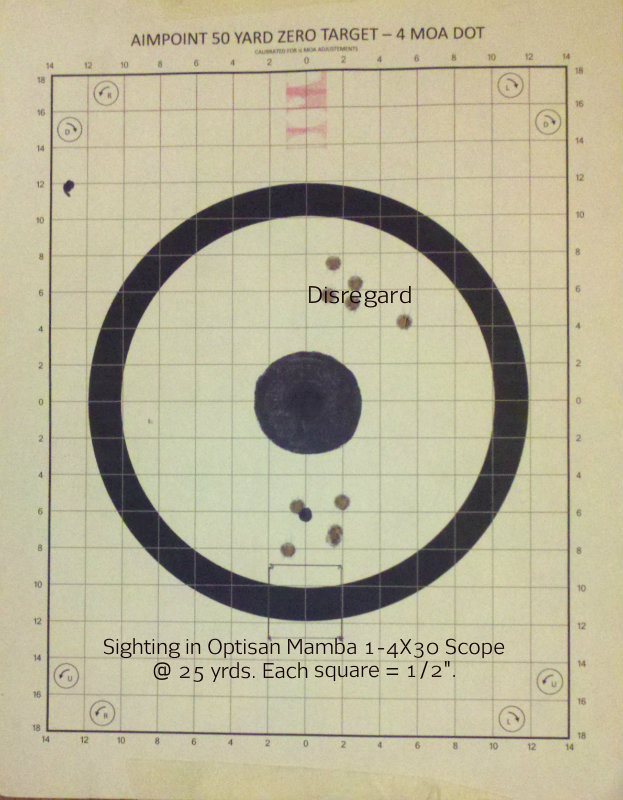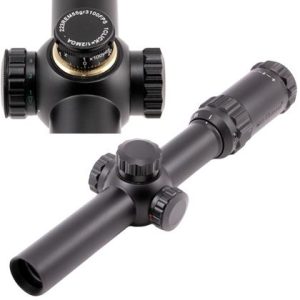 Specifications:
Weight:
17.7oz
Length:
11.29in
Eye Relief:
3.5-3in
Field of View:
97-23ft @ 100 yards
Exit Pupil:
12-6 mm
MOA:
1/2
Special thanks to Sergio Marroquin Jr. for writing this post!