In the mid-1970's, W. Germany changed the standard for side-arms, which prompted new designed pistols from many manufacturers to include: HK, Walther, and Sig Sauer. What Sig Sauer brought to the table was the P220, but then resubmitted the P225/P6 and the P6 was ultimately picked by German States Police. The P6 was cheaper to manufacture and was manufactured in the same plant as the P220 in W. Germany.
When Germany's State Police again changed their standard for side-arms, the P6 started to phase out and were imported into the US for the civilian market. These surplus pistols could be found around $250 dollars when they first hit the streets in the mid-2000's and made a great conceal carry handgun. Fast forward to 2015, the market is starting to dry up for the P6, and they were going for now upwards to $600, Sig decided that the market is wanting another single-stack pistol and re-introduced the P225-A1. But wait a minute, Sig already had a single-stack 9mm, the P239. So why bring back the P225? The P239 is lighter, shorter in height, length, and width – so what makes this pistol better?
In my opinion, it's the feel of the gun. The P225-A1 feels way better in the hand – the grip angle is nice and the palm swell makes it easier to grip and doesn't feel as bulky compared to the P239. With an overall length of 6.9", overall width of 1.26", and overall height of 5.2", this pistol is great for conceal carry. I bought this pistol for my wife for our anniversary. Her current CCW pistol is an M&P Shield 9 and her EDC Pistol is a Glock 19. Now adding this gun to her rotation, it is definitely different. This is her first SA/DA pistol that will be in her rotation. This pistol is heavier, coming in at 1.91lbs, compared to her M&P Shield 9 (1.29lbs) and her Glock 19 (1.48lbs). The Shield and Glock are much lighter due to their polymer frames and being striker-fire guns.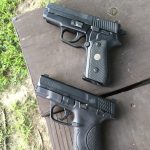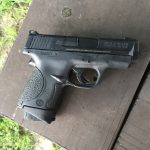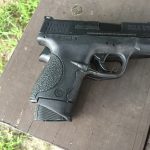 ---
So what's the difference between the P6 and the New P225-A1? The P225-A1 comes with a lot of updated features to include: lighter trigger (thanks to the Short Reset Trigger), Black G10 Grips, new contour of the alloy frame, milled stainless steel slide (compared to the stamp slide of the P6), two barrel lengths – Suppressor Ready barrel (4.23″) and Standard barrel (3.6″), 3 options for sights (Standard Sights, SIGLITE Nite Sights, and Suppressor Ready sights), and includes two 8rd magazines.
---
---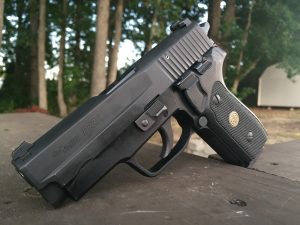 This isn't the first Sig in the house and more than likely, not the last. There is a reason why I love these pistols – they are just great quality pistols and shoot so accurately. I purchased this used pistol on GunBroker, for a steal of a deal and it came with three magazines. When it came into my LGS, Clayton Guns, I was super excited. It appeared that it hardly had been shot by the previous owner and it came with all the original paperwork and case. Taking this pistol to the range, it shot well and the recoil is very manageable. The P225-A1 pistol had no hiccups.
---
For my range ammunition, I typically stick with 115gr RN Ball ammo. I was shooting a wide variety of ammunition to include: Perfecta, Freedom Munitions, Sellier and Bellot, Remington UMC, and Federal. I make sure that all my pistols can shoot the Perfecta ammunition because it is so cheap. I recently started trying out the Sellier and Bellot Ammunition in my wife's Glock 20 because it's $15 for 50rds of 10mm. So if it's good in that caliber, to be sure it will be stellar in 9mm.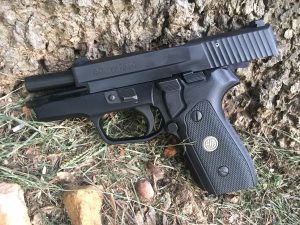 ---
I'm all about shooting cheap ammunition, but sometimes people shy away from the cheap stuff – not me, but I digress. Holstering and un-holstering was a breeze using Hoss' Holsters OWB Holster and target acquisition was fast. Accuracy was on point and I was shooting really tight groups at 10yds.
Holsters are becoming more available for the new P225-A1, but make sure when you purchase a holster that it's for P225-A1 and not P225/P6. Some of the holster manufacturers include: DeSantis, Vedder, and custom Kydex Holster Manufacturers. Magazines are quite pricey, like all Sigs, they are coming in at $44 from Sig Sauer directly and can be purchased online (when in stock) from Top Gun Supply for $33 and from Ammunition Depot for $34. Unfortunately, the older P225/P6 magazines will not work with this pistol, so be mindful when ordering extra magazines.
These pistols aren't cheap. MSRP is coming at $1,032 and is being sold locally for around $899 with SIGLITE Nite Sights (225A-9-BSS-CL) and $849 with standard 3-Dot Sights (225A-9-B-CL). Also, Sig offers four options of the P225A-1 to include: Nitron (Black G10 Grips), Classic (Wood Grips – 225A-9-BSS-CLW), Two-Tone (Stainless/Black – 225A-9-TSS-CL), and Suppressor Ready (Threaded barrel and suppressor sights – 225A-9-BSS-CLTB). In my opinion, SIG equals quality and you get what you pay for. For all the Military/LEO/and First Responders, the Sig P225-A1 Nitron is being offered on their LEO Discount for $799, which includes 3 magazines and has Sig's Night Sites.
So if you are in the market for a new CCW pistol and looking for a SA/DA pistol, then check out the Sig Sauer P225-A1 and see if it's right for you!
As always, ya'll be good and be safe!