It's the Battle of the Striker Fires: Sig Sauer P320 Compact in 9mm vs Glock 19 Gen4. Both of these pistols are exceptionally well made pistols. My wife owns the Glock 19 Gen4 in the Gray Frame, and I own the P320C. The Sig Sauer P320 Compact has been out on the market for about 2 years now, and it is hurling outstanding reviews and been wowing the masses! It has been awarded NRA's American Rifleman Golden Bullseye Award for Handgun of the Year for 2016! Everyone knows that Glock has been very well represented since it's debut, and there are quite a lot of reviews of Glocks out on the web and on YouTube.
Glock 19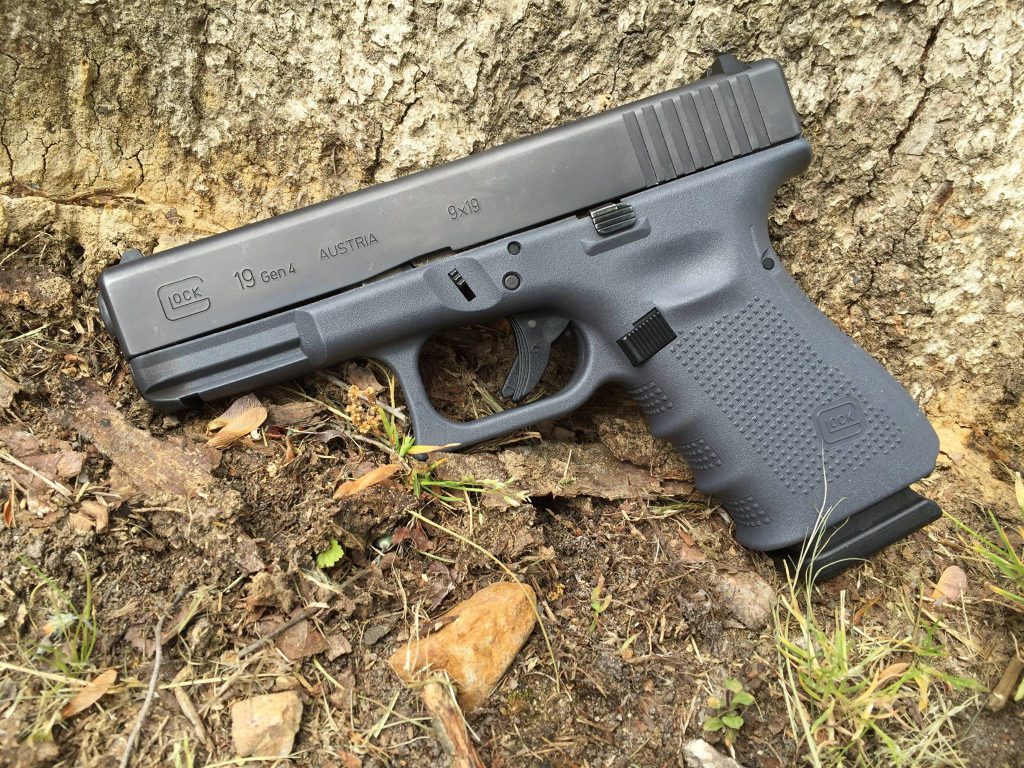 The Glock 19 has been around for quite some time. The Glock Gen 4, made its debut at SHOT Show 2010. The Gen4 was redesigned with its interchangeable back-straps, updated recoil spring design, aggressive rough-texture frame, grip checkering and three magazines, compared to the two magazines with the Glock 19 Gen 3. The Glock Gen 4 has been a stable for the last 6 years in the gun market. Let me ask you, when the last time you went to a gun store, and someone was looking for a pistol, or even when you were looking for a pistol for the first time, what was the first pistol they tried to sell you? Could it have been a Glock? A reason for this is due Glocks simplicity of use and durability. The old saying goes, "if it's good for the LEO, and now possibly the US Military, it's good for me." And all this is true, if you like the grip angle and the texture on the side of the frame, and the not so great plastic sights. Glocks are like toys for Adults. You can customize it to fit you. The market is flooded with accessories like trigger kits, night sights, extended slide and mag release, and the list goes on and on. But it's all about preference and what feels good in your hand. And in my hand, the Glock is ok. I owned a Glock 19 Gen 3 in the past, but it was somewhat uncomfortable to shoot, due to my middle finger being pressed up against the trigger guard. I typically like a higher hold on my pistols, and the Glock just didn't feel good. I liked the grip angle but it was just missing something for me. Yeah, I could have sent it off and had custom work done to it to make it fit better in my hand like under cut the trigger guard, but why should I do that? Glocks are supposedly great out of the box, or so people are told.
Glock 19 Gen 4 Stats:

Unloaded Weight 1.48lbs
Rd Capacity- 10 or 15 depending on state
Overall Length- 7.28"
Overall Height- 4.99"
Overall Width- 1.18"
Barrel Length- 4.01"
Trigger Pull- 5.5lbs avg
Factory Color Options: Black, FDE, Gray
Sig Sauer P320 Compact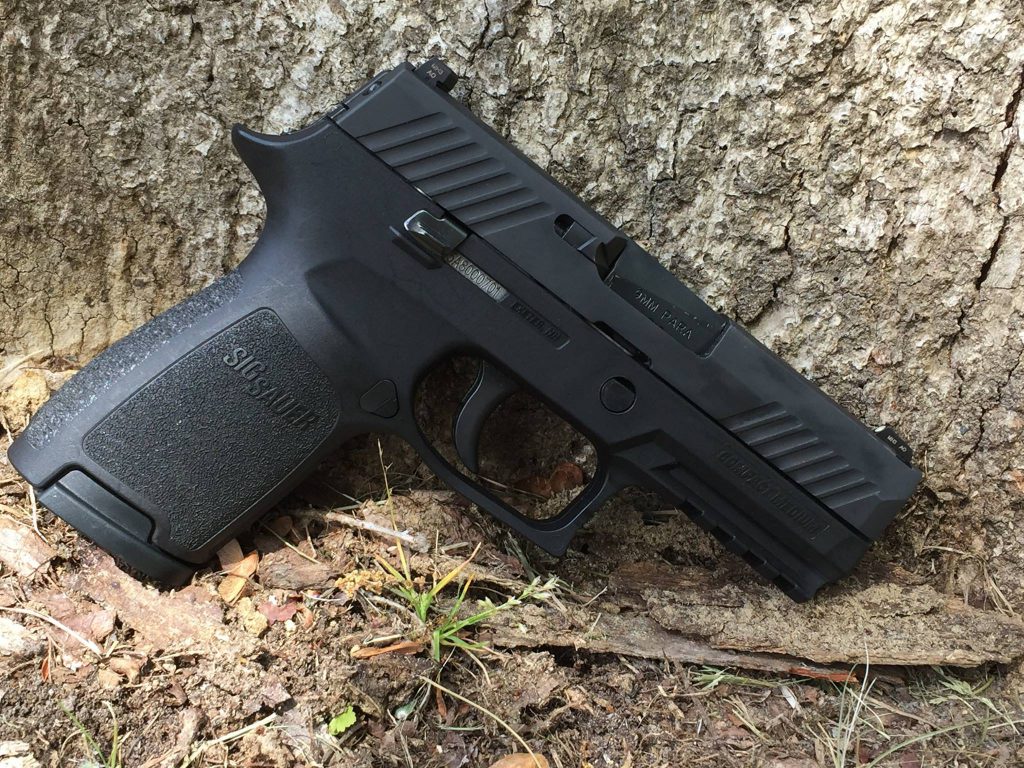 So at SHOT Show 2014, here comes something new from Sig Sauer, their new Striker-Fire Model pistol. Sig Sauer is famously known for their P-Series since the 1970's, but not striker-fire pistols. One of the key features of this pistol is its modular design. The only thing serialized is the fire control unit itself. And when I say unit, it's one complete assembly. The frame, slide, recoil spring, and barrels can be interchanged from different calibers as well as size. For example, let's say you purchased this P320 in the compact configuration in 40 S&W, but now you want a full-size model to compete in your local gun matches but in 9mm, well Sig has made it easy for you change it out with their X-Change Kits. The kits include the slide, barrel, recoil spring, frame, and one magazine all for around $399 from Sig directly. I have found X-Change Kits a little bit cheaper online at other distributors, and they are selling around $300-$350. But the modularity makes this gun great. The X-Change Kits are interchangeable if you have a 9, 40, or 357 SIG control group. Unfortunately, if you want to change over to 45ACP, you'll have to purchase a brand new pistol due to the larger control unit not fitting in the smaller grips and vice-versa. Now, if you want to change the frame width, you can. Sig sells just the frames for $40. Most P320's will come with the Medium grip, but they sell the Small and Large grips as well. When the P320 came to my LGS, I was in sure bliss. I was holding it, racking the slide back, and not having problems with my middle finger being cramped up against the trigger guard.  This pistol was everything I have been looking for in a striker-fire pistol; the ease of the controls, the ambidextrous slide release, and interchangeable mag release for left or right hand shooters, and it also includes a paddle style holster. Could this be my next pistol purchase? Then I squeezed the trigger, and you know what…it sure was! The grip alone had me sold, but the trigger made it a done deal. The trigger feels much less than the avg 7.8lbs trigger. It felt like 4lbs, easily. The Sig Sauer P320's are now coming to the market with the Gen 2 upgrades, that include slimmer take down levers as well as slide release. Another great thing about the Sig P320, even though it has only been out for 2 years, the market already has holsters for it. The Sig P320 will fit in the Sig P250 holsters. In fact, the paddle holster that comes with the pistol says P250 on the back of it. Also, the new X-Ray Night Sights that just came out for the Sig Legion Series is available for the P320.
Sig Sauer P320 Compact 9mm Stats:

Unloaded Weight- 1.61lbs
Rd Capacity- 10 or 15 depending on state
Overall Length- 7.2"
Overall Height- 5.3"
Overall Width- 1.4"
Barrel Length- 3.9"
Trigger Pull- 7lbs avg
Factory Color Options: Black, FDE, OD Green
Summary
When I go to the range with my friends I let them try out my P320, and the verdict is always the same. They absolutely love it! I've converted Glock fans to Sig fans in just a few minutes. My wife absolutely loves her Glock 19 and likes to shoot my P320, but she says the Glock fits her better. The P320 without Night Sights is being sold locally for $489.99 and w/ Night Sights for $549.99, while the Glock 19 Gen 4 is being sold for $525, but it does not include Night Sights. Glock does offer a Blue Line special for Military and First Responders. You can pick up a Glock 19 Gen 4 locally for $425. Sig Sauer does offer a Military and First Responder discount for the P320. The 2016 price is $425 w/o Night Sights and $495 w/ Night Sights. The IDPA world has been turned upside down with this Sig pistol. Smith and Wesson shooters are now shooting this Sig, as well as Glock shooters. The Sig does have some differences compared to the Glock: like the high bore-axis, a slightly bigger overall height and width, and metal magazines instead of Glock's plastic magazines. I'm very interested to see what other improvements Sig will offer with this P320 in the very near future, as well as Glock. At the end of the day, it's all about what you like best and what's going to fit your carry needs. But like I said, it's always up to you and what you like! Just remember when you are at a local gun shop searching for your next pistol and the clerk immediately tries to sell you a Glock, think about other options. You may be surprised that another pistol might fit your needs and hands better.
Ya'll be good and be safe!