Looking at my email's back in July 2021, I saw that Primary Arms was running a Summer Sale and found that they had the Polymer PFC9 for $429.99. I honestly didn't need another pistol, but at the same token, I wanted to get a newer pistol to try out and review. So what the hell.
Polymer80 has been around for quite awhile and they have been making 80% Glock Lowers, as well as AR15 and AR10 Lowers, at affordable prices. Their 80% Lowers come with jigs and building it makes it fun for the shooter. But the downside, you have to hand fit every piece. If not, then you'll have a lot of malfunctions. My friend has two and she has had some issues with getting them to cycle, but another friend has one and it works flawlessly. But I digress.
---
Why a Polymer80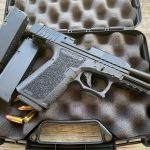 What made me want to get a Polymer80 instead of just getting a Blue Label Glock 19? Well for starters I hate the Glock 19 grip. I like the compact styling of it, but I hate how the trigger guard pushes on my middle finger after shooting only a couple of rounds due to my high grip. So if I were to purchase a Blue Label Glock, I would send it off and have the trigger guard cut with grip stippled, add TruGlo TFXPro Sights, Extended Slide Release, and Apex Tactical Trigger and Trigger Spring/Connector. So after it's all said and done, I would have invested with the purchase of the pistol close to $900-$1000.
The Polymer80 saves me money all the way around. The pistol itself saves me money and fixes this problem with the double undercut trigger guard, and the only extra items I'll have to purchase will be the TFXPro Sights, Extended Slide Release, and Apex Tactical Trigger and Trigger Spring/Connector later on. Are those parts necessary for this pistol out of the box? No, it isn't necessary at all, but it's my personal preference. So with the added extra's I would only invest approx. $750. So in the end, it'll save me about $150-$250, compared to purchasing a Blue Label Glock.
---
But we're not here to talk about aftermarket accessories for Glock's, we're here to talk about the Factory Serialized Polymer80.
The Pistol
When the Polymer80 arrived at my local gun shop I was quite pleased to see that it came in a plastic case. I was worried that it would come in a cardboard box, like most entry-level pistols typically do. Opening up the case, I noticed that this pistol includes three Polymer80 branded15rd Magazines, which is a win-win.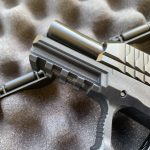 Picking up the pistol, the grip feels amazing in the hand. The stippling on the grip feels like the Smith & Wesson M&P9 2.0 Compact. It's quite aggressive, so it makes me wonder how it's going to feel when carrying IWB. The pistol frame offers that double undercut trigger guard, stippling, and picatinny rail to attach lasers or flashlights. One downside to this pistol is the magazine release is right handed only. So, keep that in mind for you left handed shooters out there.
Racking the slide back, it feels like a standard Glock. It's smooth and has no hiccups. The slide offers front and rear serrations and the front crown is cut slightly inward. The "Competition Style" sights are metal, but offers only a white dot front and black out rear sights. Although they are an upgrade from the plastic Glock Sights, it's not a bad design at all. I just wished it was a traditional three dot sight picture.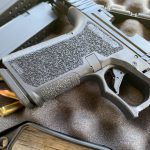 Dry firing the pistol in the gun shop, I noticed that the trigger was slightly gritty. The flat trigger is a nice addition, but it could be better in my opinion. It has a lot of gritty up-take until it hits the "wall". The trigger pull is averaging right at 5.7lbs, so not too terrible.
---
Holsters
Finding holsters for this pistol is slightly tricky. Unfortunately, standard Glock Holsters won't fit this pistol. You have to find a holster manufacturer that offers a mold specifically for the Polymer80. The ones we found were Black Rhino Concealment, NSR Tactical, Vedder Holsters, Henry Holsters, Eclipse Holsters and ANR Designs. The one particular holster company that we really liked out of all of those mentioned was ANR Designs out of Manchester, NH. ANR Designs offers IWB and OWB options for the PFC9 as well as other popular make and models. We decided to nab one of their OWB Lightbearing Holster to accommodate a Streamlight TLR-1.
---
Performance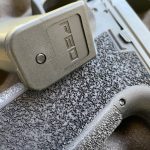 Going out to the range, this pistol performs like a Glock. I shot about 400rds with a mixture of steel, brass, and 100rds of defensive. It didn't jam once, but the grittiness that I was noticing with the trigger at the gun shop made for some errors overtime at the range. When inserting in a magazine and hitting the slide release, the trigger would reset more forward and the trigger would almost get stuck. I had to put more than normal pressure to get it move. Not sure if that's normal for the design of the flat trigger, but I didn't like how it was acting up at all.
I think the first upgrades for this pistol will be the TFXPro Sights, a 6lb Extra Power Trigger Spring, Glock Minus Connector and a polished rounded safety plunger. I will see if adding the polished rounded safety plunger along with the 6lb Extra Power Trigger Spring and Glock Minus Connector will make that trigger grittiness go away and see if that helps with that trigger problem. I may still end up changing out the trigger to an APEX Trigger afterwards, but time will tell.
---
Conclusion
At the end of the day, is this pistol a true "Glock Killer"? Simply put…MEH. With this pistol being a Gen 3 Glock base, it's going to perform as a Glock should. In my opinion the deciding factor for me is the grip texture and undercuts on the trigger…so ergonomics of the pistol. To me, this factor alone is a great selling point for someone who gets the smashed "Glock finger" when gripping a Glock 19.
As far as reliability, I would say once I get the trigger kink worked out, it should be fine. Like I said, it ate every ammo we put through it and had consistent ejection patterns with no striker issues. I will be doing an update to this pistol later on when I upgrade it, so stay tuned for that!
If you are in the market for a "budget friendly" pistol and isn't just a "plain jane" Glock 19, then check out the Polymer80 PFC9 and see if it's right for you!
As always, ya'll be good and be safe!