With the release of the Mossberg Shockwave 590 at Shot Show 2017, it was only a matter of time for Remington to join in this market. In wake of the NRA-AM 2017 show in April this year, Remington debuted their version of a non-NFA shotgun variant dubbed the TAC-14. So what makes this shotgun different than the Shockwave?
---
---
When the ATF ruled a 14″ barrel shotgun as a non-NFA item due to it's overall length of 26″, it seemed like everyone was really excited, yet skeptical if it will stay a non-NFA item – I myself included. The number one difference, besides manufactures, is the overall look. The Remington Model 870 Express Tac-14 comes with the same Shockwave Raptor Pistol Grip as the Mossberg, but comes with a Magpul M-Lok Front Forearm.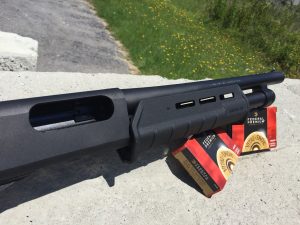 ---
This 4+1 capacity ( 2 3/4″ or 3″ shells) 12-gauge shotgun is a little bit heavier compared to the Mossberg, due in part of the steel billet receiver versus the aluminum receiver on the Mossberg.The finish on this shotgun is Remington's popular Black Oxide finish.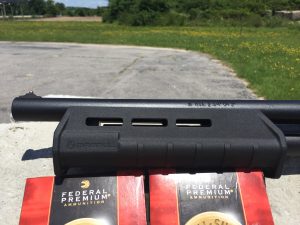 I was fortunate enough to be the first one to see this shotgun at my local gun shop, Clayton Guns, when it came in. This shotgun feels good in the hand. It is a little awkward to hold, since it's just a Raptor Grip on the end, but it's not too bad. When Remington released this shotgun in May/April, it seemed like it didn't take long for it to come to market. For example, Clayton Guns got this Remington in stock in no time, whereas the Mossberg 590 Shockwave really isn't that readily available. Clayton Guns got their first Shockwave in-stock about mid-May 2017, when it was released in January 2017.
| | | |
| --- | --- | --- |
| | Remington 870 Tac-14 | Mossberg 590 Shockwave |
| Overall Length | 26.3″ | 26.37″ |
| Barrel Length | 14″ | 14″ |
| Choke | Cylinder Bore | Cylinder Bore |
| Gauge | 12-gauge | 12-gauge |
| Sight | Bead | Bead |
| Weight | 5.65lbs | 5.25lbs |
| Finish | Black Oxide | Matte Blued |
| Capacity | 4 + 1 | 6 + 1 |
| MSRP | $443.05 | $455 |
With an MSRP coming in at $443.05 and selling locally for around $399, this little 14″ Barrel Shotgun is going to make a great truck gun. Downside to this shotgun, will your local Law Enforcement Officers be up-to-date on the new "non-NFA" statute? I asked some of my local LEO's in my area, If I had this shotgun (showed them a picture of the Remington 870 Tac-14) in my vehicle if you stopped me, would would you do? The average response was, "Honestly, I'd probably have to look up the General Statutes to make sure it's legal to own." So this raises the question, is the ATF sending letters to the local departments letting them know about the changes and up-coming new shotguns so they are prepared. Makes you go hmm.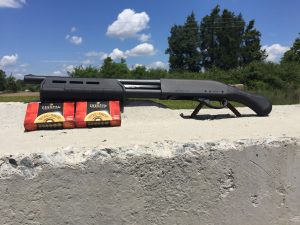 This little shotgun is amazing. It's compact and looks good. It honestly reminds me of Charlie Sheen in the movie Navy Seals when he breeches the door. The only thing I wish Remington would have done to match the Mossberg Shockwave, is the round count. I wish it had the 6+1 like the Mossberg, but it is what it is. I like the fact that it comes with the Magpul Forearm, because I can add accessories to the forearm like a flashlight or angled-forearm grip. Is this shotgun practical? Does it honestly matter? One thing I will make you aware of, if you change the barrel to an 18.5″ length and then add a standard stock on it, you cannot reconfigure it back down to a non-NFA. DO NOT ADD A STOCK TO THIS SHOTGUN WITH THE 14″ BARREL ON IT! IT WILL THEN BE AN SBS! Be mindful about these rules folks.
As always, ya'll be good and be safe!