So you are in the market for a 308 AR, but which one do you choose? Do you choose the Direct Impingement (DI) AR or the Piston Driven AR? Well, let's take a look at one of the Piston Driven AR's out on the market, the Ruger SR-762.
The Ruger SR-762 was developed after the SR-556 design, that debuted in 2010. This rifle is lightweight, coming in at about 8.6lbs. This rifle comes with 3 20rd Magpul Magazines, Samson Back-up Iron Sights, and a soft carrying case. The 16.12" 1:10 twist rate barrel is a mil-spec, chromed lined 41V45 hammer forged barrel, which is also fluted for weight reduction and has the standard 5/8 x 24 thread-pitch to mount your favorite muzzle brake or suppressor mount. This rifle has a factory free-floating handguard that comes with picatinny rail sections to mount accessories. It also includes a Hogue Pistol Grip, a Six-Position Collapsible M4 mil-spec stock, and factory Ruger two-stage trigger that has a crisp 4.5lb break.

So what is making this $2400 MSRP or $1600 street value rifle so great compared to let's say an $800 DPMS Oracle chambered in 308? Well, it's the 4 position chrome-plated gas piston regulator or what other people call a piston driven AR. Having a piston driven AR makes shooting suppressed much, much easier! This rifle is an absolute dream to shoot, but is it really worth the money? In my opinion, I think so. The chrome-plated bolt and chrome-plated one-piece bolt carrier makes cleaning a breeze. Now, with street price being around $1600, there are slightly cheaper 7.62 piston driven AR's out on the market, like from Adam's Arms. But while the entry level Patrol Enhanced Rifle from Adam's Arms includes the Magpul MOE front handguard it is still priced around $1300, their Patrol Battle Rifle has the Samson free-floating rail but no BUIS and has a price tag of around $1700. So it's about the same price as the Ruger but doesn't have some of the same features.

---
---
Maintenance is pretty easy on the SR-762. Simple tools are needed to disassemble the gas piston. You'll need a small punch and a rag to clean the gas piston. There are videos online from Ruger that shows you how to disassemble the gas piston. After disassembly, all you have to do is wipe down all the components and no lubrication is needed, due to everything being chrome-plated. The bolt carrier also only needs light lubrication on the metal to metal contact points. So maintenance is really quite easy for this gas-piston AR.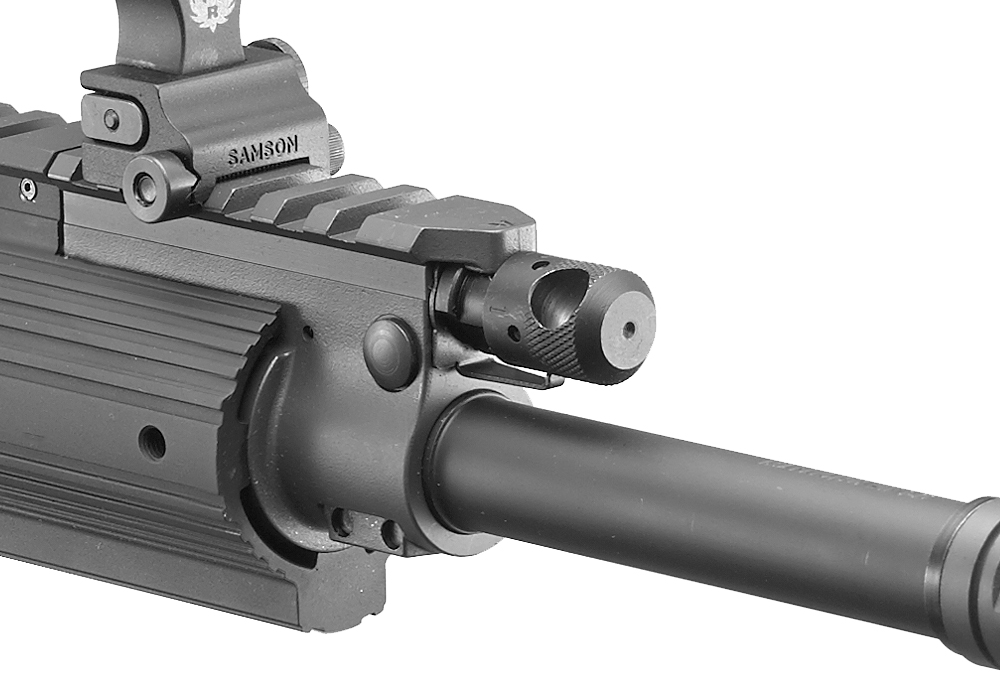 All-in-all, if you haven't tried a gas-piston AR style rifle before, you really need try one, especially if you are shooting suppressed. The price tag is going to be slightly higher than a direct impingement AR10 style rifle, but it is all worth it in the end. To outfit an AR10 DI to match this quality of build and extra items, it would cost about the same if not more than if you were to just purchase this Ruger outright. Also, you can purchase a used SR-762 for around $1000 to $1300, so that will save a little bit of money in the long run. I did find that some SR-762's are running into some problems with jamming or having FTE. I encountered some of that when I went out to the range to test out this rifle. I found that the primers, in the ammo I was using, became dislodged and it got stuck in the bolt and in the upper receiver, thus causing cycling issues and eventually causing the bolt not to move freely. I could not get the bolt to move and it was so bad, that I could not finish the range day. I ended up having to take the rifle back to the gun shop and have the gunsmith get the bolt unstuck. I was using PMC 147gr FMJ ammo at the time. It was shooting just fine suppressed and un-suppressed before I had the problem with the primer. So just be careful with the ammo you choose to shoot through this rifle. Thank you to Clayton Guns for allowing us to test out this rifle.
As always, ya'll be good and be safe!