The .17 Winchester Super Magnum (WSM) was developed in 2012 by Winchester and was met with great praise when it debuted at SHOT Show in 2013. What makes this rimfire casing bullet better than the .17HMR? Well, the WSM is about 50% thicker than the HMR and can reach velocities of 3,000 ft/s with a 20-grain bullet and 2,600 ft/s with a 25-grain bullet.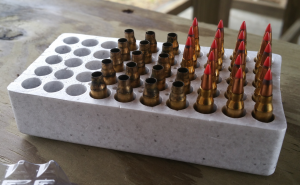 The .17HMR is only reaching velocities of 2.550 ft/s with a 17-grain bullet and 2,350 ft/s with a 20-grain bullet. Unfortunately, there aren't a lot of manufacturers that are making rifles to accept this cartridge – literally, only about 5 in total. When Winchester designed this bullet, they teamed up with Savage to help them introduce it to the market with their B.Mag line of rifles.
In 2017, Savage introduced some new options for the B.Mag 17, and introduced it in a Laminated Wood Stock with a Heavy Barrel and in a Sporter (thin barrel) and Heavy Barrel Synthetic. When these new styles hit the market in January 2017, I put in my order and got one in. It actually arrived when I got back from SHOT Show. I decided to go with the new upgraded Laminated Wood Stock with the Heavy Fluted Barrel.
When I went to pick it up from my local gun shop, Clayton Guns, I broke it down and threaded the barrel and worked on the trigger. I decided to make the threads the standard rimfire suppressor threads (1/2×28) and after a little polishing and a spring adjustment, the trigger pull is at 13oz. The standard Accu-Trigger will let you adjust the trigger pull down to about 2lbs, but I wanted something a little bit lighter. With this trigger job, I am sub-1lb and it still passes the drop test.
---
---
I matted a
BSA Super 17 4.5-14×44 optic
on top of this B.Mag and added
UTG AccuShot Medium Profile 1" Scope Rings
. This optic is very clean and clear is designed for the .17WSM round. To my knowledge, this is the only optic available with the BDC that is accurate for .17WSM. We will do another review just of this optic coming soon. After laser bore-sighting it in, I took it down to
ENC Firing Range
this morning. I must say it was great day! It took 6 rounds to get it centered at 25yds, and then an additional 3 rounds to get it zeroed at 100yds.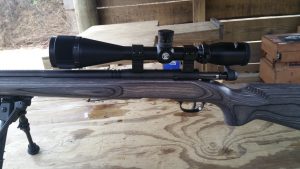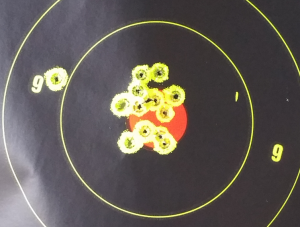 At 50yds, I was sub-0.5" MOA, and at 100yds, I was sub-1" MOA. I was ringing steel at 200 yds with only have a 4.1″ drop! I sighted this rifle in with my SilencerCo Spectre II, and I must say shooting suppressed is very pleasing on the ears. This round does pop a little down range, but still hearing safe.
Overall, I love this rifle setup. I shot about 200 rounds total with this rifle and I had no hiccups. The 17 WSM is a smoking hot round with the 20 grain projectile and with the optional 25 grain projectile it's a little more pop for hunting larger varmints. With an MSRP of $548 and being sold locally for around $420, and the optic being sold between $99-$120, this set up is well under $550 (minus suppressor and bipod). Ammunition can be found for around $15 per 50. Luckily, Wal-Mart has these rounds in stock locally for me. But it can be found at the big box-chain stores like Cabela's and online.
PRO:
Very accurate
Low Recoil
Suppresses Well
Reasonably Cost
Reasonably Cost Ammunition
CON:
Magazine is a little finicky to load but not a big problem once you get use to it.
Here is the run down of this rifle:
| | |
| --- | --- |
| | Savage B.Mag 17 |
| Sku: | 96970 |
| Caliber: | .17WSM |
| Round Count: | 7 + 1 |
| Stock: | Laminated Wood |
| Barrel Material: | Carbon Steel |
| Barrel Finish: | Matte Black |
| Trigger: | Accu-Trigger |
| Barrel Twist: | 1:8″ Twist |
| Overall Length: | 40.5″ |
| Barrel Length: | 22″ |
| MSRP: | $548 |