With the Internet all a buzz last week with the Dallas Police Department putting down their duty-weapon (P320) due to the discharging of the weapon when dropped, it appears that in fact it is true! Even though Sig Sauer did issue a statement reassuring the consumers that the P320 is safe.
Newington, NH (August 4, 2017) – In response to social media rumors questioning the safety of the P320 pistol, a variant of which was selected by the U.S. government as the U.S. Army's Modular Handgun System (MHS), SIG SAUER, Inc. has full confidence in the reliability, durability and safety of its striker-fired handgun platform. There have been zero (0) reported drop-related P320 incidents in the U.S. commercial market, with hundreds of thousands of guns delivered to date.

The P320 meets and exceeds all U.S. standards for safety, including the American National Standards Institute (ANSI) and Sporting Arms and Ammunition Manufacturers' Institute, Inc. (SAAMI), as well as rigorous testing protocols for global military and law enforcement agencies.

All SIG SAUER pistols incorporate effective mechanical safeties to ensure they only fire when the trigger is pressed. However, like any mechanical device, exposure to acute conditions (e.g. shock, vibration, heavy or repeated drops) may have a negative effect on these safety mechanisms and cause them to not work as designed. This language is common to owner's manuals of major handgun manufacturers.

As a result, individual attempts to perform drop tests outside of professionally controlled environments should not be attempted.

"SIG SAUER is committed to producing only the finest products," said Ron Cohen, President and CEO of SIG SAUER. "Safety and reliability have been and always will be paramount to the SIG SAUER brand."
---
---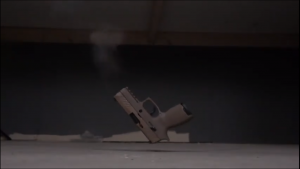 According to Omaha Outdoors, they conducted a series of drop tests and found that the pistol does in fact fire when dropped at a certain angle. The National Standard for drop tests include the pistol being dropped on its muzzle and on its side, not from the rear of the pistol. It appears that when the pistol is dropped rearward, when the frame and rear of the slide hits the ground, it discharges the chambered round.
This is a huge blow to Sig Sauer and the P320. According to Omaha Outdoors, they found that the stock trigger is a little too heavy and continues to travel rearward when the weapon is dropped causing the discharge (Thanks Newton's Law of Motion). Omaha Outdoors then installed the new X-5 P320 flatty trigger in the standard models and the discharges stopped.
Could this be the light Glock was looking for when they lost the Army trials to try and snake back in? I know Glock fans are rejoicing with this new problem with the P320 since their defeat, but in all seriousness, this is an issue that I hope Sig Sauer does fix. I personally love my Sig P320. I currently have no misfires or jams with it. I often wonder with all testing, which models are they testing, due to different variants of the P320 (Gen 1/2 Trigger Packs). Is this failure with all P320's or just the new ones. Will changing out the trigger to the APEX Tactical Flat Trigger fix this problem? Will Sig re-introduce the idea of the trigger safety? Only time will tell.
We will stay up-to-date with this issue as it unfolds in the future! If you need good information on pistol range bags checkout this site.
As always, ya'll be good and be safe!