Well it looks like Springfield Armory has now entered into the realm of the AR's. Now, is it just me or does it seem like they are really, really late to the party. Springfield Armory is famously known for their M1A rifles, 1911's, and the ever popular XD Line of pistols. So why an AR now, when the market is flooded with them? But, I digress.
---

---
Springfield Armory announced today, 11/1/2016, the release of the SAINT, a mid-length gas system Mil-Spec AR Carbine, chambered in 5.56. With a 1:8 twist rate 16″ Chrome-Moly Vanadium Barrel and sporting a classic A2 front post sight and low profile rear flip-up sight; it's optics ready and is sure to be a good seller in today's market. But what sets this AR apart from the thousands of others? Let's take a look.
---
---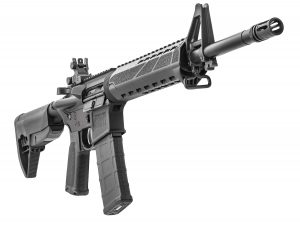 Springfield Armory decided to include an M16 bolt carrier group that is supported by a heavy tungsten buffer. The SAINT is sporting a standard Mil-Spec trigger that has been micro-polished and Nickel Boron treated.
To finish out the aesthetics of the rifle, Springfield Armory contacted Bravo Company USA for their furniture to include: B5 Stock, New Two-Piece Plastic Key-mod Forearm, Trigger Guard, and a Bravo Pistol Grip. The SAINT is coming in at 6lbs 11oz, and is light compared to other AR's on the market. Also, the SAINT will include one (1) Magpul Magazine.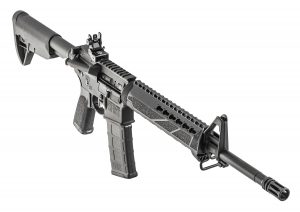 With an MSRP of $899, and more than likely selling locally for around $799-$850, it actually makes for a good buy. In today's market, the price will have to be competitive. Only time will tell how the SAINT will be received in the market. I was really hoping that this rifle would have been a piston driven rifle instead of a direct impingement rifle, but it is what it is. We will update when we can actually get our hands on one to look over.