There's no doubt that concealed carry pistols are a hot item that everyone has to add to their repertoire, and I believe that everyone should have a concealable pistol. You should have a range/recreational pistol as well as a concealed carry gun for when you're on the go.
Every manufacturer is trying to get in on the rush of the concealed carry market and one of the newest subcompact pistols is the Springfield XD-S .45 ACP. It's a spinoff of the very popular XDM except they've given it a single stack magazine, which limits you to a magazine capacity of only six but makes the pistol a lot slimmer. It also has a nice fiber optic front sight that is a lot easier to aim with than the standard white dot sights. This pistol does have a loaded chamber indicator, which comes in handy at night when you can't see and you can run your hand across the top of the gun to see if you're locked and loaded. The only feature that this pistol lacks is an actual external safety, which some people prefer and others do not. However, it does have a grip safety that only allows firing when the shooter grasps the pistol, (which I am a big fan of).
The gun feels great when you put it in your hand. If you have fairly large hands, then this pistol might be a little too small for you. It is definitely slim, especially for a .45, but I'm not sure they should say that it is "Noticeably Unnoticeable." Now don't get me wrong, I love the way this gun feels; the slide and trigger pull are both smooth, but it's still a .45 ACP. This handgun will certainly not be "Noticeably Unnoticeable" when you go to shoot. A gun that is that light and loaded with a stout round such as the .45 will have some kick to it, there's really no escaping that. Trying to fit a big round like that into a small frame will have those drawbacks, but if you don't mind that fact then this gun would be perfect for you.
The competition at the moment for this pistol is the Ruger LCP, Smith and Wesson M&P Shield, and the Beretta Nano. The only thing that separates the XD-S from the pack is that it's only available in .45 ACP whereas the rest are all 9mm or .40 cal. When Springfield makes the XD-S in 9 or 40, then they will have a gun that is perfect for almost anyone.
Stop by your local gun shop and check this handgun out! But put a few different pistols in your hand and find the one the best fits YOU.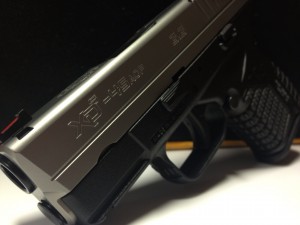 Specifications:
Caliber:
.45 ACP
Sights:
Steel Dovetail Rear
Fiber Optic Front
Length:
6.3″
Weight:
21.5 oz.
Capacity:
5 + 1 Rounds
Frame:
Polymer
Slide:
Forged Steel