When the new 2.0 line of Smith and Wesson M&P Series of pistols hit the market earlier this year, I was like a kid in a candy shop, because I'm a big M&P fan. My very first pistol was a M&P9 Full-Size that I picked up in 2010, and I absolutely love shooting that pistol. Back then, I wanted something that was full-size that I could take to the range, use for home protection, and even carry out in public – but now, I've since learned that I'm fallen in love with the compact line of pistols due to EDC. I did look at the 1.0 M&P9C that was a 12+1 rd capacity pistol that was great for EDC, but it was a tad bit too small for me. I ended up getting a Glock 19 Gen 3 back in the day and the rest is history. I always wished that Smith and Wesson would come out with something the size of the Glock 19, but it seemed like it wouldn't be.
---
---
Well, lo and behold, Smith and Wesson finally released the new 2.0 M&P9C in September 2017, and it's being accepted all over. When my local gun shop, Clayton Guns, got their first shipment of the M&P9C 2.0, I had to go take a look at it! When I walked over to the display case, it really caught my eye, yet it blended perfectly with the full-size 2.0, so I almost over-looked it.
The overall feel of this pistol is just amazing. Coming in at 1.5lbs, it's going to make a great EDC pistol. With it's rough, aggressive grip texture, the polymer grip fits and feels well in the hand – though I'll be a little concerned about it gripping my shirt or even putting holes in my shirts if carrying concealed. But I digress. The polymer frame is reinforced with an extended rigid embedded stainless steel chassis to reduce flex and torque when firing. Also, like the 2.0 full-size, the M&P9C comes with a 1913 rail to mount your flashlight or laser of your choice.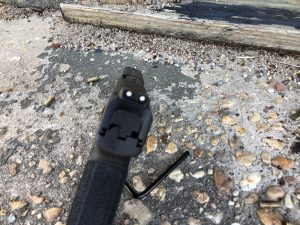 This 4″ 1:10″ twist barrel pistol is everything that makes Smith and Wesson great. The stainless steel barrel and slide are coated in Smith and Wesson's Armornite Coating, making it resistant to the weather elements. Looking at the slide, it has the relief cuts just like the full-size 2.0 and rounded its edges to make it snag free and also shaving off 0.7oz compared to the 1.0 M&P9C. The Novak 3-Dot sights are great, but I wish they came with factory with Night Sights, but I'm sure it'll be coming soon.
Like most compact pistols out on the market, the M&P9C comes with two 15rd magazines, making it a great contender against the Glock 19. With the M&P9C overall length coming in at 7.3″, overall height coming in at 5″, and the overall width coming in at 1.3″, it's almost identical to again, the Glock 19. I think Smith and Wesson is a little late to the compact party (in comparison to the Glock 19), but it's making a fashionably late appearance.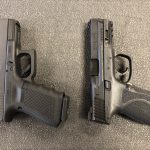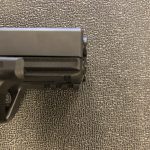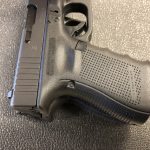 ---
The trigger on this pistol, in my opinion, is just amazing. It's based off the M&P C.O.R.E. style pistol. The average trigger pull is coming in at 6lbs 24oz. The trigger pull is smooth and crisp and the reset is audible and nice. It has good trigger reach and this pistol can be tailored to fit you, due to the interchangeable backstraps. The M&P9C comes with four backstraps- S, M, M/L, and L. Another great thing that makes this pistol great for any shooter besides the backstraps, is the fact it has an ambidextrous slide release and the magazine release can be switched over for the left handed shooters.
The take-down of the M&P9C is just like the 1.0 style pistol. Remove magazine, lock slide back, turn the take-down lever down. Now, you can either release the slide and then pull the trigger, or you can turn the gold retainer in the frame down and then the slide will release without pulling the trigger.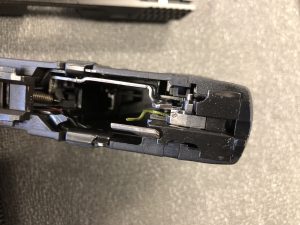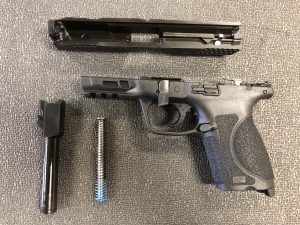 ---
When it comes to holsters for this pistol…it's a little tough at the moment. It appears that some custom kydex holster manufacturers are making some, but yet they are still hard to find at the moment. It looks like aftermarket accessories are going to be coming to the market like night sights. But the night sights that are the market now for the full-size 2.0, like from Trijicon, may work. I have yet to confirm this, so buy with caution if you are wanting night sights.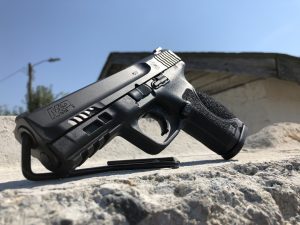 As far as aftermarket triggers go, I'm not sure if the APEX trigger would fit, I would assume it would, but you know what can happen when you assume. Magazines will be available and I'm assuming they'll be coming in around $30-$40, but the 17rd full-size magazines will fit the compact. So that'll work out for the people who carry the spare higher capacity magazines and when you go to the range.
With an MSRP of $569 and selling locally for around $479.99, it's a great buy for an EDC pistol. The M&P9C 2.0 comes with Smith and Wesson's Lifetime Service Policy, making it easy if issues arise. The Compact 2.0 line of pistols currently only come in 9mm and 40S&W. I'm sure with time, the 45ACP will more than likely make an appearance, but only time will tell.
As always, ya'll be good and be safe!