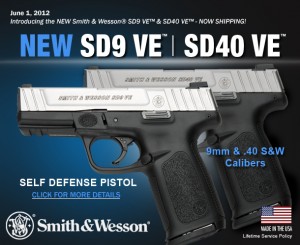 Smith and Wesson, as of two days ago, is now shipping their new SD9 VE and SD40 VE model pistols. Its hard to say without holding one what all they changed but they said features from the old SD and the sigma line are used in the new SD9 VE and SD40 VE.
From the picture I can tell it has the M&P trigger as well as the M&P sights. The frame has also a more M&P style to it as well with a Glock style slide take down switch. I'm looking forward to taking a look at the internals.
I wonder if they will still be shipping the older model Sigmas. I personally hope not. I have never been a fan of the sigma line.
| | |
| --- | --- |
| 1. | SDT™ Self Defense Trigger for Optimal, Consistent Pull First Round to Last (8 lbs. +/-) |
| 2. | Aggressive Front and Back Strap Texturing |
| 3. | Comfortable, Ergonomic, Textured Grip |
| 4. | Dovetailed, White Dot Front and Rear Sights |
| 5. | Front and Rear Serrations |
| 6. | Standard, Picatinny-Style Rail |
| 7. | Textured Finger Locator |
| 8. | Distinctive Two-Tone Finish Stainless Steel Slide & Barrel |