American firearms manufacturer Tennessee Arms has been getting rave reviews over the past year for their high-quality polymer lower receivers, Teflon-coated bolt groups, and a handful of other innovative products that the company is offering. Dave Roberts, the founder of Tennessee Arms, takes a lead role in showing off his new products as well as addressing longstanding concerns over the use of polymers in rifle receivers. The business proudly employs veterans, and makes the most of their experience and familiarity with the AR platform in order to deliver consistently excellent products.
[expand title="See our full article on TN Arms"]
Advances In Polymer Construction
---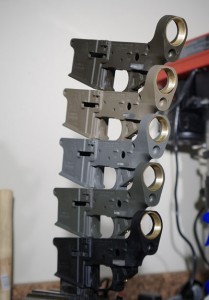 Tennessee Arms started getting attention a year ago for their reinforced lowers, which are reinforced with marine-grade brass at key points. A long-standing criticism of polymer lowers have been their tendency to crack at the pistol grip and buffer tube, which is where the rear stock attaches to the lower. The guys at Tennessee Arms developed a patented process for bonding brass into the body of the polymer receiver.
By all reports, the process seems to work extremely well, overcoming the inherent weaknesses of polymers in order to deliver low-cost, lightweight lowers that hold up just as well as stamped steel or machined aluminum. Currently the company offers their polymer lower receivers with or without a traditional metal trigger group, and in a variety of colors and laser engraving options.
One of the reasons that Tennessee Arms received their initial burst of attention from shooters across the country is the way that they test their products. Footage of their polymer lower receivers being used, to good effect, in high-caliber AR builds went viral early on in the company's short history. In order to convince potential customers of the ruggedness and reliability of their polymer lower receivers, they released YouTube videos of them in action on recoil-heavy .50 Beowulf builds.
Another factor that convinced early adopters that Tennessee Arms was offering an excellent product was their highly publicized crush tests. A common flaw in polymer receivers is bending and deforming in the mag well, something that the arms manufacturer went out of their way to prove isn't a problem in their lower receivers.
Lightweight Clear Polymer Lower
---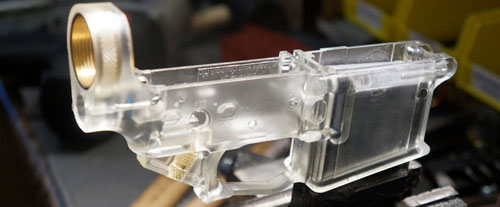 One of their biggest innovations to date has been their transparent lower receiver. Dubbed the "Ghost Gun," this polymer lower gives a great view of the trigger group in action. It's also lighter than their standard lower receiver, weighing in under 4 ounces.The clear polymer lower has all of the standard features of a typical Tennessee Arms lower receiver, and it comes in both a bare bones stripped-down version and one with the trigger group and telescoping stock included.
Just recently, Wyoming gun shop Sons of Liberty Gun Works put together an automatic AR-15 built on the Tennessee Arms clear Ghost Gun lower receiver. They took the time to record the finished product at the range, showing off the see-through lower in full auto for the first time.
Originally the Ghost Gun lower receiver was meant as a one-off test, but intense online interest inspired a larger production run. Before Tennessee Arms released their clear lower to the public, they put it through its paces in an intense endurance test, which they then shared online.
A (Short) History Of Innovation
---
Although the company is a relatively new one, they have done their best to release innovative products. One outstanding example is their line of takedown survival AR-15s, available in traditional .223. This 3-piece rifle fits in a standard sized pack and assembles extremely quickly, making it an interesting alternative to old-school .22 takedown survival rifles.
Tennessee Arms has also come out with a custom compensator and a Teflon-coated bolt carrier group, all aimed at AR-15 owners. The compensator, branded the Dagger Muzzle Device, is designed to reduce barrel rise during semi and full-auto firing and gets generally positive reviews. Their Crusader NP3 bolt carrier group also gets excellent feedback from AR shooters, and the use of Teflon not only makes the action more reliable by resisting carbon fouling, but it also cuts down on cleaning time.
What's Next For Tennessee Arms?
---
Coming up next for Tennessee Arms is a version of their popular polymer lower receiver made especially for .308. Rather than just enlarge the magazine well on their existing receivers, the company has entirely re-engineered the product in order to make sure that it can tolerate the larger round without any issues. They've been testing their new AR-308 receivers on .450 Bushmaster and .50 Beowulf uppers with no issue, and are currently taking pre-orders through their website,
http://www.tnarmsco.com/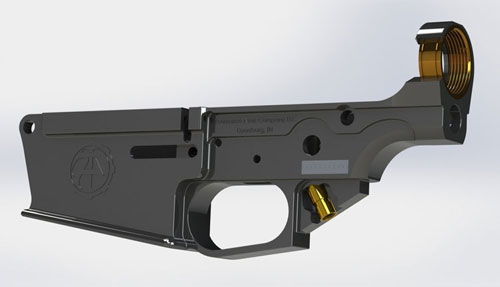 All of the attention that Tennessee Arms has garnered online is starting to lead to national recognition. The guys have had their products featured in articles across the internet, and just recently sat down with Guns & Ammo to do a front-page article that's set to come out shortly.
Although in some circles opinions are still mixed on whether or not polymer lowers have what it takes to hold up over time, Tennessee Arms has done a great job at dispelling the myths and releasing quality guns, accessories and parts. Anyone thinking of giving a polymer lower receiver a shot in their next AR-15 build should take a hard look at this small business that's been getting big attention.
[/expand]