By Travis Pike – SOFREP
Tomahawks rule and always have. In 2021 you'd think we'd found a tool worthy of replacing them, but yet the tomahawk persists. It's tough to find a more versatile and lightweight tool to hang off your belt. With that in my mind, I've gathered what I think are the six best tactical tomahawks.
I've included entries from various companies at various price points, so there is a little something for everyone.
The Basic – SOG Fasthawk
The SOG Fasthawk provides an affordable option for those looking for a simple but handy tomahawk. The Fasthawk offers a small but stout blade paired with a spike for breaking through and getting over any obstacle in your path. The Fasthawk was the tomahawk of choice for the Marines I knew, mostly because it was an affordable design that had proven to work.
The SOG is 12.5 inches long and weighs a mere 19 ounces, so it's easy to pack and forget. It gives you a very capable chopping tool for splitting wood, breaching doors, and tearing through hard material. The hand notches on its blade allow you to do that close in work that requires a soft touch more than a chop. If you need budget tomahawks, it's tough to beat the SOG Fasthawk.
The Classic – Cold Steel Rifleman's Hawk
If you want to ditch all those modern polymer handles, fancy steels, and 21st-century designs for something more classic, this is the best option. The Rifleman's Hawk from Cold Steel delivers you one of the most simplistic tomahawks possible. It features a wood handle and a simple blade-and-hammer combination.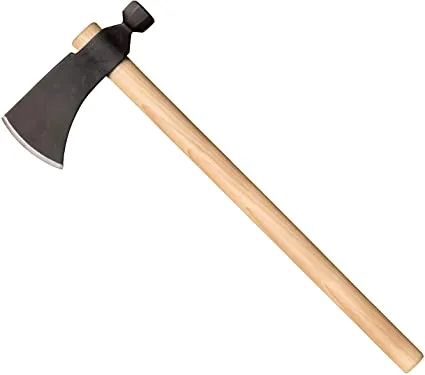 he Rifleman's Hawk comes from a period where these tools were used daily as a means of survival. Frontiersmen, Rangers, Scouts, and explorers carried tomahawks just like this for a reason. It's a simple multitool that can do everything from split wood to split heads.
My Favorite – 5.11 Viking Tactics Operator Axe
When I carry a tool like a tomahawk, I'd like it to do more than one job. Splitting wood, chopping down trees, and breaking through doors sounds fun but doesn't occur daily. When I strap weight on myself, I want it to be as efficient as possible. As such, the 5.11 Viking Tactics Operator Axe provides me with a ton of tools in one package.
First, the massive blade makes chopping easy, and the hammer opposite the blade makes smashing and hammering easy. At the top is a crowbar, and down near the bottom, we have an aluminum cutting blade that cuts through dang near everything. Add in some drivers on the handle, and now I got a tool for nearly anything.
The Multitool – Gerber Downrange Tomahawk
Gerber produces a wide variety of tools and sharp and fun things, including tomahawks. One of their most efficient is the Gerber Downrange Tomahawk. This is easily the most modern tomahawk on the planet. The Downrange tomahawk provides a blade, a hammer, and a pry bar all in one design that utilizes modern steel and G10 handles. It is incredibly efficient and ergonomic.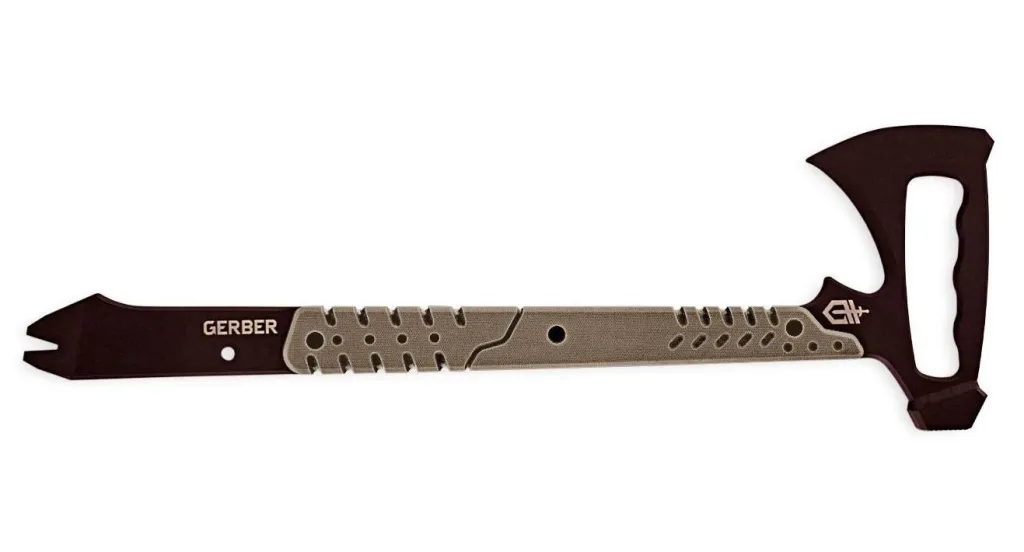 The Downrange was made for the modern soldier. It's well made for breaching, crash rescue, and general work around the Forward Operating Base. The modern sheath allows attachment to MOLLE-based panels on packs and kit, so carrying it into battle isn't tough.
The New Guy – Hogue EX-T01
Hogue — you know, the company that produces gun grips, stocks, and furniture. Well, they make knives and tomahawks now. Their latest is the EX-T01, and it provides a very modern take on the mini ax. The EX-T01 offers a mighty nice blade attached to a ¾ tang handle that's coated with G-10 grip material for a sure grip.
The EX-T01 provides a very nice sheath system that allows for safe carry and easy and quick deployment. The sheath system is ingenious, to be honest. On top of an awesome tomahawk and awesome sheath, we also have a modular system. Attachments exist that allow you to mount hammerheads, pry bars, and a spike to the EX-T01. Hogue's latest is a promising design in a crowded field.
The Proven – Winkler Combat Axe
What more can I say? If you know, you know. If you don't, then let me educate you. The Winkler Combat Axe was built from the ground up for the SEAL community and is wielded by SEALs throughout the Teams, including the famed SEAL Team Six or DEVGRU. The Winkler Combat Axe is a premium-made tomahawk designed for breaching and combat operations.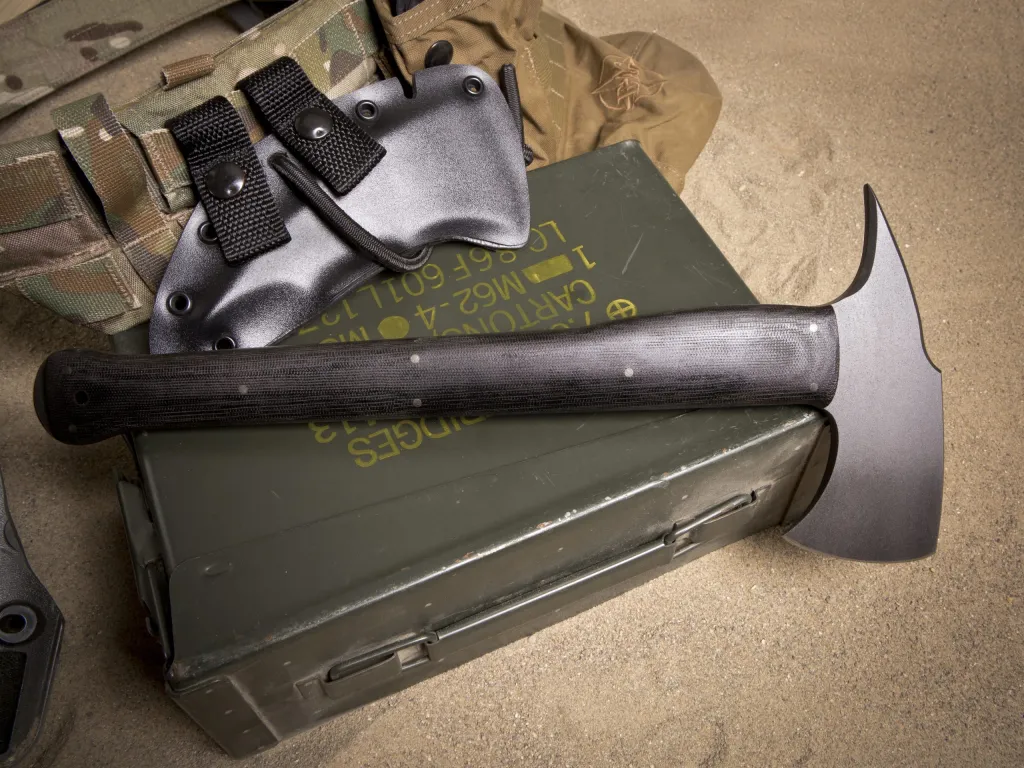 This is likely the most proven with special operations tomahawk on the market. It's a tool made to work and be tough enough to be generational. You can chop, slice, dice, and then pass it down to your kids when you're done. It's tough to beat that kinda tough.
Tomahawked
Small, lightweight axes can deal serious damage as a tool, weapon, and beyond. A good tomahawk is versatile and can be used for a wide variety of roles. Tomahawks have been used for hundreds of years and don't seem to be going anywhere anytime soon.
What's your favorite tomahawk? Let me know!
Travis Pike is a former Marine Machine gunner who served with 2nd Bn 2nd Marines for 5 years. He deployed in 2009 to Afghanistan and again in 2011 with the 22nd MEU(SOC) during a record setting 11 months at sea. He's trained with the Romanian Army, the Spanish Marines, the Emirate Marines and the Afghan National Army. He serves as an NRA certified pistol instructor and teaches concealed carry classes.