In the past few years, there's been something of a renaissance of red dot sights. Optics that used to cost substantial sums can now be had at a relatively affordable price.
Holosun, as a company, has been leading the charge in making optics that are of good quality, function well, and are relatively affordable when compared to more well-known brands. In this piece, we'll start with a little bit about Holosun as a company, before evaluating five of their most popular red dot sights on the market today.
All in all, I'm sure you'll agree that if you're looking for a red dot optic, Holosun puts some excellent value propositions on the table.
Holosun
Holosun has been around since 2013. In that time, they've been making a name for themselves by making quality optics that come in at a price point that's often half of competing brands, without sacrificing much in the way of quality.
Aside from that, they also push the boundary of red dot optic technologies, and, in the last several years have been making major advances in terms of solar-powered optics and battery life. It's not an overstatement to say that Holosun has been reshaping the red dot market for years.
Selected Optics
Holosun's range of optics is too wide to look at each of them individually in this piece. Instead, what we'll do here is look at five that represent a lot of the ranges and applications of these sights. To make the cut, each of them also had to have excellent reviews from customers at Primary Arms.
While this is a small sample of Holosun's products, we think looking at five of the most highly rated among them is a good way to get a sense of the product line as a whole.
Holosun HS503G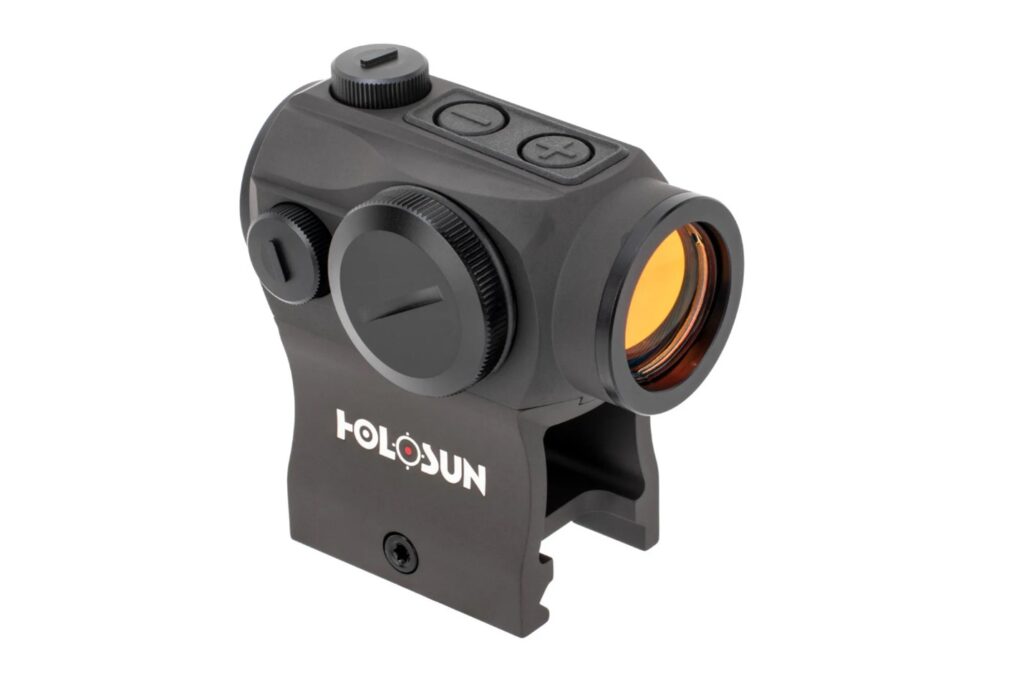 The Paralow HS503G Red Dot Sight is a great place to start, and its representative of the excellent offering that Holosun puts forward. This red dot sight takes cheap, commonly available batteries, is made out of tough aluminum, and comes with a generous brightness setting to preserve battery life.
Here, the major value-added is that it comes with the ACSS reticle. More than a simple dot, this fast to acquire reticle can help you engage close targets quickly, and also make shots at longer ranges with repeatable accuracy.
If the aesthetics of a certain brand that starts with an E and ends in Tech is more your style, then the AEMS Circle Red Dot Sight is an awesome option. Aside from the blocky aesthetics that we like so much, this optic has one feature that's remarkable for the price range: it has both a 50,000-hour battery life and can function using solar energy.
This makes it an optic that we'd certainly consider for a rifle that we intended to use for defensive purposes. Additionally, the included riser makes this overall package a remarkable value proposition given the feature set.
The title of this piece is, of course, red dot sights. With that said, we want to give a brief mention of the Holosun HE403B-GR Elite Green Dot Sight. As the name would indicate, this sight is green. For some folks, that makes a big difference. For example, folks with astigmatism often have a hard time with red dots, as they appear more like a red splotch.
With a green dot, however, things get a lot more crisp, which makes shooting a substantially more pleasant shooting experience for those people. So, this sight is awesome for them in that regard even without needing to talk about the extremely long battery life and rugged construction of all of Holosun's optics on this one.
It is, however, worth mentioning that this sight is emblematic of Holosun's commitment to making a wide range of optics so that any shooter can find out that suits their needs well.
Holosun HS407K-X2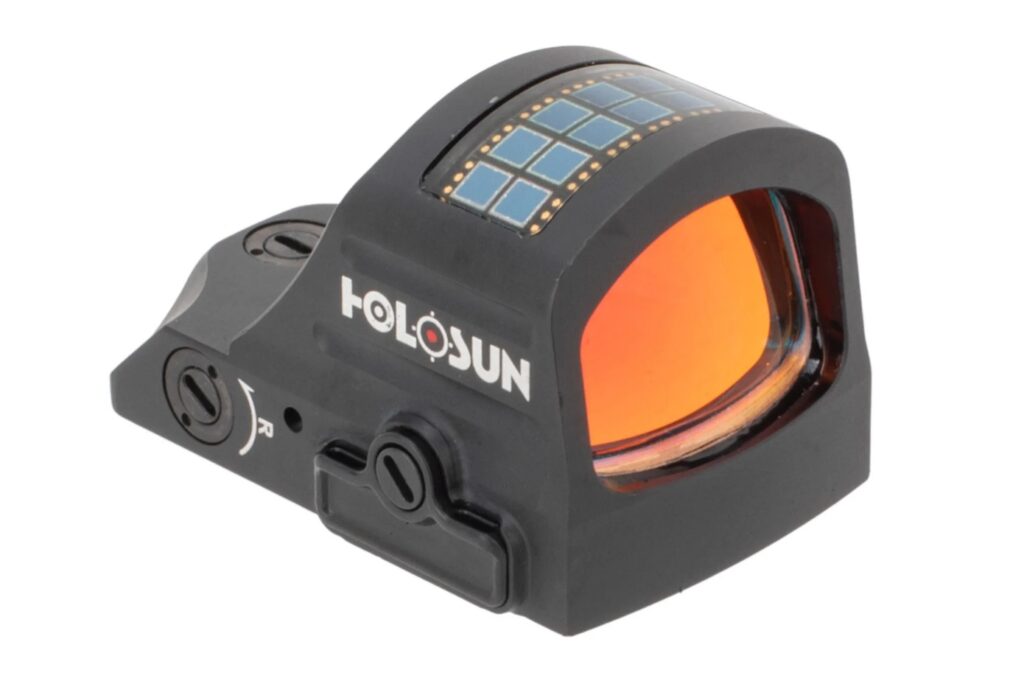 Of course, Holosun makes more than rifle-sized red dot sights. They also make excellent pistol optics such as the HS407K-X2 Pistol Red Dot Sight, this sight, which fits in standard RMR cuts in pistols slides, presents a deeply compelling option for those who want a rugged concealed carry option to put on their pistol.
With a 6MOA red dot that's easy to see and a 50,000-hour battery combined with a shake away feature, this is a great choice for those looking for a daily driver optic. Additionally, this pistol red dot sight is rated to be waterproof, which means that this optic will work if you need it to for self-defense purposes.
Pistol red dots are somewhat new to the market as a whole and seeing one that's relatively affordable is an excellent sight for things to come from Holosun.
At the top of the line of their pistol sights, the E509-RD Enclosed Solar Powered Red Dot Sight is an excellent option. As the name might indicate, this optic is solar powered in addition to having a long-lived battery. This added redundancy is a boon to those who are looking for a rugged red dot sight to use on a concealed carry or duty handgun.
Additionally, this sight is fully enclosed in aluminum, meaning that it's exceptionally durable, which is something that we very much value in an optic that's going to be used for defensive purposes. Just a few years ago, it would have been improbable that you'd find a pistol red dot that's solar-powered, let alone one that can be had for a reasonable price.
Conclusion
In this piece, we've looked at five of Holosun's most popular optics. In looking through them, we've tried to make the case that, for a reasonable price, Holosun makes great optics that fit a wide variety of needs and come with a wide range of features.
Overall, we think that Holosun has done an excellent job at carving out a place in the market. They offer an excellent variety of sights that can be had for reasonable prices: regardless of price, these optics are rugged, well-made pieces of kit that will serve you well.