Ruger has been one of the most productive firearms companies in the past few years, they have released several new pistols and they do not seem to be slowing down. The newest addition to the Sturm & Ruger family is the SR22 pistol. This pistol is chambered in .22LR and is actually the first .22 caliber pistol that Ruger has produced that deviates from their standard Mark III – 22/45 framed .22 target pistols.
The SR22 looks very similar to the Walther P22, which is arguably one of the best-selling .22LR pistols on the market. Ruger's SR22 has a decocker and interchangeable grips, whereas Walther's P22 does not. This firearm would be a great piece for someone that is looking for a recreational pistol to take to the range or someone that simply wants a personal protection pistol with low recoil.
The pistol looks and feels well built, just like the rest of Ruger's pistols and rifles. Ruger is also based out of Arizona and all of their firearms are American-Made. Stop by your local gun shop and check out Ruger's SR22 as well as the rest of the new lineup of pistols and rifles.  Make sure you become very familiar with any firearm before you purchase it, safety is our main priority here at Epic Tactical.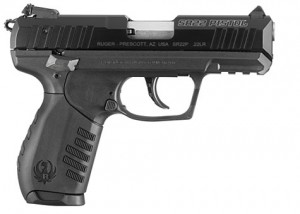 All Models:
Caliber:
.22 LR
Sights:
Adjustable 3-Dot
Length:
6.40″
Height:
4.90″
Width:
1.29″
Grooves:
6
Barrel Length:
3.50″
Twist:
1:16″ RH
Grip Frame:
Black Polymer
 Photo Credit: Sturm, Ruger & Co., Inc.