So it appears that Tippmann Sports, the manufacturer of paintball and airsoft gear and guns, is venturing out into making firearms and has started a new division called Tippmann Arms. Their first firearm platform is the popular AR style rifle, but chambered in .22LR. I was lucky enough to stumble upon this little rifle at my LGS, Clayton Guns, and it caught my attention. But with the gun industry plagued with AR's, will Tippmann Arms make the cut?
---
---
The first question that came to my mind when I saw the box saying Tippmann Arms was, "is this the same company that makes paintball and airsoft guns? Why would they even make a rifle for the gun market?" But I digress. It did raise a lot of questions as to what kind of rifle would it be and would it actually be any good.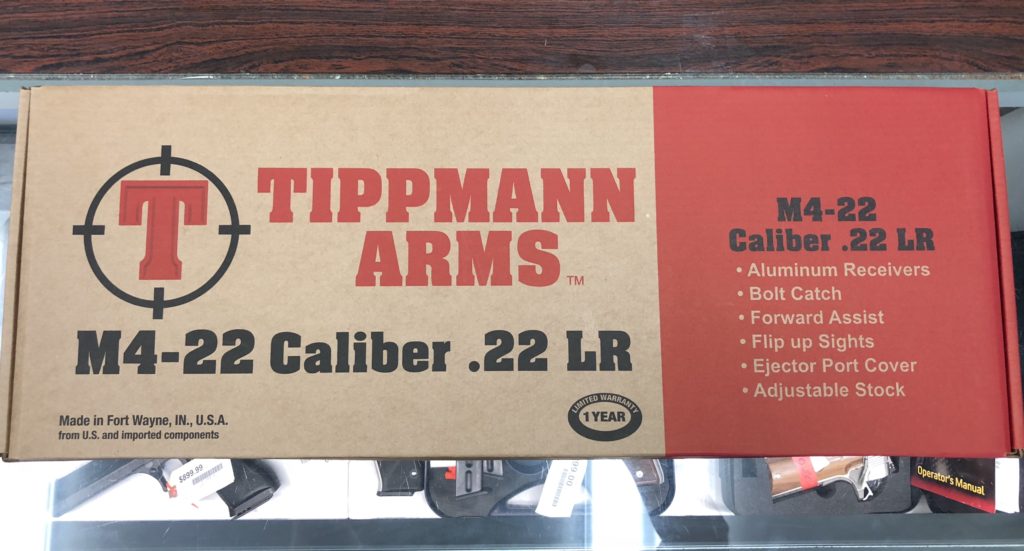 ---
Looking at the upper receiver it feels as if it is plastic but according to Tippmann Arms, it is made out of aluminum. Now, the out-dated quad-rail is made out of plastic and the rifle does come with two extra 5-Slot Picatinny rail sections. Why? I have no idea, but because of the 1913 picatinny rails, you can add your favorite grip on it with ease. Also, the rail is not a free-floating rail, but this rifle does have a standard delta ring that looks like it can be changed out to accept a free-floating rail of your choice. I do like the fact that it comes with a dust cover and functioning forward assist. The pinned railed gas block is non-functioning but does include a bayonet lug. This rifle is Optics Ready, so you can mount your favorite scope or red-dot on the upper very easily.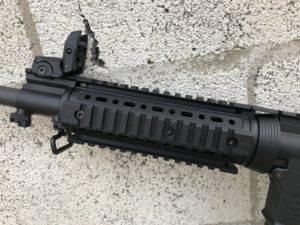 The standard A2 Grip is just like any other AR out on the market. The fire control group includes a mil-spec trigger, so changing it out to your favorite aftermarket trigger should be a breeze, but the safety is proprietary. I also like the fact that the Tippmann Arms M4-22 Tactical comes with a ambidextrous sling mount in the rear and has a standard sling mount up front. Taking apart the M4-22 is pretty simple. It takes down just like any other AR.
Continuing on, I see that Tippmann has put their markings/logo all over this rifle. The logo is noticed on the plastic flip up front and rear sights, as well as the 5 Position buttstock. The flip up sights are okay. I was having a hard time trying to flip up the rear one and had a hard time keeping it down as well. But after playing with it for a few minutes, the problem seemed to work itself out and started working flawlessly.
---
The bolt carrier group (BCG) and charging handle is a little different. It reminded me of the Smith and Wesson M&P15-22 BCG. Inspecting the BCG, I noticed that it already had markings on it with just pulling the charging handle after taking it out of the box. Looking at the upper receiver more, I noticed that there wasn't any lubrication placed inside this weapon at all. It was dry as a bone. Is this because of all the plastic? Not really sure why. Putting the BCG and charging handle back into the rifle can be a little tricky. Make sure that the charging handle sits on the groove on the BCG and then slide it in the upper receiver as one unit.
---
The Tippmann Arms M4-22 does come with one (1) 20rd magazine. Looking over the magazine, it appears to be a one off design by Tippmann. There is a little square button located on the top right of the right side of the magazine. You press the button and slide the magazine body downward to reveal your tab for easy loading. Like the Smith and Wesson and Mossberg 715t, the easy to load tab is exposed, while this one is protected in the shell of the magazine. Although that's different than most, I kind of like that feature. It gives the rifle a "completed look" and makes it look more like a standard AR Magazine.
---
---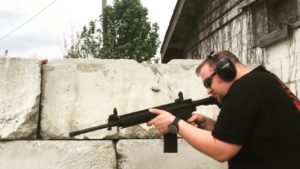 Like most .22LR AR's out on the market today, most will only shoot CCI Mini-Mags and not the cheap .22LR's like the Remington Thunderbolt. I decided to load the magazine with a variety of ammo. We tested out the M4-22 Tactical with Remington Thunderbolt, Winchester Super X Hollow Point and Round Nose, CCI Standard Velocity, and CCI Jacketed Hollow Point. This rifle ran all the ammo flawlessly with no FTF or FTE. The sights on this rifle were pretty accurate right out of the box.
---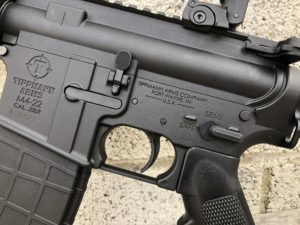 The overall performance of the Tippmann M4-22 Tactical is quite good. It shot well and it performed flawlessly. But will it make it in this flooded AR market? To me, it will have to come down to the price of the rifle and the price of extra magazines. MSRP of the Tippmann Arms M4-22 Tactical is coming in at $549.95 and will be selling locally for around $440. With that price tag, you are comparing it to the Smith and Wesson M&P15-22, which has been dominating the .22LR AR scene for years now. Even then, sometimes you can find S&W M&P15-22's on sale for around $359.
---
So will the Tippmann Arms AR's make it in this market? Honestly, I believe it is too early to tell. I know that not many people are buying the more expensive .22LR rifles now-a-days and I was hoping this rifle would honestly be a little bit cheaper. I think if it was priced around the $350 mark, it would undercut Smith and Wesson and potentially take over the .22LR AR market. This rifle is solid, looks and functions flawlessly. I honestly can't get over the price tag of it, especially with other semi-auto .22LR's out on the market being so much cheaper. Shoot, even the .223 AR's out on the market can be found as low as $400-$450, brand new. Time will only tell with this model.
If you are in the market to purchase a .22LR AR for training or even for the little ones to practice/train with, then check out the Tippmann Arms M4-22 and see if it's right for you.
As always, ya'll be good and be safe!