With such a proliferation of premium modular weapon upgrades like forged upper receivers, most AR-15 owners know that they almost instantly turn their rifle from a short-range shooter into a long-range shooter. But if you're looking for the absolute best platforms that will consistently hit their targets at a longer effective range then it's time to check out some bolt action rifles and precision rifle chassis.
A precision rifle chassis in combination with a bolt action is a unique and extraordinary approach to the sport of match competition shooting and long-range hunting alike. Over the last decade, the rifle has gone from a wood stock with blued barrel to a customized and personalized high-performance sports car.
While the reasons for using an aftermarket rifle chassis are varied, most will agree that when accurate placement of your shots is the number one goal, you need to consider an aftermarket precision chassis.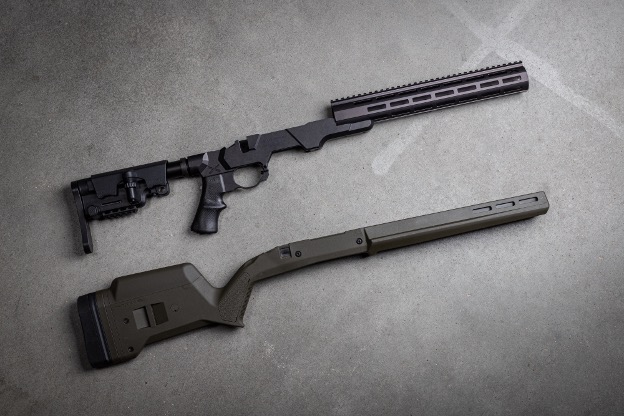 With so much modularity on the market today, picking the proper rifle chassis that will meet most if not all your needs can be genuinely challenging. Remington and aftermarket manufacturers have stepped up to help simplify the process.
The most popular bolt action rifle is the Remington 700. Big green has made this rifle to be a great shooter right out of the box, just add a scope and you're ready to hunt. However, like many Remington firearms, there is also a huge aftermarket for parts so owners can customize their rifles.
MAGPUL PRO 700
Magpul continues to find its way to the performance winner circle. This rifle chassis from Magpul is built to provide dependably rugged performance with no jiggling parts or loosened screws. The stock is easily adjustable, and the Magpul Pro 700 is also night vision capable and supports an ambidextrous operation, multiple vertical grip distances, and angles. It will instantly improve the function of your Remington 700.
Complete with a folding buttstock, the Magpul Pro 700 promotes a broader range of compatibility with numerous configurations and represents the best all-around precision rifle chassis. One detractor of the Magpul Pro 700 is the limited minimum range of length of pull at a little over thirteen inches.
Like the Matrix, this Magpul Pro chassis for the Remington 700 may not be your chassis if you need a shorter length of pull. Although the Magpul Pro may be a little pricey at just under a thousand dollars, this precision rifle chassis from Magpul is a stellar performer and undoubtedly worth it when accuracy and performance are what you're looking for.
MASTERPIECE ARMS MATRIX
Several years ago, Masterpiece stood alone in the aftermarket precision rifle chassis industry. Masterpiece Arms introduced the Matrix to maintain its competitive edge, a precision rifle chassis wildly accepted in the competition circle for its added adjustment capability.
While the Matrix features a unique look that some have difficulty with, the feature-rich Matrix precision rifle chassis makes it easy to put the lacking esthetic appeal on the shelf.
The Matrix chassis features six different grip style options and three separate thumb rests to accommodate even the most unique shooting style. The Matrix from Masterpiece Arms also comes with four complete trigger support options as part of the package.
The entire chassis is two inches longer than the Masterpiece competition rifle chassis and accepts night vision devices and barricade stops to help steady your rifle against a vertical wall or obstruction.
The Matrix is an excellent choice for a precision rifle chassis because it provides virtually tool-less adjustments, multiple grip options, added M-LOK accessory space, and numerous thumb rests and comes at an affordable price. There are, however, a few things to consider.
Masterpiece Arms manufactures the Matrix with several detent pins and tiny screws that can loosen and get lost to provide the adjustment ranges you may need. Additionally, the Matrix length of pull begins at a little over thirteen inches, so if you need a shorter pull length, the Matrix rifle chassis may not be the precision rifle chassis for you.
XLR ENVY PRO
For over a decade, the XLR team has established itself as one of the premier producers of rifle chassis and products. While the XLR Envy Pro is available in packages, you can start with just the base and add your own options.
Whether you go with the multiple iterations of chassis that XLR offers, the Envy Pro comes from the factory with an extended nose that allows you to position a support tripod further toward the barrel muzzle.
The Envy Pro also features a length of pull of around twelve inches but can be adjusted to a longer or shorter range, making it a versatile upgrade choice.
This rifle chassis from the XLR team also comes with a built-in Arca Swiss tripod quick-release attachment and supports the ambidextrous operation of the mag release. The Envy Pro rifle chassis also features a fully adjustable and foldable buttstock with ample padding for comfort.
While the Envy Pro may not be the most esthetically appealing precision rifle chassis on the market, it makes up for it with an ultra-solid feel and a lack of screws that can loosen.
Competitively priced, the Envy Pro is one of the least maintenance-intensive precision rifle chassis for competition that can also double as a dependable all-around pick.
Final Thoughts
Aside from making a precise and repeatedly accurate shot, a precision aftermarket rifle chassis should offer powerful adjustment capability. The entire point of an aftermarket rifle chassis is to fit the rifle to your unique shooting style and improve your shot.
A quality aftermarket chassis must allow adjustment of cheek comb and length of pull and give you more than standard accessory mounting options. You'll also need to look for an aftermarket rifle chassis that's basically drop-in ready and compatible with your barrel and action.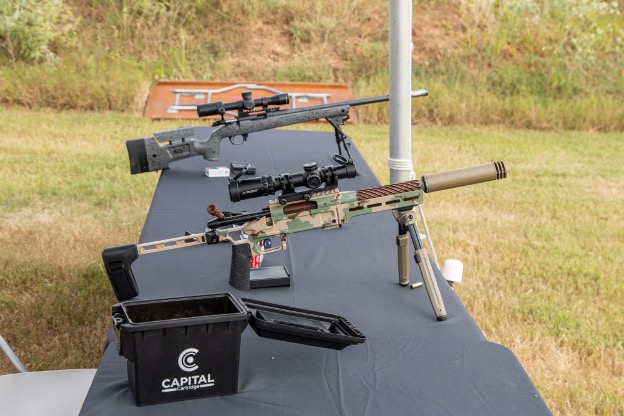 Making the step to a precision aftermarket rifle chassis will require additional cash outlay. For this reason alone, having a chassis that allows you to fit your rifle barrel and action quick and easy into the chassis is essential. The last thing your budget will need is the cost of a gunsmith or factory installation to make the necessary upgrade.
Most aftermarket precision chassis solutions will probably offer a substantial upgrade to your existing rifle. Still, these top-of-the-line rifle chassis have a few pros and cons that need consideration.
While most precision rifle chassis on the market today are produced with competition shooting in mind, nothing stops you from fitting your favorite hunting rifle on a precision chassis and taking it out in the field.
With a fully adjustable rifle chassis, it's possible to have a family hunting rifle that can be shared by both large and small frame hunters without unique configuration or modification.Although this piece covers three of the more popular precision rifle chassis, there are plenty more you may want to investigate before you pick.
Whether it's a rifle chassis from Magpul or an XLR Envy Pro, or a Matrix from Masterpiece Arms, when you want to up your shooting game, nothing does it better than a precision rifle chassis.