Today while at WT's Guns & Outdoor Shop I had the pleasure of trying the Trijicon AccuPoint® TR24 scope thanks to Brian Krouse, the local Smith and Wesson representative. He had the AccuPoint mounted on one of his AR-15 test guns which I had the opportunity to get my hands on and while checking out the gun the AccuPoint caught my eye. The scope had a very solid build and felt as if it could stand up to the elements well.

The scope, based on it's look, doesn't appear to be a scope that would work well on an AR platform but it turns out to be a very aesthetically pleasing. The scope is true to the Trijicon name with quality of the build of the optic. Unfortunately, I wasn't able to shoot with the optic but coming in at the $800-$900 range, it's a very high quality optic.
The reticle was one that I didn't think I'd like but after looking through it a couple of times it began to grow on me. The top of the point was unbelievably bright, even in the brightest light, it is completely clear where your reticle is located.
Based on what I saw in this optic I would highly recommend someone field test it. I'm looking forward to getting my hands on one of these so I can give a more in-depth review with more videos and first hand pictures.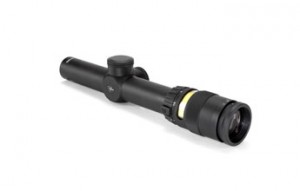 Specifications:
Length:
10 in
Weight:
14.4 oz
Illumination Source:
Fiber Optics & Tritium
Reticle Pattern:
Triangle
Reticle Color:
Amber