With the AR15 market flooded with over-priced products and some that are not worth the money at all, are Trinity Force products really worth the price tag? Trinity Force hasn't been in the gun market for very long (since 2014), but they are known for affordable products that are backed by a
Lifetime Warranty
. My local gun shop,
Clayton Guns
, carries pretty much their entire line of products which include:
Rails
,
Optics
,
Scope Rings
,
BUIS
,
Gas Blocks
,
Muzzle Brakes
,
Grips
,
Stocks
,
Buffer Tubes/Buffers
,
Lasers
, and other miscellaneous odds and ends.
---

---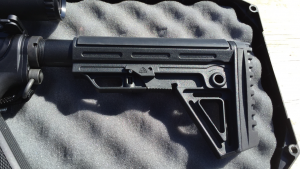 When one of my co-workers wanted to build a budget AR-15, he came to the shop and had them build one using Trinity Force Products to include: Atlas 16.5″ Rail, Alpha Butt-stock, Buffer/Buffer Tube, and BUIS. Being on a budget, optics can be very overwhelming – so he decided to go with the TF Legacy. The Legacy is TF newer optic that came out this year. It is a 1-6×24 and is great for 3-Gun and even some light hunting.
The Legacy is offered in two reticals: Deltex or Sniper. My buddy decided to go with the Sniper retical because it was best for him for the range and light hunting. The Legacy is a nitrogen gas purged optic and is coming in at 22.57oz. With its overall length of 11.02″ and 30mm tube, this ±40MOA Elevation/Windage optic was a great buy. Selling locally for $179.99, the Legacy matted well with the
TF QD 30mm Mono Mount
.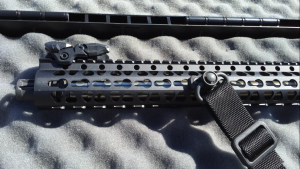 Taking this rifle out to the range, I was excited to see how accurate the optic will be and if it will hold true. With most of TF products being made overseas, I was curious to see how all the products will hold up. After we got it sighted in (12rds), it seemed to hold up pretty well. The clicks on the turrets were audible and solid. For a $179.99 optic and $30 mount it was really nice. It held zero well and the eye relief is great.
Another gentleman was out at the range sighting in his Vortex Strike Eagle and he noticed us shooting. He was very much impressed with the Legacy and was bummed that he spent almost close to $400 for his optic and mount, when this one was close to $200. I was shooting sub-MOA with this rifle using this optic, which is really nice considering it's a Palmetto State Armory Stainless Freedom Barrel. The barrel did heat up but the handguard didn't even heat up at all (Outside temp was around 50° F). The handguard held up nicely and didn't have any rotation or rattle after some abuse. The Alpha Buttstock didn't have any rattle either and was very tight against the buffer tube.
After shooting this rifle, my overall impression on Trinity Force is very strong. I'm really impressed with the fit, finish, and overall quality of their products. For the money, it's well worth it! If you are working on an AR project and are on a budget, then think about trying out some Trinity Force products to help finish your project strong!
As always, ya'll be good and be safe!