WT's Guns in Goldsboro, NC has been around for quite some time but four years ago they created a 10,500 square foot store with over 1,800 guns in stock and also a state-of-the-art indoor range. But that wasn't enough for the owner of WT's on Friday, September 29th, 2012 they held the grand opening of WT's Guns and Outdoor Shop which had a 21,000 square foot store. WT's Guns still featured an indoor range and increased product lines but an indoor live fire bow range and also a techno hunt range. They also feature more than 1,800 guns in stock with multiple big name companies representatives on hand including Smith and Wesson, Core 15, Browning, Ellett Brothers, and Calcutta! The grand opening was packing and full of great giveaways. Be sure to stop by WT's and see their great selection of firearms, accessorizes and apparel.
WT's offers multiple training and classes including:
Women's firearm courses
North Carolina Concealed Handgun Permit Class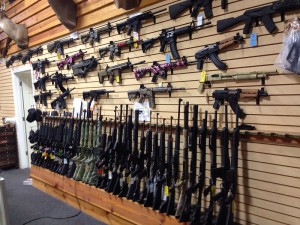 Be sure to check them out if you're in Goldsboro, NC.
WT's Guns & Indoor Range
115 Centura Drive
Goldsboro,NC 27530
Phone (919) 735-4441
Fax (919) 735-5499
Email – wtsguns27530@bellsouth.net
Website – http://wtsguns.com