One thing I loved about the XM17 trial is the fact that only one winner will be announced and the losing models will come to the market for civilian purchase. The entry that failed the US Military XM17 trials from Beretta was the APX. Although it's not a bad thing that these firearms didn't make the cut, it just means that it was time for a new pistol to be made by manufacturers, to include Beretta.
---
---
The Beretta APX made its debut to the gun market earlier this year, and has been met with pretty good success. When this pistol arrived at my local gun shop, Clayton Guns, I stopped in to see what it was all about. As far as polymer guns go from Beretta, the PX4 Storm has been doing quite well on the market and it is a smooth shooting pistol. But, I was curious to see their new striker-fired pistol. Although, I wasn't jumping for joy when I saw it, I was almost a little skeptical about it.
When I first saw it in the showcase, it caught my eye. I honestly thought to myself, what the heck is that pistol? It was the APX. The one thing that caught my eye first was the deep/wide front and rear serrations. These serrations are different because they are spaced out, but seem to function perfectly for press checks and racking the slide back. Then I noticed that the barrel is slightly sticking out due to the slide having an upward sweep. It's kind of weird. If the barrel was going to be sticking out anyways, why not just put a threaded barrel on it. With a market flooded with suppressors, most consumers want a pistol that can accept their suppressors and this pistol could deter them from purchasing it.
Picking up the APX, it felt pretty good in the hand and it has good weight, coming in at 1.76lbs. With its overall length coming at 7.55″, overall width of 1.3″, and overall height coming in at 5.63″ it's right in line with the "compact" polymer pistols like Glock, Sig, and CZ – so for an EDC or for a duty weapon, I can see it working well.
One thing I noticed with this pistol was the trigger. It felt weird to me, but to others it felt okay. I honestly was not impressed with it. The trigger does have a trigger safety like a Glock, yet the trigger is flat, almost like an APEX Tactical trigger for the Smith and Wesson Shields. The avg trigger pull was 5lbs 11oz. But again, to me, it felt "mushy". The one thing I did really like about this trigger is the reset. It was short and very audible.
Since the APX was part of the XM17 trials, it is designed to be a modular pistol. This pistol will come with three interchangeable backstraps: Small, Medium, and Large. Also, being modular, you can change out the lower frame to different colors and sizes to include: FDE, Gray, and OD Green. Lower grip frames are coming in at $50 from Beretta directly. The lower frame incorporates three finger grooves and have slight stippling, but not much. I really like the higher beaver-tail, because I like to hold my pistols high, and I actually have a good grip when holding this pistol. The APX does include a 1913-picatinny style rail to attach your laser or flashlight of your choice.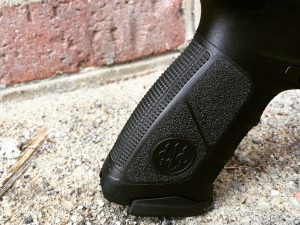 ---
One thing that I do have to say that Beretta did get right, is making the APX ambidextrous. The APX comes with ambidextrous slide release and the magazine release can be switched over for the left handed shooter. Also, Beretta has made this pistol extra safe. Along with the trigger safety, Beretta has added a feature that allows the user to deactivate the internal striker mechanism, prior to disassembly, called the Striker Deactivation Button. This button is located on the right side of the pistol, towards the rear. Also, the APX pistols have a striker blocking device that prevents forward movement of the striker unless the trigger is completely pulled. The striker block is located on the slide just before the rear sight.
---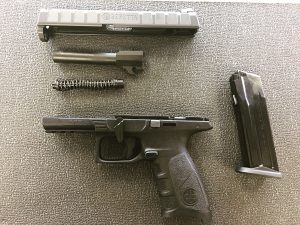 Disassembly of the APX is actually quite cumbersome. I have seen a lot of reviews talking about this, and I myself found it difficult to take down. First and foremost, the take-down lever is located on the left side of the pistol, like most pistols. Well, when you go to turn it down, it doesn't move. Then you notice that there is a "button" on the right side of the frame. The easiest way I found to take down the pistol is make sure the pistol is clear. Remove the magazine and rack the slide. Then pull the trigger. I have found that you have to take your thumb of your right hand and press the "button" and turn the take-down lever down. Then move the slide forward. Field Stripping is just like any other pistol, remove the recoil spring and then the barrel. Reassemble is reversed.
The APX was designed for EDC and for Military/LEO use. The pistol has a low bore-axis slide, just like the Glock, so holstering and un-holstering should be a breeze. Since this pistol is still kind of new to the market, aftermarket accessories are going to be slow coming to the market. Holsters are available from Dara Holsters, Alien Gear, and from Beretta directly. Night Sights are readily available from Beretta directly or you can purchase your APX with them already installed.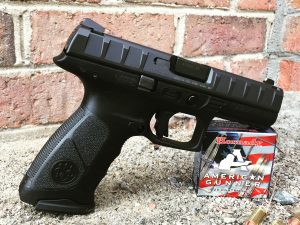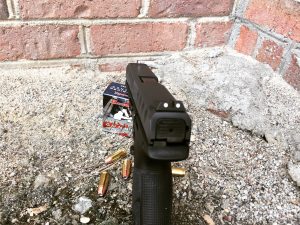 ---
MSRP for the Beretta APX is coming in at $575 and can be found selling locally for around $499. The APX can come with a 10, 15, or 17rd magazines depending on your state laws. Magazines are readily available from Beretta directly for $29. Also, a 21rd magazine is available for purchase for around $35. Would I personally carry the Beretta APX – I honestly don't think I would. But again, that's my personal preference. With the lack of availability of holsters and that "mushy" trigger, I just can't get past that. I do like the steel three dot sights and if I did purchase one, I would purchase the model with night sights already installed on it. Again, this is just my personal preference. It would make a great choice for an EDC pistol for someone, just not me.
As always, ya'll be good and be safe!