When I got in the Savage B.Mag 17, I was looking high and low for a glass that would be comparable for the .17WSM. After looking online and talking with other companies, I settled on the BSA 17 Super Mag 4.5-14×44. What drew me to this optic was the Bullet Drop Compensation (BDC) reticle.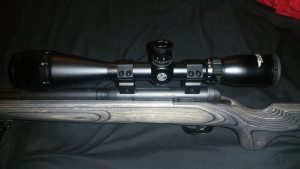 BSA is the only optic that is designed for the .17WSM and has 50yd line increments for the 20 – 25gr bullets. The 20gr bullets are designated by lines and the 25gr bullets are designated by dots. This optic is designed to be zeroed at 100yds and it drops out to 400yds for the 20gr bullet and 350yds for the 25gr bullet.
Magnification- 4.5-14
Obj. Lens Diameter- 44mm
Exit Pupil Range (mm)- 6.6-2.3
Field of View at 100yds-

16.6-4.8

Optimal Eye Relief- 4″
Parallax Setting-

10 to Infinity

Click Adjustment Value-

1/8

Adjustment Range- 35-35
Overall Length- 13.90″
1″ Tube
Weight- 1.36lbs
To be honest, I'm use to working with high quality glass, so I was nervous about getting this optic from BSA. BSA is known for their entry-level optics, but for the .17WSM, it works very well. I will say at the higher-end zoom past 10x, the distortion starts – so it's okay up until 10x in my opinion. The turrets are tight and when moving them, the audible click is nice and positive.
At the range, it held zero great. I could see the 17 caliber holes at 100 yards with no issues. 200 rounds later, I am pleasantly surprised with this optic. The BDC is true out to 200 yards. I put my son behind this optic on the Savage B.Mag 17 and he is ringing steel at 200 with the first shot. MSRP for the BSA Super Mag 17 4.5-14×44 is coming in at $139.95.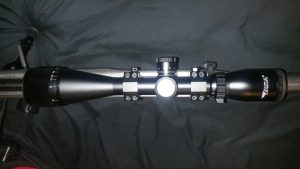 I will say, if you are looking for an optic for the .17WSM, check out this BSA Optic. There are other optics out there, but again, this is the only one that is specifically designed for the .17WSM.
PRO: 
Reasonable Priced
BDC Reticle for 20gr/25gr
Audible Clicks on the Turrets
Waterproof, Fog-proof, Shock-proof
Limited Lifetime Warranty from BSA

CON: