When we did the review of the Canik TP9v2, I found myself really liking that pistol so when my local gun shop, Clayton Guns, got in the TP9SF Elite, I had to check it out. So, is the Canik TP9SF Elite worth the money?
The Canik TP9SF Elite is Canik's new Medium-Sized pistol and it feels amazing. The tungsten cerakote frame really caught my eye at the gun shop and I had to look at it and see what it was all about. The first thing I noticed was the weight of this pistol. The TP9SF Elite is coming in at 1.57lbs unloaded and the overall balance of the pistol is great. Let's compare the TP9SF to the TP9v2:
| | | |
| --- | --- | --- |
| | Canik TP9SF Elite | Canik TP9v2 |
| OAL | 7.28″ | 7.16″ |
| Width | 1.45″ | 1.30″ |
| Height | 5.27″ | 5.70″ |
| Barrel Length | 4.19″ | 4.07″ |
| Capacity | 15rd | 15-18-20rd |
| Weight | 1.57lbs | 1.74lbs |
| MSRP | $539.99 | $399.99 |
---
---
The Canik TP9SF Elite is selling locally for around $420. So for $420 this is what you'll receive:
Warren Tactical Sights w/ Red & Green Optic Front Sight
Improved Single Action Trigger
Match-Grade Barrel
Striker Status Indicators
Reversible Magazine Catch
Stippled Front Strap
Integrated 1913 Picatinny Rail
Two Mil-Spec Magazines (AFC Coated)
Two Interchangeable Backstraps
Polymer Holster (Paddle & Belt Attachment)
Cleaning Rod & Brush
Magazine Loader
Gun Lock
Hard Case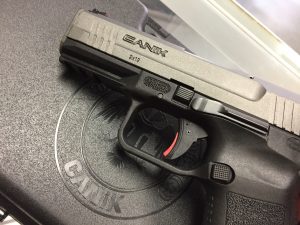 Another thing I really like about this pistol is the smooth trigger pull. The average trigger pull is coming in at 5.5lbs and the reset is audible. So is this pistol worth the $420 street value? We like to think so. The average price for quality pistols run between $300-$500, and this pistol, in our opinion, falls into this category of price and quality. I know there is at least one video out there on YouTube showing failure-to-eject and feeding issues with this pistol, I'm going to let you in on a little secret…all pistols like certain ammo and will have failures with the ammo it doesn't like! Don't let those videos discourage you from checking this pistol out.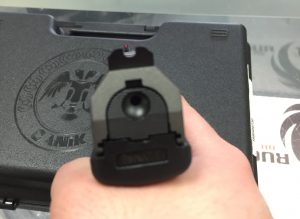 With its Limited Lifetime Warranty and this pistol coming with the holster already from the factory, it makes for a great buy and a great "first" pistol if you are looking. If you are in the market for a new pistol and wanting something a little different, then check out the Canik TP9SF Elite and see if it's right for you!
As always, ya'll be good and be safe!