While at my Local Gun Shop, Clayton Guns, I was fortunate enough to meet Matt Kozik from Guncrafter Industries. Matt was there showcasing the owner and employees their custom 1911 chambered in .50GI. Guncrafter Industries is based out of Huntsville, AR. Now, I was really skeptical about this round for a number of reasons to include: availability of ammo, cost of ammo, and price of the handgun.
My first overall impression of this custom 1911 pistol was, "hmm….another 1911." But when I put this pistol in my hand, that first impression went out the window. This pistol feels great in the hand and the aluminum grip checkering felt great. It wasn't overly aggressive and not too slick. It was just right. The overall size of this 5″ Government 1911 feels just like a normal .45ACP 1911, but with a bigger opening at the end of the barrel.
---
---
What makes this particular custom 1911 so special? Well lets break it down:
Full Size Bobtailed 5" Government 1911 chambered in .50GI
4140 Chrome-moly Frame and Slide Machined from Forgings
5" 416R Stainless Steel Heavy Match-Grade Bushingless Barrel – Machined from Forgings (1:18″ Twist)
Hammer, Sear, and Disconnector Fully Machined from Tool Steel
Slide Stop Fully Machined from bar stock
Single Side Thumb Safety (left side) and High Sweep Grip Safety
Beveled Magazine Well for Improved Magazine changes
Skeletonized Match-Grade Trigger
Steel Guide Rod
Front Strap and Integral Lanyard-Loop Mainspring Housing 20 LPI "Carry"
Front Grip Checkering
Fully Checkered OD/Gray Aluminum Grips with GI Logo
G.I. Tritium Sights
Melonite Finish
Two 7rd Magazines, Fully Fitted and Tuned in GI Logo Cordura Case
38oz. Unloaded Weight
---
---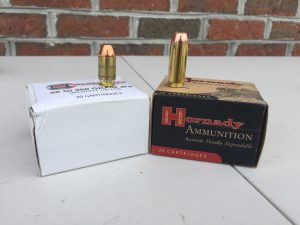 Shooting this pistol is an absolute dream. Even though this .50 caliber pistol round is quite bigger than a .45ACP, it kicked just like a .45ACP 1911. The .50 GI (12.7x23mm Rebated Rim) pistol cartridge was developed by Vic Tibbets and Alex Zimmermann of Guncrafter Industries. The accuracy of this pistol is just amazing. Most custom 1911's are designed with accuracy in mind and this pistol doesn't fall short in that department. The Guncrafter Industries' .50GI caliber and M1911 was debuted at SHOT Show in 2004.
---
Guncrafter Industries currently makes a wide variety of hand-built, custom 1911. These custom 1911's range from $2600-$3900, depending on what you are wanting. Some of these varieties include:
---
Currently, Guncrafter Industries is venturing out into a Glock 20/21 Conversion for all the Glock fans out there wanting to shoot a 50cal bullet. With this Glock Conversion matted to a Glock 20 frame, it just feels right. The conversion slide mats perfectly to the frame just like a factory slide. This conversion includes the slide, .50GI barrel, recoil spring, and 9rd magazine. Currently, this conversion is available in Satin Stainless or with optional black Melonite. Selling for $595 for the Stainless version and $660 for the Melonite version, it makes for a great buy in my opinion. If you are wanting to get a complete pistol with the Glock Conversion on it, the MSRP is coming in at $975 for Stainless and $1035 for black Melonite. Also, a threaded barrel option is available.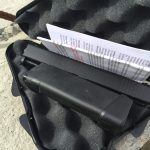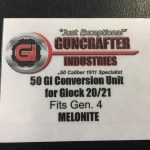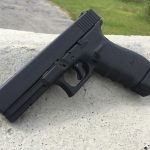 ---
The only thing I can see being a problem for this round is the availability. Currently, Guncrafter Industries offers a variety of ammunition to include: 185gr. Solid Copper Hollow Point (1200fps), 230gr CHP Solid Copper Hollow Point (1000fps), 255gr. L-SWC (800fps), 275gr. Jacketed Hollow Point (875fps), and 300gr. Jacketed Flat Point (700fps). Guncrafter Industries offers ammunition in 20rd boxes and the price is competitive, compared to other .50 caliber rounds. Prices of ammunition range from $31-$51. But, these .50GI rounds can be reloaded and there are dies available to reload.
Overall, this 1911 pistol is amazing. But with the price tag, I honestly just can't afford it on my salary. But hey, you got to pay to play in the big leagues when it comes to custom 1911's. The Guncrafter Industries custom 1911's are actually inline with other custom 1911 manufacturers to include Nighthawk and Wilson Combat. The Glock Conversion might be more obtainable for me, since my wife carries a Glock G20 G4. Since the debut in 2004, I'm surprised that I've never heard about this round and this company, but man am I glad that I found it. Contact Guncrafter Industries at (479) 665-2466 or email them at sales@guncrafterindustries.com, if you are in the market for a custom 1911 or any other questions you may have. Again, thank you to Matt Kozik for allowing us to review this sweet 1911.
As always, ya'll be good and be safe!