When carrying a pistol there are many different ways to carry it. Honestly, it all depends on if you have your concealed carry or not. If you don't have a concealed carry permit/license, then you are quite limited on ways to carry. If you do have a concealed carry, the sky is the limit. Regardless of how you carry, situational awareness is a big deal if you are carrying a pistol, be it in the waistband, outside the waistband, or even in an ankle holster. You have to constantly be aware of your surroundings and always be on the look-out. Also, you need to be aware of what you are doing, because you are responsible for that weapon, even if it gets stolen. It's an investment, it's a tool, and you should always be aware of where your equipment is in case you have to use it.
This is Part I of a two part series on holster variety. Starting off, we're going to go over non-concealed carry holster options.
---
Outside of Waistband
Outside of waistband, or OWB if you are looking online for holsters, are usually the easiest way to carry. OWB holsters are built with comfort in mind. It allows the shooter to draw and re-holster easier and you have tons of different options for holsters. More of the popular holsters being used on the market today are: Blackhawk SERPA holsters, Safariland Holsters, Fobus holsters, and custom Kydex holsters.
---
Blackhawk holsters are being used by Law Enforcement Officers and other specialized units that work alongside with them. The SERPA holsters have a button on the side of the holster which makes drawing the pistol easier. But some ranges and some specialty classes will not allow the SERPA holsters to be used, due to the trigger finger being so close to the trigger and shooters accidentally discharging their pistols while drawing. Also, Blackhawk offers two ways to carry, paddle style or on your belt. It's up to you which is more comfortable on how you carry your pistol.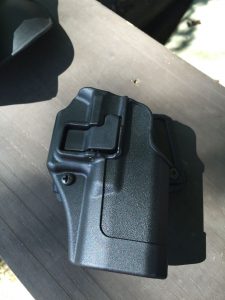 ---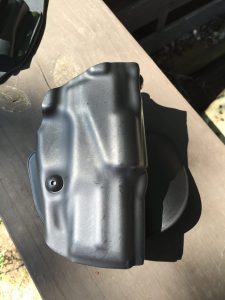 Safariland offers a better carry option due to the retention style. It uses your thumb to push down on a button on the inside of the holster to release the pistol. Using your thumb to release the pistol is a more natural way of drawing your pistol and less likely for accidental discharge. Safariland also offers a hood that goes over the slide of the pistol which protects the pistol as well. Most of the local area police officers use this style of holster while on duty. Safariland also offers two ways to carry, paddle style or on your belt. Again, it's up to you which is more comfortable on how you carry your pistol.
Safariland ALS Holster
---
---
    Custom Kydex OWB Holster                                                                                   Fobus OWB Holster
Fobus OWB Holsters are nice and are a paddle style holster. Fobus offers holsters for a variety of pistols and is very popular among gun shows and local shops. I honestly purchased this holster for my Smith and Wesson Shield. At the time, the Shield was just released and it was the only thing I found locally, so I purchased it. It is very comfortably to wear and my wife actually wears this holster when she carries her Shield. When I bought it at the gun show, the salesman was very confident that the pistol could be turned upside down and the pistol would stay in, due to the retention. Unfortunately, this was not the case. There is some retention, but not like a custom Kydex Holster. Kydex holsters are nice and have very nice, tight retention.. They also offer a sort of customization for you. Custom graphics can be added, as well as different color options are available from Kydex holster retailers. One thing to remember about Kydex, it can be tight when you purchase the holster, so some adjusting might be in order and you might have to manipulate the weapon in the holster to get that right amount of retention you are looking for. But some companies offer a screw to help out with retention.
Also, you have leather holsters available, as well as nylon holsters. Leather holsters are nice, but remember, if you sweat or are outside a lot, leather holsters might not be the best option and sometimes with leather, it will leave holster wear bad on the slide/barrel. Nylon holsters are usually a one size fits most. So it may or may not fit your pistol. If you are looking for a holster to just transport your pistol in your vehicle or to keep in the nightstand beside the bed, then a nylon holster might be something you are looking for.
---
---
Other options for Non-Concealed Carry
Another option for you non-concealed carrying patrons, is wearing a nice shoulder holster. Shoulder holsters offer great quality and ease of drawing, the cross-draw. The cross-draw has been used for decades and was made real popular with the 1930's-1960's movies and television shows. Shoulder holsters are available in Leather and Nylon and can attach differently. It all depends on what fits you best. The cross-draw works well and it can be incorporated even with the belt Kydex holsters, as well as the SERPA style holsters. My father carries his pistol on his left side, on the belt, and uses the cross-draw method for drawing his pistol.
OWB Conclusion
OWB holsters price points are usually around the $20-$100 mark. The custom leather holsters can be as high as $150-$250 range, so just be mindful when choosing your OWB and how you plan on carrying and in what position. The most common way to carry a pistol OWB is in the 4-5 o'clock position due to your pelvic bone sticking out at the 3 o'clock position and it can make carrying not so pleasant.  Also, having a forward cant on your pistol can make it a little bit easier to draw versus drawing straight up. Drawing straight up can be uncomfortable, so the forward cant assists in this. OWB holsters are great for winter months and can be used for concealed carry as well, due to the long jackets that can be worn to conceal the holster.