Continuing on with Part II in our two-part series of Holster Variety, we're going to be discussing ways to carry if you have a concealed carry permit/license. If you missed Part I, no worries, just click here.
In the Waistband Holsters
           Kydex IWB Holster                                                                      Soft-shell Holster
In the waistband, or IWB, is one of the better ways to carry a pistol concealed. Holsters are usually tucked inside your pants, so you'll have to make sure you buy bigger sized pants, usually 2" bigger. This also depends on what pistol you are trying to carry, be it a single stack or double stack pistol. Some of the common single stack pistols include the M&P Shield, Ruger LC9, Springfield Armory XD-S, and the Walther PPS. Some of the common double stack pistols include: most Glock's, Sig Sauer's, Springfield Armory Mod 2's, FNS-Compact, and the list goes on and on and on. Usually these pistols are being carried at the 4, 5, and even 6 o'clock position and some people may carry in the appendix. Manufactures of IWB holsters include Alien Gear, Bianchi, Galco, Crossbreed, Blackhawk, and many custom Kydex styles manufactures. Cost of these holsters range from $15-$60. Wearing an IWB makes it a lot easier to conceal especially with longer shirts and when walking around, people will not notice it. I unfortunately do not like to carry IWB, due to it being uncomfortable because I'm a little on the fluffy side and it digs into my love handles. Just try and figure out what works best for you.
---
Appendix Carry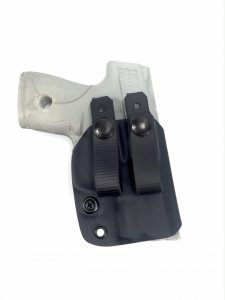 CnC Holsters Mig25 Holster
When you appendix carry, in my opinion, having a double action/single action pistol is going to give you a better piece of mind due to the longer trigger pull versus a striker-fire pistol. No one wants to be shot in the groin, or even in the femoral artery. Carrying a DA/SA pistol is just something to think about when you appendix carry. If you plan on carrying in the waistband, be mindful that re-holstering may be a little cumbersome and may take you a little bit getting used to.
---
---
Ankle Holsters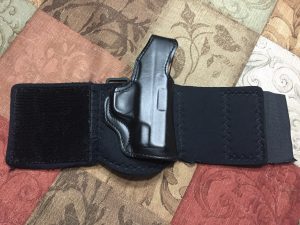 DeSantis Ankle Holster for M&P Shield
Another option for concealed carry is carrying in an Ankle Holster. Most ankle holsters are made with sheep skin and leather or nylon. It is the best holster for the most discreet way to carry. For the businessmen out there, this would be the best way to carry with no one knowing. A lot of on duty officers carry their back-up weapon in an ankle holster and have been for years. I personally like to carry my M&P Shield in an ankle holster during the fall/winter months. Just having that extra back-up weapon is nice. I wear a DeSantis holster and other manufactures like Galco, Blackhawk, and Fobus also make ankle holsters. Ankle holsters offer a good choice if you want to shed some weight off the belt and Not having to buy bigger sized pants. Price point for these holsters ranges from $40-$100, depending on leather or nylon.  Be mindful though, that if you do carry concealed with an ankle holster on, getting to it can be kind of challenging due to the position. In a seated position, it's not that bad, but if standing you would either have to bring your leg up or bend down to retrieve your pistol. Also, make sure you keep the holster clean, because if you sweat, it can cause the holster to stink. So proper holster maintenance is a must.
---
Pocket/Trigger Guard Holster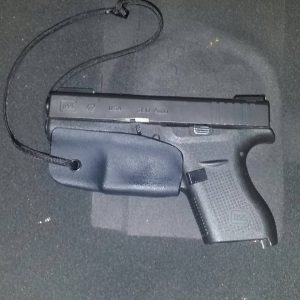 Hoss' Holsters Trigger Guard Holster
If you have a "micro" pistol, another option to carry concealed is carrying in the pocket. Some micro pistols include: NAA Revolvers, Kahr CW380, Taurus TCP, Ruger LCP, S&W Bodyguard380, etc. Just be mindful and be careful when carrying these pistols in your pockets, especially with one in the chamber. Also, be mindful as to which pocket you're going to be carrying it in, be it the front or back pockets. Also, some people carry in their cargo pockets. Another good way to carry is with using a trigger guard holster. This style holster covers the trigger guard and has a lanyard attached to it to pull it out easily. If you plan on carrying like this, be sure to practice drawing your pistol.
---
Summary
All-in-all, it's all about how you plan to carry and what feels best for you. Make sure though, with any holster you choose to carry, make sure you practice drawing your pistol from that holster at home and doing some test runs on an empty pistol. As with any person carrying a pistol, I can't stress this enough, but maintaining situational awareness at all times will keep you safe and others safe as well. It is your responsibility to continuously represent the 2nd Amendment if you plan on carrying with pride and ownership. Make sure you carry safely and practice, practice, practice. Also, make sure you run through a few boxes of the ammo you plan on carrying in your pistol before you even think about carrying it as your EDC. Also, most pistols need a "break in period" and that ranges from 250-500rds. Always maintain your pistol in carry ready condition to ensure no hiccups will occur when your life is on the line.
As always, ya'll be good and be safe!