With all the modern advances coming out in the AR world, I felt it was finally time to rework my SBR and update it a bit. I have had my SBR for almost 6 years, and it's time to give it a face lift per-say. I have been running the Magpul MBUS on most of my rifles for the past 8-10 years now. But I feel like these tried and true sights are almost becoming too commercialized and really are coming standard with most manufacturers AR's. So I decided to try and branch out a bit and go more streamlined and slimmer. So after looking at different manufacturers I decided to go with the Combat Sights by Midwest Industries (MI).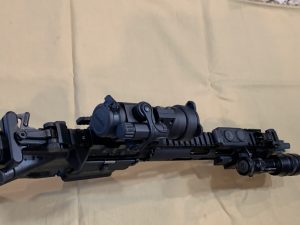 One of the main reasons I went these sights is the fact that they are 100% Made in the USA! To me, that's a huge selling point, but I digress. I am currently running an older style Midwest Industries SS Gen 2 Rail, and unfortunately, I'm going to keep this rail system because I've had to modify it to work with my Adam's Arms XLP Piston Driven Kit, so the addition of the MI Combat Sights are welcomed.
Here are the specs for the Midwest Industries Combat Sights:
MI Combat Rifle Front Sight
Low Profile .437″ when folded down, flips up to Mil-Spec sight height
Uses standard A2 front sight post
Dual locking detent springs for added reliability and crisp positioning
Constructed of ordnance grade phosphate finished steel
Hard-coated 6061 aluminum base
1.5 MOA per click adjustments
Weight 1.4oz
MI Combat Rifle Rear Sight

Super low profile .388″ center-line when folded down
Flips up to Mil-Spec height
Intermediate aperture for long-range precision and close-range rapid engagement
Dual locking detent springs for added reliability and crisp positioning
Constructed of phosphate finished ordnance grade steel
Hard coated 6061 aluminum base
Rifle .5 MOA / Carbine .65 MOA click adjustments
Weight 1.2oz
---
Instillation of the Combat Sights were a breeze. Just be careful to not over-tighten the screws. Torque the screws to 35in-lbs when installing. Also, don't forget to push the sights forward toward the muzzle when installing. One thing to keep in mind, depending on your barrel length, the MOA will vary. With a Carbine Sight Radius, the MOA will be 0.65 and with a Rifle Sight Radius the MOA will be 0.5.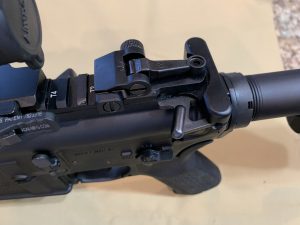 Sight acquisition is nice. The rear sight isn't the small aperture (peep sight) nor the larger aperture (ghost ring), it sits right in the middle. To me, that makes a for a perfect sight and makes the usage of real estate. I have used the Yankee Hill Machine Rear Flip-Up Sights before, but when using an LVPO, the second aperture gets in the way. With these Combat Sights, you don't run into that problem.
Engaging and disengaging the sights are very easy and has an audible locking detent. It doesn't take much force to engage them or disengage them either.
---
Overall, I am very pleased with these sights and they work just fine out at the range. It was easy to zero in, and was pretty dang close to zero after install. One feature I do like about these sights are the fact that it comes with a front sight tool. It's a standard A2 Front Post, so you can change it out to tritium inserted ones if your heart desires.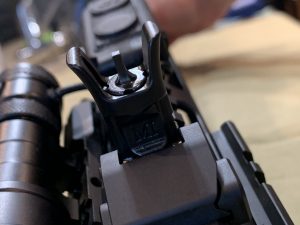 MSRP for the Combat Sights are $159.95. I snagged these from Aim Surplus for $149.95. They were really the only company that had these in stock (at the time of purchase), minus getting them from MI directly. If you are in the market for new BUIS, then check out the Midwest Industries Combat Sights and see if they're right for you!
As always, ya'll be good and be safe!