I have been carrying the Midland NOAA weather radio in my 3V Gear EDC Posse Sling Pack for quite sometime now, and we decided to stop by their booth and see the new items they are offering in 2017. If you aren't familiar with Midland Radios they have been around since the 1970's primarily known for CB radios and household electronics. According to their website, "Midland Radio Corporation is an international industry leader in wireless communications with affiliates in Italy, Bulgaria, Germany, Poland, Russia, Spain, and the United Kingdom, as well as representation in Latin America.  Midland develops high quality consumer products such as Wearable Action Cameras, GMRS Two-Way Radios, Citizen Band (CB) Radios, Marine Radios, Bluetooth intercom systems, and All Hazards/Weather Alert Radios. Midland has grown with the times by producing innovative new communications products and by actively promoting public emergency preparedness.   Midland has manufactured quality Two-Way Radios for over 50 years and is a market leader in several additional product categories. Midland is also a leading manufacturer of Land Mobile Radios and supplies professional grade analog and digital (P25 Technology) Portables, Mobiles and Base Stations/Repeaters for government entities such as forestry and public safety, as well as other commercial users."
---
---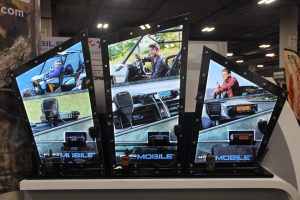 We visited Midland here at SHOT Show and they showed us some of their products geared towards prepping. Midland offers a wide variety of "base camp" radios as well as mobile two-way radios. The ones we looked at were the MicroMobile MXT105 (5 watt power broadcast), MXT115 (15 watt power broadcast), and the MXT400 (40 watt power broadcast). The products are designed to either be at home or on the go; mounted on ATV's, in the car or on the Golf Cart. The MSRP for the MXT's are as follows: MXT 105- $99, MXT 115- $149, and the MXT 400 is coming at $249. These radios are great and will work with other brands if they are on the same channel/frequency. Also these models also have repeater capabilities.
Midland also showed us their line of Survival Radio's that are great for home or to have in your Go-Bag/Bug-Out-Bag. These radios offer a wide variety of keeping charge to include: Solar, Lithium Ion Crank capabilities, or six standard AA Batteries. These radios come standard with the NOAA Weather Station and offer ports for you to charge up your devices while on the go.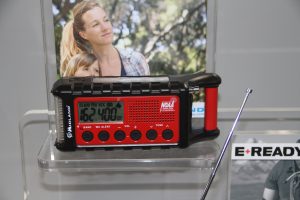 These are also standard AM/FM Radios as well. They offer two different sizes, the E+Ready ER310 and the E+Ready ER210. Any of these radios would make a great addition to your collection!
We are looking forward to testing out some of Midland Products in the very near future! Stay tuned for more!