On August 3, 2017, onXmaps launched some new products for their already amazing onXmaps HUNT App. We did an earlier review of the onXmaps HUNT in February 2017, and had great success with it during Turkey season. Well Dove, Duck, Geese, and Deer season is really creeping up on us and this App is a must!
In addition to a revamped user interface and improved offline usage, onXmaps has changed its name to onX. onX has teamed up with several outdoor organizations to offer new features to include:
onX's New Topo Basemap: onX spent more than 5 years compiling every trail and 2-track in the United States
Boone and Crockett Records: This layer provides B&C information on trophy records by species and county for all 50 states.
Randy Newberg's Roadless Layer: onX continues their long-standing relationship with Randy Newberg to create a layer for those hunters who want to go deeper into the back-country. This map highlights areas that are the furthest away from roads using heat imagery.
Prairie Dog Layer: onX spent five months poring over satellite imagery to create the most comprehensive map of existing prairie dog towns in the U.S. – over 16,000 in total.
Historic Wildfires Layer: Hunters have known for years that animals will enter recently burned forests, especially as new growth emerges. This layer presents areas that have been hit by wildfires, including the fires' names, year of the fire, and the number of acres burned.
USFS Timber Cuts: This layer is perfect for hunters looking for clear cuts or thinned areas of the forest. It displays logging operations on National Forest Land from 2002-2017.
Track Your Hunt: Lost? Do you know how to get back to the campsite? So you found that trophy deer you just nabbed, but where is the truck? With Tracker enabled, it keeps a tab of where you have been so you can find your way back. The app records your Time, Distance, Speed, and Elevation Gain.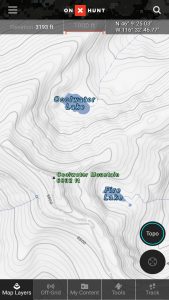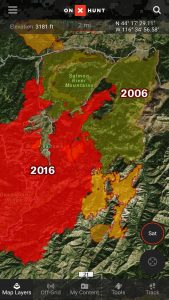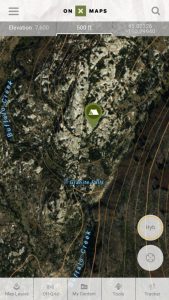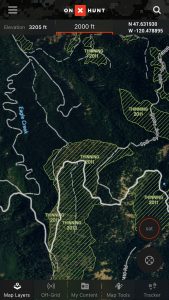 ---
---
onX has really put in a lot of time and effort into making this app user-friendly and it shows. Before, the app could be a little overwhelming – especially if you have never used it before. Again, the video editorials will assist you in using this App. onX has maps of over 121 million private properties, 985 million acres of public land, 421 map layovers and counting, and over 400,000+ miles of trails. onX can be used at home on your desktop or laptop, Apple and Android Tablets and Phones, and Garmin GPS Devices (with onX Chip inserted into your devices for $119.99 per state). onX offers four different memberships: Starter (Free), Premium ($29.99/year), Elite ($99.99/year), and Premium plus Chip (for Garmin Devices $119.99/state).
The App also lets you save maps where you plan on hunting. Actually, this App can be used for hunting or camping, and pretty much anything in between. onX offers a free 7 Day Trial to see if it is right for you. Honestly, if you are out in the woods a lot, or just an outdoorsman/woman then I would suggest you get this amazing App. Here recently, we've even included this App in our Preparedness Lists because it's just that great to have and use if need be. I can't wait for hunting season to start so I can get to use it!
As always, ya'll be good and be safe!