Keeping with our "Budget Friendly" Themed posts when it comes to an AR15, I wanted to install a Drop-In Trigger in the Bear Creek Arsenal Build. Triggers always seem to be so expensive. But in reality, this isn't always the case.
Some standard triggers out there can cost between $150-$300, depending on what you are looking for; while drop-in triggers can be around the $130-$300 mark. Some notable trigger companies include, CMC, Geissele, Timney, POF-USA, Elftmann Tactical, and RISE Armament.
After doing some research on RISE Armament, I decided to venture out and purchase one of their triggers, but which one? Well, since I was building a "Budget AR15" I decided to stick with that idea of seeing what I can get for the best price.
I was perusing the internet I found that AIM Surplus was having a "Summer Sale" towards the middle/end of June 2021. Low and behold, there popped up the RISE Armament RAVE-140 Straight Trigger for $100, normally $129.
So I said, "what the heck, let's try it out." At a quick glance, the RAVE-140 is the Gen 2 version of their popular RA-140 Super Sporting Trigger (SST). The RA-140 SST placed in the Top 10 of all trigger groups by independent testers, while still maintaining the lowest-priced option out of all the competitors. So it's a no brainer that the Gen 2 version is hailing great reviews as well.
---
According to RISE Armament directly:
"RISE Armament has been developing aftermarket accessories for quite sometime and have roots in manufacturing-machining and fabricating for the oil and aerospace industries. All parts are made in Oklahoma and their parts are manufactured according to strict AS9100- and ISO9001 2008- certified procedures."
One of the main reasons why I chose RISE Armament over say a CMC Trigger, is the fact that RISE Armament includes their version of Anti-Walk Pins, which saves money in the end. Now with that being said, it's no KNS Anti-Walk Pins by no stretch, but it gets the job done. Looking online, RISE Armament sells their Anti-Walk Pins by themselves and can be found online for about $10.
---
RAVE-140 Specs:
Single Stage Trigger: 3.5lbs Pull (Avg 3.6 for me)
S7 Tool Steel Interior Parts (Black Nitride Finish for strength and corrosion resistance)
Black Anodized 6061 Aluminum Housing
Flat Trigger (Curved Trigger Available)
Short Quik-Klik reset
Easy Installation with no set screws to tighten down
Includes Anti-Walk Pins
Fits AR Style Platforms built to Mil-Spec Dimensions (Calibers include: 5.56/.223, .308, 6.5, 9mm, and more)
Weight: 2.4oz
Lifetime Warranty and RISE Performance Guarantee
---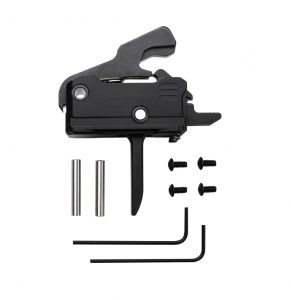 Installation of the trigger is quite simple. Remove the grip, take out the safety selector detent, safety selector, and then knock out existing trigger pins removing the trigger assembly. Put in the RAVE-140, and reinstall the factory trigger pins. Push the Rise Armament Anti-Walk Pins through the factory trigger pins and it should seat just fine. I had to do it this way because the Bear Creek Arsenal tolerances were quite tight and it was the only way to get the Anti-Walk Pins to seat properly. After the pins were seated just take the supplied Hex Key's and tighten down equally on both pins. Re-install the safety selector, detent, and grip. Check for function. That simple!
---
Not going to lie, at first I was quite skeptical buying this trigger because I just didn't know what to expect. It functioned just fine and had no hiccups installed in the Bear Creek Arsenal AR15. Reset is audible and the break is really crisp and clean. Hardly any take-up, if any at all, before the break. I put about 100 rounds down range and it ran smooth.
In the past, I have used CMC Drop-In Triggers as well as POF-USA on some of my builds and those triggers average about $160 each. I have installed a Brownell's Geissele Trigger in my 14.5″ BCM build last year and honestly, I wish I would have got one of the RISE Armament's triggers instead and saved some money, but I digress.
---
For a "Budget Friendly" Drop-In Trigger, I am really impressed with the RAVE-140. I would say with the ease of installation and consistent trigger pull, this makes for a great option for the average shooter looking for a new trigger or even someone looking for a trigger for their Duty weapon or even for their Competition 3Gun Rifle.
Overall for the value and craftsmanship, you get an amazing feeling trigger. This trigger keeps up with whatever cadence you are shooting at. If you are in the market for a new trigger for your AR and are wanting to save some money, yet get a great performing trigger, then check out the RISE Armament RAVE-140 and see if it's right for you!
As always, ya'll be good and be safe!