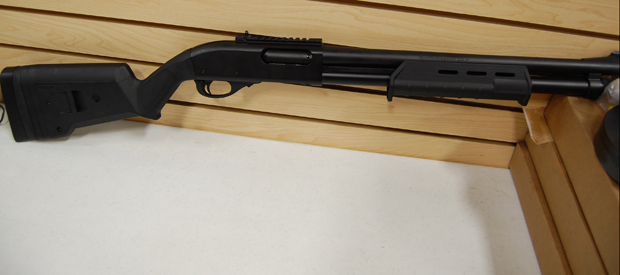 The go-to shotgun for most law enforcement agencies is the tried and true Remington 870 12 gauge. It is arguably the most reliable shotgun with uses ranging from recreational use and hunting all the way to home defense.
The new Remington 870 Express Tactical with Magpul butt stock and forearm is perfect for home defense with its blacked out exterior and short, compact barrel. It would fit perfectly into your closet or under your bed, within arms reach in case someone happens to be breaking into your home. Any dependable pump shotgun that you feel comfortable operating would be a nice home defense weapon, but what I like about this new 870 Tactical Magpul are the features that it comes standard with that most other shotguns will lack straight out of the box.
Such features as:
Ghost Ring Sight
Picatinny Rail
Magpul Stock/Forearm
Cheek risers
Spacer system for length of pull customization
These features on an already solid gun such as the Remington 870 make it hard to pass up. This base gun has been around for years and anytime you add something to it such as Magpul products it's only going to enhance the gun.
I'd recommend stopping by your local gun shop and seeing if they have this new Remington 870 Express Tactical Magpul in stock. Put your hands on it and see if you are as impressed as I was. Check out some of the other articles that we've done on other versions of the 870.
If the Remington doesn't feel good to you, then I would suggest the Mossberg 500 tactical; these two are the most notable tactical shotguns. There are a lot of great other brands out there that manufacture a great home defense shotgun, so check them out as well. Find the one that best fits your needs, your budget and fits best in your hand.