The Ruger LC9 is another fine product from Ruger. They are continuing to change my mind about their handgun business.
Well you can already suspect that I'm a fan of the LC9. I was hoping they would come out with the LC9 for some time because I'm just not a .380 guy.
I've had this gun for a relatively short time but I've shot it and used it as my concealed gun quite a bit. So let me dig you into this review by starting off with how it shoots.
Shooting
This gun shoots great for a compact 9mm. That being said it is just that, a compact 9mm and you will feel more recoil with this gun. I'm not quite as accurate with the LC9 as I am with the SR9c as that gun has a little more to grip. But it's easier to acquire your target and hit your mark with the LC9 vs. the LCP or other .380.
Trigger pull
This gun could probably go down in some record book as having the longest trigger pull in history. Ruger makes it so when you pull this trigger there's no, "I didn't mean to" it is a very long smooth trigger pull and just as far of a reset.
That being said that makes it a good gun to carry strictly for self defense. Some people won't like this feature but for someone who isn't looking for a range gun and rather a "I only shoot if I need to defend my life" situation it's perfect.
Build
This gun is built very well, it's an extremely solid gun. The slide is metal and the frame is a hard polymer. I don't think anymore will be able to break this gun easily. Also the magazine has an optional pinky rest attachment for the bottom. I use the pinky attachment and love it because it provides and increased grip area.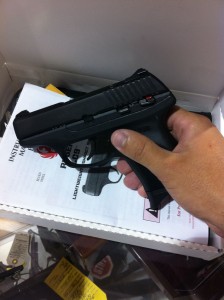 All Models:
Caliber:
9mm Luger
Capacity:
7+1
Barrel Length:
3.12″
Barrel Material:
Alloy Steel
Barrel Finish
Blued
Slide Material
Through-Hardened Alloy Steel
Slide Finish
Blued
Grip Frame
Black, High Performance, Glass-Filled Nylon