When it comes to EDC knives, some common name brands that people gravitate towards on the high end spectrum are Benchmade, Civivi, Zero Tolerance, Esee, and Protech. But what about the sub-$100 brands? Most people tend to lean towards CRKT, Gerber, Boker, Kershaw, and Spyderco. Although, the high end blades do offer a lot of knife for the money, but often times, most people can't afford to carry around a $200-$300, so most people go towards those sub-$100 EDC blades.
After reviewing the Boker Plus Burnley Kihon Auto, it made be think about what other knives would be good to carry. One that has always caught my eye was the Spyderco Tenacious. Honestly, Spyderco makes fantastic knives and has a wonderful reputation in the knife industry. Honestly, their best selling knives have been the Paramilitary (1, 2, and 3), Delica, Polestar, and the Tenacious. Today, we're taking a look at the Tenacious.
---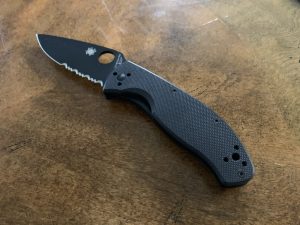 Some quick history on Spyderco, it was formed by Sal and Gail Glesser in 1976, with opening their shop in Golden, Colorado in 1981. For over 40 plus years, Spyderco has "pioneered the concept of a round hole in the blade for one-handed opening, a clip on the handle for carry at the top of the pocket, and the option of a serrated edge for aggressive cutting performance. Spyderco has steadily grown to become one of the leaders in the cutlery industry. In addition to a worldwide distribution network, Spyderco offers manufacturing resources in the U.S., Japan, Taiwan, Italy, and China," according to Spyderco's website.
The Tenacious was designed to be a budget-friendly knife, but has truly shined and has gone above the call of duty when it comes to an EDC knife. One thing we truly like about this knife beside the price point, was the ability to be able to find one that fits your needs. The Tenacious comes in a various of blade grinds to include: Flat, Full Serrated, Half Serrated/Half Plain
SPECIFICATIONS
Overall Length:

7.76″ (197mm)

Blade Length:

3.39″ (86mm)

Closed Length: 4.38″ (111.25mm) – 4.45″ (113mm)

Blade Thickness:

0.118″ (3mm)

Clip Position: Ambi

Edge Type:

Serrated/Plain

Lock Type: LinerLock
Tip Carry Position: Tip-Up/Down
Weight: 4.1oz (117g)
Country of Origin: China
MSRP: $70-$78
---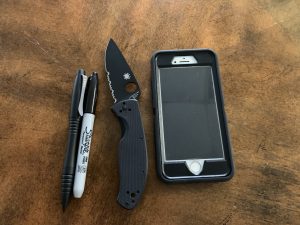 When carrying the Spyderco Tenacious, it is a bit bigger than most of my other EDC knives, but in a good way. With the width of the handle and knife in the closed position, it can be a bit cumbersome, especially when trying to get something out of your pocket. But I think I love the deep pocket clip the best when talking about carrying it. Compared to others, this one just fits perfectly with any jeans, pants, or shorts. I opted for the Half Serrated/Half Plain blade because I wanted best of both worlds, can be used for boxes, meal prep, or cutting wood for smaller bushcraft. After carrying this knife for quite sometime now, I have come to some conclusions about this knife. Let's break down the Pros and Cons:
Pros:
Price Point (Bought on Sale $49.95)

8Cr13MoV

Blade
Drop Point and Serration
Light-weight
Easy one handed opening
Deep Pocket Clip that can be Ambi (Tip Up/Tip Down and Left or Right Handed)
G-10 Scales are very comfortable in the hand and in pocket
Great blade length for EDC
Sharp out of the box
Cons:
Slightly wide in the pocket
Made in China. This is not that big of a deal for some, but for others this can be.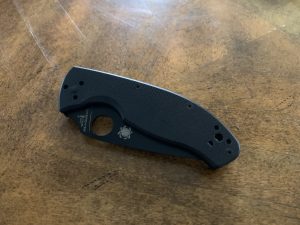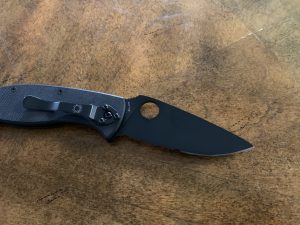 ---
So is the Spyderco Tenacious good for an EDC knife? Honestly, if we had to rate it, we would give it an 8/10. We honestly like the deep pocket clip and the ability to change carrying either tip or or tip down or for left or right handed carriers. We really like the price point and the options to change out the scales. We also like the fact that this knife can be found in satin or black with the various blade edges. If you are in the market for a new EDC, check this one out and see if it's right for you.
As always, ya'll be good and be safe!