I have seen a lot of the big Gun YouTuber's: Sootch00, Mr. Guns n' Gear, and even Military Arms Channel, talking about this pistol and giving it outstanding reviews. So when my LGS, Clayton Guns, got one in-stock, I had to see what the Sphinx SDP Compact pistol was all about.
First and foremost, the Sphinx is not a cheap pistol by no means. For some, the $949 MSRP is nothing, but for me and like most others, $1000 is a lot of money for a pistol. Let's be honest, in this economy, having a few extra dollars to spend on a pistol is rare, so I would want to make sure if I was investing this kind of money into a pistol, that it's worth every penny.
---
---
With the market flooded with "high-end" production DA/SA pistols that are over the $800 mark, like Sig Sauer and Heckler and Koch, what makes this one any different. Honestly, just looking at this pistol, it's "blocky" compared to lets say the H&K P30 or even the cheaper CZ P-01. Looking past it's "blocky" lines, this 9mm pistol is actually very nice. The build quality is impeccable. I mean, it's Made in Switzerland, and the Swiss really know what they are doing in the craftsmanship department, but I digress.
Opening up the black box, reveals the: pistol (wrapped in paper), two (2) 15rd magazines, three (3) backstraps, magazine loader, lock, cleaning kit, and manual. When I opened it up, I was impressed with how it's packaged, everything has a spot and everything was in place and not just slapped in there like :cough: Glock :cough: What really drew me to this pistol is the simplicity in design, ie: it mirrors heavily on the CZ Style pistols.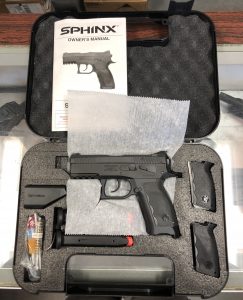 Taking the pistol out of the box, the one thing I noticed is the weight. For an EDC pistol, weight is becoming more and more important now-a-days. The Sphinx SDP Compact unloaded weight is coming in at 1.76lbs which is in line with the CZ P-01, but weighing more than the HK P30. I'm a sucker for a metal framed pistol like the Sig Sauer P229, and this pistol is a mixture of a steel slide and a hard anodized aluminum/polymer composite frame. The top half of the frame is the hard anodized aluminum, while the grip is the polymer composite frame. I do love the fact that the SDP comes with three (3) rubber interchangeable backstraps: Small, Medium, and Large. The 1913-Picatinny rail makes adding your favorite light or laser a breeze, so using this gun as a home defense pistol would be good as well. In the hand, the extended beaver-tail is welcomed, I tend to hold my pistols high. The undercut and enlarged trigger guard is nice and is designed for the colder weather climates that tend to wear bulky gloves.
---
A lot of companies are making pistols that are ambidextrous and can be made to fit your needs. The Sphinx has a changeable magazine release and the decocker is also ambidextrous, but the slide release is for right handed shooters; but for the lefties out there, it's not terrible to manipulate. The match-grade trigger on the SDP is really amazing. Per the factory, it's being advertised to be 10lbs in DA and 4lbs in SA. But this particular pistol is averaging 9.8lbs in DA and a surprisingly 2lb average in SA.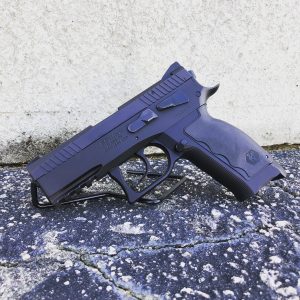 Everyone is entitled to their own opinion when it comes to an EDC. My recommendation is get a good compact pistol. In today's pistol market, a good compact pistol can be concealed easily and the round count is still high enough, and this one fits that mold. The Sphinx SDP Compact overall length is coming in at 7.4″, overall width is 1.37″, and overall height is coming in at 5.35″, making this 3.7″ barreled pistol great for EDC. The 15 round magazines are great, but if you live in a state that doesn't allow that, the Sphinx does come in the 10rd capacity option. Magazines are readily available from KRISS, but they are somewhat pricey, at $55 a mag.
The coating on the Sphinx is a PVD Coating. It seems like it would hold up very well. I will say that the barrel is a Nitride Barrel. If you have never experienced a Nitride Barrel, it requires a lot of lubrication to deter premature wear. Just picking up this pistol out of the box, I noticed that the top of the barrel near the hood, had some wear marks just from factory test firing. To me, I would figure this pistol would be coated in lubrication since it's from Switzerland, but it wasn't. I also noticed some wear on the muzzle end of the barrel just from test firing. So if you are going to own one of these pistols, might want to put some extra lube where it rides the slide at. Also, for the suppressor shooters out there, Sphinx does offer a threaded-barrel option, but uses the M13.5×1 thread pitch.
Disassembly of the Sphinx SDP Compact is similar to the CZ pistols. Line the markings up on the rear of the slide to the frame and remove the take-down pin.
---
The overall fit and feel of this gun is amazing. I can see why it costs so much, but the only thing I would change is the sights. The factory sights are a simple White dot front and a serrated U-Shape sight in the rear. Granted, these sights are steel sights, but I wish for the price of the gun they would have been night sights. Luckily, night sights are available from Meprolight for about $80. Holsters are readily available as well from Safariland, Alien Gear, and other Custom Kydex Holster Manufacturers.
---
Like I said before, the MSRP for the Sphinx SDP Compact is coming in at $949 and can be found selling locally for around $875. The Sphinx SDP Compact can be found on Gunbroker for around $770, so that'll save you a little bit of money. Even though this pistol is up there on the cost factor, it's still a great quality pistol. Would I carry it for an EDC? If cost wasn't an issue then sure. But for me, the CZ P-01 is just as good and costs much less, even though the trigger is better in the Sphinx. Overall, I can see this being a good contender in the EDC department against Heckler and Koch and Sig Sauer. At the end of the day, it's up to you to decide what fits your needs the best!
As always, ya'll be good and be safe!