With the Academy slip up a few weeks ago, the buzz around the internet has been, "when willSmith and Wesson going to truly announce the long over due revamp of the M&P Pistol?" Well, today is the day! Smith and Wesson officially announced the M&P 2.0 and it appears that it's going to be met with great reviews!
I personally own an M&P9 and purchased it back in 2010 as my first handgun and I absolutely love shooting it. I may have to trade up when these start hitting the streets. Here is the down and dirty of the M&P 2.0 coming from S&W website:
Overview

The M&P M2.0 pistol, the newest innovation to the respected M&P polymer pistol line.  Designed for personal, sporting, and professional use, the M&P M2.0 delivers an entirely new platform, introducing innovative features in nearly every aspect of the pistol, including trigger, grip, frame, and finish. Highlights of the M&P M2.0 pistol include an extended stainless-steel chassis and high grip to barrel bore axis ratio for reduced muzzle rise and faster aim recovery. The M&P M2.0 pistol further improves performance with a fine-tuned, crisper trigger, lighter pull and a tactile and audible reset. The pistol, available in three calibers, includes an aggressively-textured grip and four interchangeable palmswell inserts for optimal hand-fit and trigger reach. The striker-fire, semi-automatic polymer pistol is available in matte black or FDE – Flat Dark Earth – finishes, and includes two magazines, a limited lifetime warranty and a lifetime service policy.

Features
• High grip to barrel bore axis makes the M&P pistol more comfortable to shoot reducing muzzle rise and allowing for faster aim recovery.
• Proven optimal 18-degree grip angle for natural point of aim.
• Four interchangeable palmswell grip inserts for optimal hand fit and trigger reach – S, M, M/L, L.
• Aggressive grip texture for enhanced control.
• New M&P M2.0 crisp trigger with lighter trigger pull.
• Tactile and audible trigger reset.
• Accurate 1 in 10" twist M&P M2.0 barrel (9mm/40S&W) and 1 in 15″ Twist for the 45ACP.
• Extended rigid embedded stainless steel chassis to reduce flex and torque when firing.
• Armornite® durable corrosion resistant finish.
---
---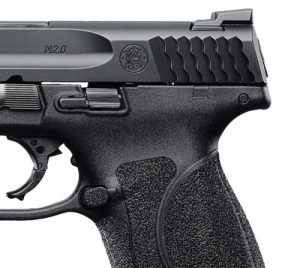 The M&P 2.0 will be available in 9mm, 40S&W, and 45ACP. I have not held one of the 2.0 in my hand nor have been able to compare the 1.0 to the 2.0, but I can already see a huge difference between the two. For example, the slide. It looks like S&W cut out a lot of the not needed beefiness of the original slide to lighten everything up, yet keeping the Stainless Steel Armornite Finish and the steel front and rear white dot sights.
Along with the slide reduction, the new M&P2.0 will come with the same trigger that's in S&W PRO Series M&P that avid shooters have to come love. I myself have not changed my original trigger in my 1.0, but I'm sure Apex will come out with a flat trigger to be used in the 2.0 as soon as it hits the market in full swing.
The new 2.0 does not include their popular Magazine Disconnect, but Smith and Wesson offers thumb safety versions of the 2.0. Other versions of the 2.0 include two different barrel lengths for the 9mm and 40 S&W, the standard 4.25″ and the longer version, 5″. Also, Smith and Wesson has jumped on the FDE train and will be offering the FDE option in 9mm and 40S&W (thumb safety option only), as well as the standard Black.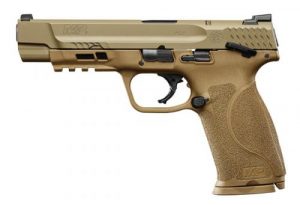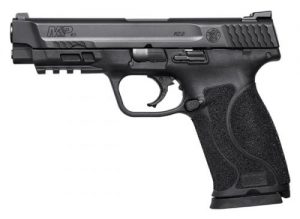 We are truly excited to see this pistol at SHOT Show and view it in person. I, for one, can't wait to review the M&P 2.0 side-by-side with my original M&P9.These pistols will come with SMITH & WESSON LIFETIME SERVICE POLICY. Availability is subject to applicable federal, state and local laws, regulations, and ordinances. So I'm sure the magazine restrictions will come into play for the Northern States. According to some other sites on the internet, it appears that the 1.0 magazines will work with 2.0, as well as holsters. If this is the case, I know a lot of people will be happy campers and be able to save money. I'm curious to see how true this is and we'll find out when we go to SHOT.
Below is the chart comparing each of the M&P 2.0 Pistols.
| | | | |
| --- | --- | --- | --- |
| | M&P9 2.0 | M&P40 2.0 | M&P45 2.0 |
| Caliber | 9mm | 40 S&W | 45 ACP |
| Weight | 24.7oz | 25.9oz | 27.0oz |
| Rd Count | 17 + 1 | 15 + 1 | 10 + 1 |
| Barrel Length | 4.25″/5.00″ | 4.25″/5.00″ | 4.6″ |
| Overall Length | 7.5″ | 7.4″ | 7.9″ |
| MSRP | $599.00 | $599.00 | $599.00 |
Stay Tuned for more details and our update from SHOT Show in the M&P 2.0!