We have all been there – come back from the range late, and possibly left our gun case out in the truck or the car. If someone was to see it, they could potentially guess what's inside a case due to molle pouches on the side and your "Molon Labe" patch on the outside of the case. But what if you could leave your rifle in the vehicle and people not know what it is. Well, that's what 3V Gear has done. With much success of the 3V Gear products that we have showcased (Velox II and the EDC Posse Sling Pack) it was only a matter of time that we take a look at their newest venture – the Covert 36″ Padded Gun Case and is part of their new SOB (Stealth Operators Bag) line of gear.
According to 3V Gear website, "The Covert 36" Padded Gun Case has been designed to withstand the rigors of field use with its semi-rigid design and fully padded enclosure. The front compartment has a large pocket for carrying your pistol, five daisy chain elastic loops for pistol magazines, six daisy chain elastic loops for high-capacity rifle magazines, and two mesh pockets for additional gear. The main compartment is fully padded and has corner mounts to secure the butt and barrel of your gun. Plus, velcro cinch straps that will keep your firearm in place when in transit."
---
---
The construction of this gun case is made out of the same material that 3V Gear uses in their other products, 600D PVC. This rugged material withstands the elements well and keeps your equipment dry. The main compartment has foam padding added to protect your rifle and the elastic in the front compartment appears to be stitched okay. It will hold 5 magazines in different calibers and types to include single stack and double stack magazines.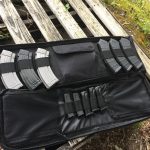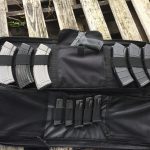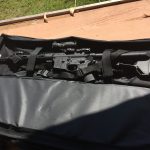 ---
Here is a breakdown of the compartments of this gun case:
Large zippered front compartment (32″W x 10″ H x 2″D) wit a pocket for a handgun, ammo loops, and two zippered pockets. I placed a pistol in the center pocket.
Main Pocket fits a 36″ longer or shorter rifle (36″W x 11″H x 3″D)
Overall measurements with external pockets: 36″W x 11″H x 5″d
---
There are many different carry options available with this 5lbs case. You can use the single shoulder strap to carry the gun case over your shoulder in a backpack style, strung across your torso in a sling style, over the shoulder as a shoulder bag, or with the padded, velcro side handles in a briefcase style.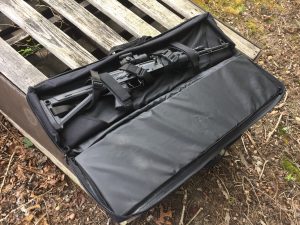 With today's society afraid of the whole "tacticool" phenomenon, it's refreshing to see the covertness of this case. If you live in more of an "urban" type dwelling, then this case is for you. I live in more of rural area where firearms are just an every day thing. But unfortunately, there are some not so "gun-friendly" places in these United States. But for those preparing for a SHTF scenario and live in more of an urban jungle, then this case might be right up your alley to not draw so much attention to yourself while getting out of dodge.
One thing I do love about this case, is it's backed by 3V Gear's Manufacture Lifetime Warranty against defects, not normal wear. Most cases today are sold "As-Is" with no warranty or a 1-year warranty against manufacture defects – but not this one. With this case being only a 36″ case, it will fit your standard 16″ AR-15 and it actually fits my AK47 made by DDI with the Magpul furniture. It seems like most of the 36″ cases just seem to barely fit my AK, and it has a standard slant brake on it, but this one had no trouble.
---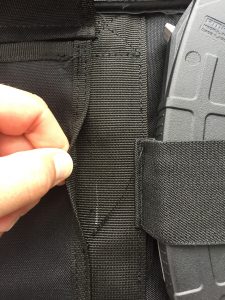 I've taken this bag to the range a few times now, and again it's seeming to hold up for the bare necessities. I have learned to not "over-fill" it with extra stuff, because the stitches will start to unravel. It is built to house the essentials (Rifle, Pistol, Pistol Mags, Rifle Mags, and some extra rounds). So heed my advice and do not over-fill it!
This gun case is coming in around $58. Which in all reality, isn't that bad of a deal. Most covert bags that we've found on the market go around $40-$100. So it falls right in line with some top competitors. Currently this gun case is only coming in black. I'm hoping that 3V Gear will add their popular Foliage Gray to this case or even an FDE.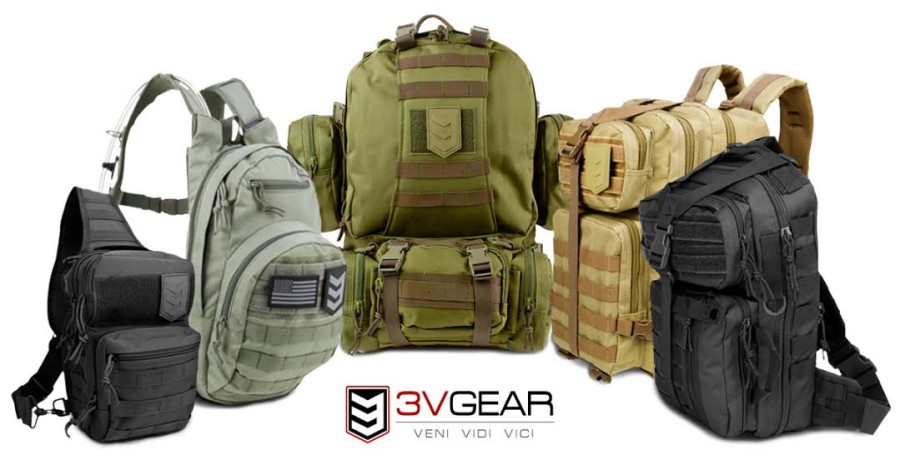 If you are in the market for a new, more discreet way of carrying your rifles, then check out 3V Gear's Covert 36″ Padded Gun Case to see if it's right for you!
As always, ya'll be good and be safe!