When CZ announced their new striker-fire pistol in November 2016, I was thoroughly excited about it. I am a huge striker-fire fan and keeping with CZ's tradition on making fine firearms, the new P-10C is superb. When we covered SHOT Show 2017, we stopped off at CZ's booth and took a look at their new models, and the P-10C really peaked my interest. I was excited when my local gun shop, Clayton Guns, finally received their first shipment of CZ P-10C's and I got the call to come check it out.
---
---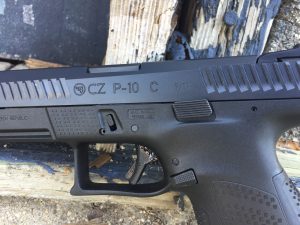 Although the P-10C debuted in November 2016, it has taken quite a while for the CZ P-10C to make its way to North Carolina. But it was well worth the wait. The overall reviews online that I have found about the P-10C have all been positive, and honestly, here is another review to add to the online positive column. This pistol is just absolutely amazing. With the clean lines and overall look of the pistol, it draws your attention in a display case full of other pistols.
When I picked up this pistol, it feels great in the hand. The grip checkering is not overly aggressive and the palm swell is amazing. This reinforced polymer frame comes with three backstraps, so it can be custom tailored for the shooter. It comes with a small, medium, and large backstrap. The trigger guard is definitely larger than most striker-fired pistols, so for the shooters who have to wear gloves or shoot in the winter time, it's going to fit perfectly. I like to hold my pistols high, so most polymer framed pistols tend to rub my middle finger, but this pistol has a higher cut trigger guard so, it eliminates that problem.
---
CZ has spent a lot of time and research on this pistol and it clearly shows, especially in the trigger. The average trigger pull is coming in around 4.6lbs, with a crisp and clean break. The reset is audible, short, and can be felt easily. Most triggers on striker-fired pistols out on the market today average around 5.5lbs, so the lighter trigger feels amazing and is very much accepted. The P-10C comes with an ambidextrous magazine release, which I found was quite stiff in either direction. But I feel with time, it would loosen up. Also, the ambidextrous slide release feels amazing and it's just another reason why this pistol would work great for any shooter.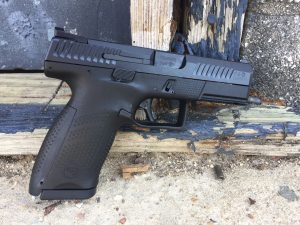 The 4.02″ Cold Hammer Forged Barrel mattes well with the Nitride Full Steel slide. I say "Full" Steel slide because I can actually manipulate the slide with my entire hand, instead of just my fingers like on CZ's traditional 75-Series Pistols. The overall length of the P-10C is coming in at 7.3″, overall height coming in at 5.2″, and overall width is coming in at 1.26″ – it'll make a great EDC pistol. Compared to a Glock 19, the Glock is a tad bit smaller, but the P-10C feels so much better. Take down of the P-10C is like most other striker-fired pistols – pull down the two tabs on the side of the frame and pull the trigger.
---
The standard night sights look amazing and I can actually see them. I had a big problem with my CZ P-01 with having really crappy night sights. I recently changed out my factory sights on the P-01 to TruGlo TFX Pro's sights. But the P-10C sights are just amazing and it glows bright. I can actually acquire a target fast and see the sights during the day. These metal sights were designed to be used in-case a one handed reload is needed.
The P-10C comes with two 15rd magazines and an extended 17rd magazine can be purchased
online
. Holsters are readily available from
Dara Holsters
,
FAB Defense
,
Gunfighters Inc
, and
Crossbreed
. Since the P-10C is still quite new to the market, holsters will become more readily available in time. Although this pistol does not have a manual safety, it does have a Trigger Bar Safety that isn't cumbersome and does have a Firing Pin Block Safety.
---
With an MSRP of $499 for this particular model and selling online for around $459, it makes for a great buy – especially compared to the local selling price of a Glock 19 at $525. I must say, I really truly love this pistol, and I haven't even shot it yet. Now I just have to convince my wife that I need another pistol to add to the collection.
If you are in the market for a new compact pistol, then check out the CZ P-10C pistols and see if it meet your needs.
As always, ya'll be good and be safe!