During SHOT 2017, CZ announced the return of the CZ75 SP-01 Phantom. The original SP-01 had been a fan favorite for years but sadly it was discontinued in 2013. So it was great to see it back in CZ's line-up, but with newly updated features this year. One thing that really caught my eye about this updated pistol is the fact it's now a polymer frame pistol.
---
---
First and foremost, the CZ75 SP-01 is a full-size pistol. With its overall length coming in at 8.15″, overall width coming in at 1.5″, and overall height coming in at 6″, it's almost in line with the Glock and Sig Sauer Full-Size line of pistols. When I first picked up my
CZ75 P-01
, it was heaven in a handgun in an EDC aspect. But man, the full-size Phantom feels even better. CZ decided to make the Phantom using the same fiber-reinforced polymer formula used in the P-09 and P-07. The Phantom comes with three interchangeable backstraps: Large, Medium, and Small. The polymer frame also includes a 1913-picatinny style rail on the end to mount your favorite flashlight or laser.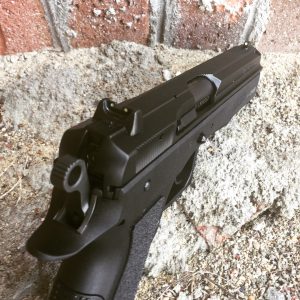 The 4.6″ Cold Hammer Forged Barrel and steel slide makes it perfect for a range pistol and even a home defense weapon, especially since it comes with two 18rd magazines. Also, 20rd and 26rd magazines are available online from CZ. But, you can purchase MecGar mags, which are a tad bit cheaper, so keep that in mind. For the ones wanting to carry a full-size pistol as an EDC, it can happen and I've seen it done with even larger pistols. The CZ Night Sights that come on this pistol could be better, they are small and not really bright. I noticed this problem on my P-01 as well, and changed them out to the TruGlo TFX Pro Sights, and honestly, this pistol will need it in my opinion. According to CZ, the night sights are suppose to be "charged" before use. I honestly wish CZ would just put bigger night sights on their pistols from the factory.
---
The trigger pull is CZ's typical weight, 10lbs in Double Action and avg 5lbs 8oz Single Action. The weight of the CZ75 SP-01 Phantom is coming in at 1.84lbs, so it's a little on the hefty side due to the DA/SA and the steel slide. The P10C is only coming in at 1.63lbs, so it's not really that much difference in weight. The CZ75 SP-01 comes with a decocker and has a firing pin safety block. Unfortunately, the decocker is not a safety, so keep that in mind.
---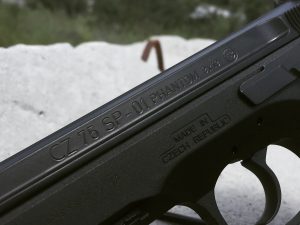 MSRP for the CZ75 SP-01 Phantom is coming in at $636 and can be found selling locally for around $579.99 and even found online for around $563, when in stock. CZ is notorious for making outstanding pistols, but if you want to make it more for you, ie: trigger kits, sights, etc, then you can end your pistol to Cajun Gun Works and they can hook you up! Holsters are readily available from DeSantis, Safariland, Blackhawk, Blade-Tech, Fobus, as well as custom kydex holster makers.
If you are in the market for a new, reliable, and accurate full-size pistol, then check out the CZ75 SP-01 Phantom and see if it's right for you. It's affordable, accurate, and have a lot of aftermarket accessories available.
As always, ya'll be good and be safe!